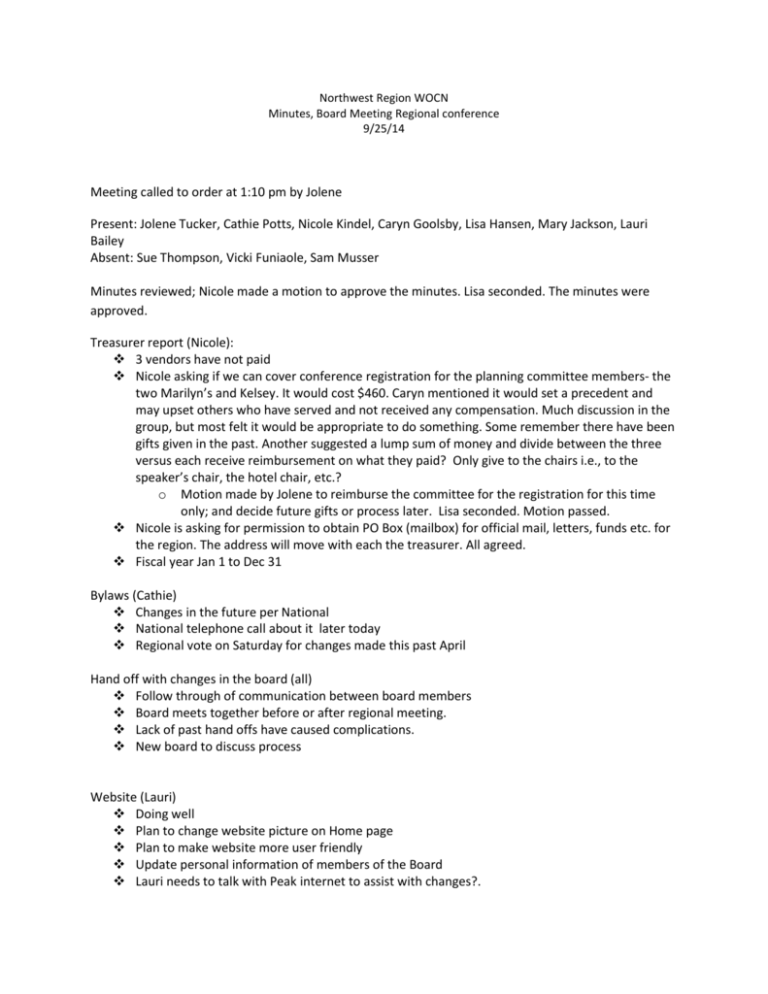 Northwest Region WOCN
Minutes, Board Meeting Regional conference
9/25/14
Meeting called to order at 1:10 pm by Jolene
Present: Jolene Tucker, Cathie Potts, Nicole Kindel, Caryn Goolsby, Lisa Hansen, Mary Jackson, Lauri
Bailey
Absent: Sue Thompson, Vicki Funiaole, Sam Musser
Minutes reviewed; Nicole made a motion to approve the minutes. Lisa seconded. The minutes were
approved.
Treasurer report (Nicole):
 3 vendors have not paid
 Nicole asking if we can cover conference registration for the planning committee members- the
two Marilyn's and Kelsey. It would cost $460. Caryn mentioned it would set a precedent and
may upset others who have served and not received any compensation. Much discussion in the
group, but most felt it would be appropriate to do something. Some remember there have been
gifts given in the past. Another suggested a lump sum of money and divide between the three
versus each receive reimbursement on what they paid? Only give to the chairs i.e., to the
speaker's chair, the hotel chair, etc.?
o Motion made by Jolene to reimburse the committee for the registration for this time
only; and decide future gifts or process later. Lisa seconded. Motion passed.
 Nicole is asking for permission to obtain PO Box (mailbox) for official mail, letters, funds etc. for
the region. The address will move with each the treasurer. All agreed.
 Fiscal year Jan 1 to Dec 31
Bylaws (Cathie)
 Changes in the future per National
 National telephone call about it later today
 Regional vote on Saturday for changes made this past April
Hand off with changes in the board (all)
 Follow through of communication between board members
 Board meets together before or after regional meeting.
 Lack of past hand offs have caused complications.
 New board to discuss process
Website (Lauri)
 Doing well
 Plan to change website picture on Home page
 Plan to make website more user friendly
 Update personal information of members of the Board
 Lauri needs to talk with Peak internet to assist with changes?.




Buy us a SSL for privacy as well as browser acceptance
Integrate link with Facebook. ??Add Twitter?
Add Board meeting minutes but not conference call minutes? Agreed
Add bulletins instead of monthly calls? Good idea and suggested announcements with
newsletter type info. Have info given to Lauri or a member of the board.
 President also sends a quarterly update to national - give link to our website.
Nominations (Mary)
 Certain percent in order for the vote to be approved.- probably 5% per Cathie and Jolene
 We met 5% in our election. If we hadn't then would have needed to re-vote
 WOCN of the year.
o Crystal vase every year.?
o Mary suggested we ask if the person wants a vase, pen, or plaque?
o Mary & Cathie bought three vases this year for a good price but engraving nearly tripled
the cost
o Reviewed guidelines for gifts. Motion made to change money amounts to $25-$100 by
Jolene. Caryn seconded. Motion passed
Conferences: (Jolene, Mary and Cathie)
 Who is going to be future liaison? New board to decide? Person should have experience. Lisa
believes we should not hire anyone – too expensive.
 Next year's conference – proposal Hilton downtown in Eugene - 3 people interested in the
committee. Jolene will check to see if Oct 17th is available?
Operations manual (Caryn)
 update nominations and nurse of the year info
 Nicole does not feel she needs a committee as Treasurer mostly computerized now and we
should do an audit once a year (internal and external?). All agreed to remove "budget
committee" next Bylaw revision
New Business
About expectations of the board member
 Caryn wrote a short blurb to add to job description. New board can move forward with it.
Fundraising
 Mary asks to consider option of being instructors for new WTA program or provide training
program for local WOCN's. Money would go to our treasury.
 Jolene agreed about needing options for fundraising
 Caryn & Lisa mentioned webinars to increase visibility
 Future board to discuss further
New Board of Directors
 Cathie asking about committee – who appoints to the board?
o President and/or others can present person to the board and then the board votes.
 Cathie asking about Pubic policy – do we need it as a committee on the board? Caryn says yes.
Jolene agreed and would like to see us encourage national WOCN to push for non-physician
provider.-listed as a clinical specialist.
o Cathie suggested Mary to fill the public policy chair position
 Lisa explained why membership placed with public policy.
 Caryn asking for clarification about term limits – Each new President and the Board decide
what are the term limits for the committee chairperson? Ask each new term of President to
form the Board.
Meeting adjourned 1500
Addendum: Jolene requested donation to Ostomates Worldwide during Youth Rally auction. Nicole,
Lisa, Lauri, Caryn and Cathie agreed. Motion passed.
Addendum – Historian report
 Her goals are to obtain a brief biography and photograph(s) from all retired and active regional
members; and she wants to solicit support for publication of historical plan/format.
o She is working on publishing a DVD or written format of regional history.
o She continues to obtain information via email requests and personal contacts.
 She has recruited two members for her committee from Oregon and Washington. She
continues to need members from Alaska and Montana.