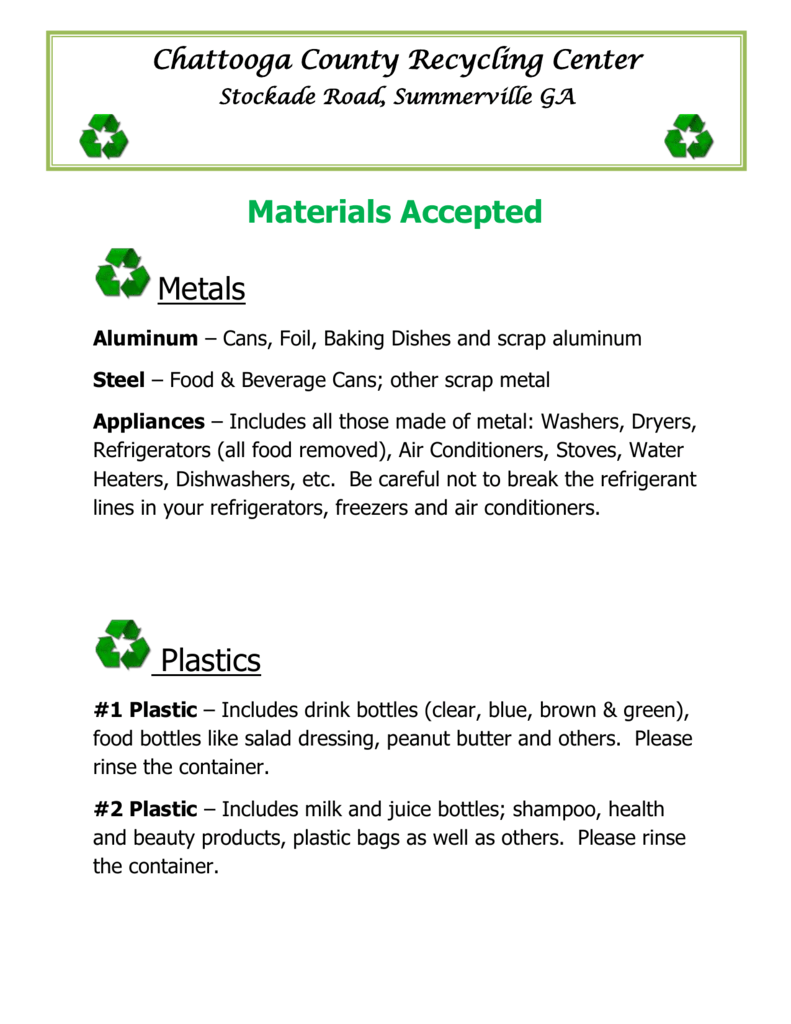 Chattooga County Recycling Center
Stockade Road, Summerville GA
Materials Accepted
Metals
Aluminum – Cans, Foil, Baking Dishes and scrap aluminum
Steel – Food & Beverage Cans; other scrap metal
Appliances – Includes all those made of metal: Washers, Dryers,
Refrigerators (all food removed), Air Conditioners, Stoves, Water
Heaters, Dishwashers, etc. Be careful not to break the refrigerant
lines in your refrigerators, freezers and air conditioners.
Plastics
#1 Plastic – Includes drink bottles (clear, blue, brown & green),
food bottles like salad dressing, peanut butter and others. Please
rinse the container.
#2 Plastic – Includes milk and juice bottles; shampoo, health
and beauty products, plastic bags as well as others. Please rinse
the container.
Paper*
Corrugated boxes – Embedded staples and tape are
acceptable, please break down the boxes.
Paperboard – Includes cereal boxes, drink cartons, etc.
Newspaper – Includes everything inserted in a newspaper
Magazines – shiny slick paper, includes catalogs.
Office Waste Paper – Includes copy paper, letterhead (all
colors), fax, folder, index cards, cash register receipts, computer
printouts, accounting ledgers, envelopes, etc.
Books – Includes hardback and paperback.
Phone Books – All types
Junk Mail – Includes everything that comes in your mailbox
Paper Bags – Includes all sizes and colors
*Personal hygiene items such as tissue paper, paper towels,
napkins and paper plates are not accepted.