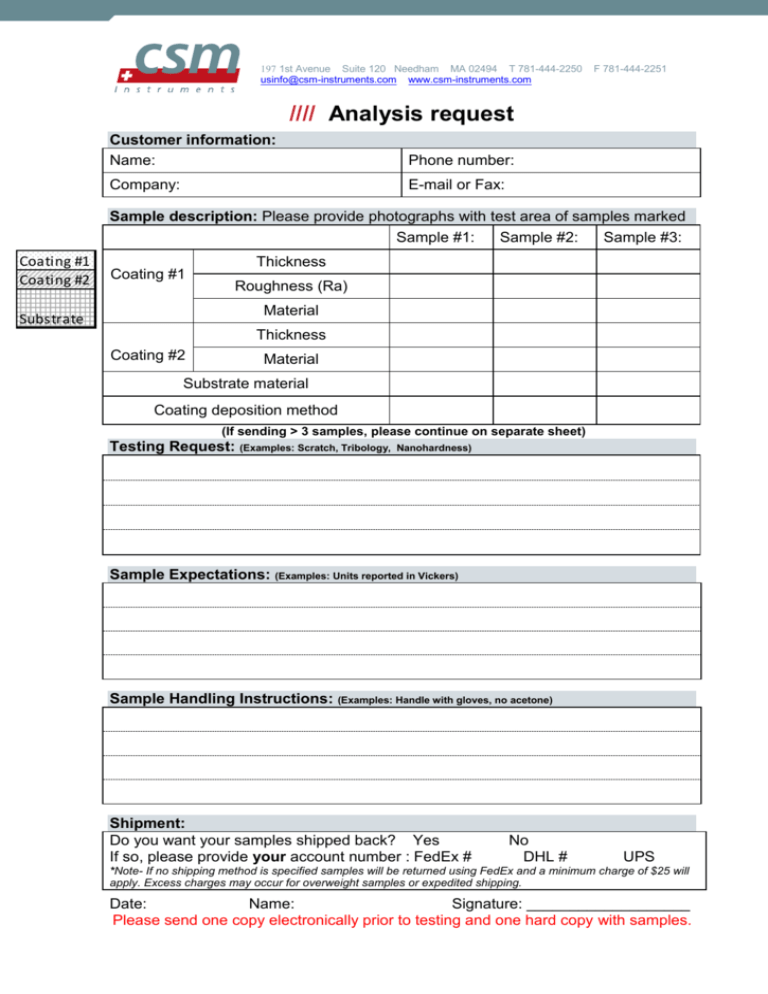 197 1st Avenue Suite 120 Needham MA 02494 T 781-444-2250
usinfo@csm-instruments.com www.csm-instruments.com
F 781-444-2251
//// Analysis request
Customer information:
Name:
Phone number:
Company:
E-mail or Fax:
Sample description: Please provide photographs with test area of samples marked
Sample #1:
Sample #2:
Sample #3:
Coating #1
Coating #2
Coating #1
Thickness
Roughness (Ra)
Material
Substrate
Thickness
Coating #2
Material
Substrate material
Coating deposition method
(If sending > 3 samples, please continue on separate sheet)
Testing Request: (Examples: Scratch, Tribology,
Nanohardness)
Sample Expectations: (Examples: Units reported in Vickers)
Sample Handling Instructions: (Examples: Handle with gloves, no acetone)
Shipment:
Do you want your samples shipped back? Yes
If so, please provide your account number : FedEx #
No
DHL #
UPS
*Note- If no shipping method is specified samples will be returned using FedEx and a minimum charge of $25 will
apply. Excess charges may occur for overweight samples or expedited shipping.
Date:
Name:
Signature: ___________________
Please send one copy electronically prior to testing and one hard copy with samples.