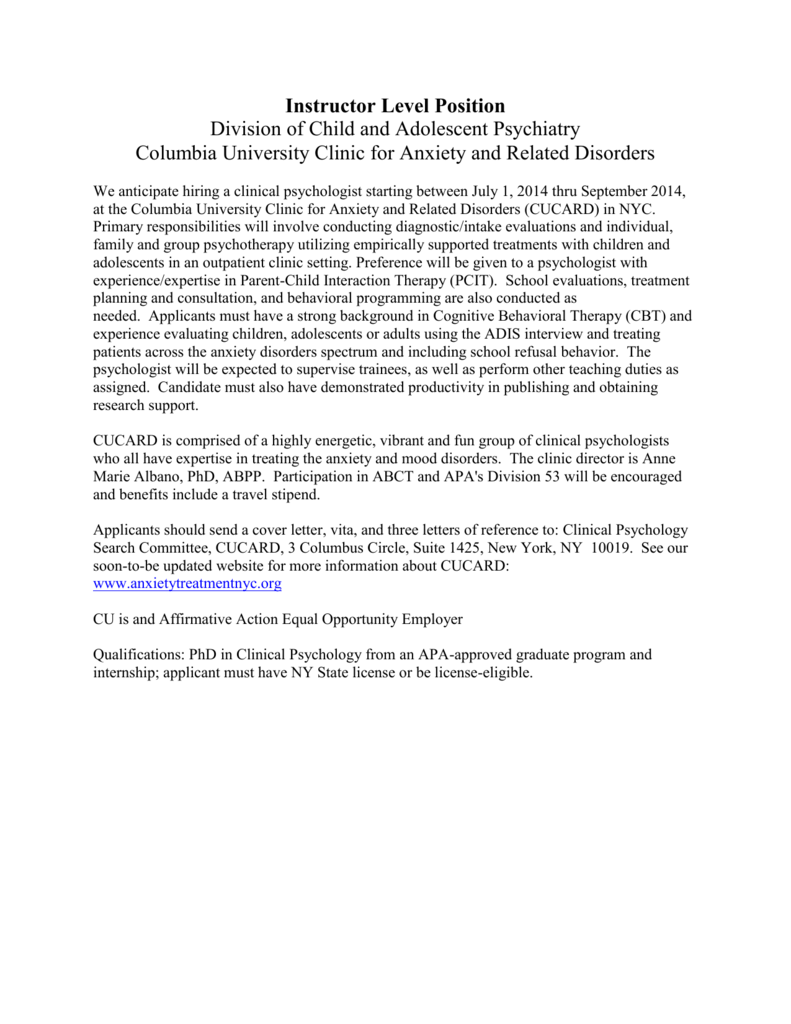 Instructor Level Position
Division of Child and Adolescent Psychiatry
Columbia University Clinic for Anxiety and Related Disorders
We anticipate hiring a clinical psychologist starting between July 1, 2014 thru September 2014,
at the Columbia University Clinic for Anxiety and Related Disorders (CUCARD) in NYC.
Primary responsibilities will involve conducting diagnostic/intake evaluations and individual,
family and group psychotherapy utilizing empirically supported treatments with children and
adolescents in an outpatient clinic setting. Preference will be given to a psychologist with
experience/expertise in Parent-Child Interaction Therapy (PCIT). School evaluations, treatment
planning and consultation, and behavioral programming are also conducted as
needed. Applicants must have a strong background in Cognitive Behavioral Therapy (CBT) and
experience evaluating children, adolescents or adults using the ADIS interview and treating
patients across the anxiety disorders spectrum and including school refusal behavior. The
psychologist will be expected to supervise trainees, as well as perform other teaching duties as
assigned. Candidate must also have demonstrated productivity in publishing and obtaining
research support.
CUCARD is comprised of a highly energetic, vibrant and fun group of clinical psychologists
who all have expertise in treating the anxiety and mood disorders. The clinic director is Anne
Marie Albano, PhD, ABPP. Participation in ABCT and APA's Division 53 will be encouraged
and benefits include a travel stipend.
Applicants should send a cover letter, vita, and three letters of reference to: Clinical Psychology
Search Committee, CUCARD, 3 Columbus Circle, Suite 1425, New York, NY 10019. See our
soon-to-be updated website for more information about CUCARD:
www.anxietytreatmentnyc.org
CU is and Affirmative Action Equal Opportunity Employer
Qualifications: PhD in Clinical Psychology from an APA-approved graduate program and
internship; applicant must have NY State license or be license-eligible.