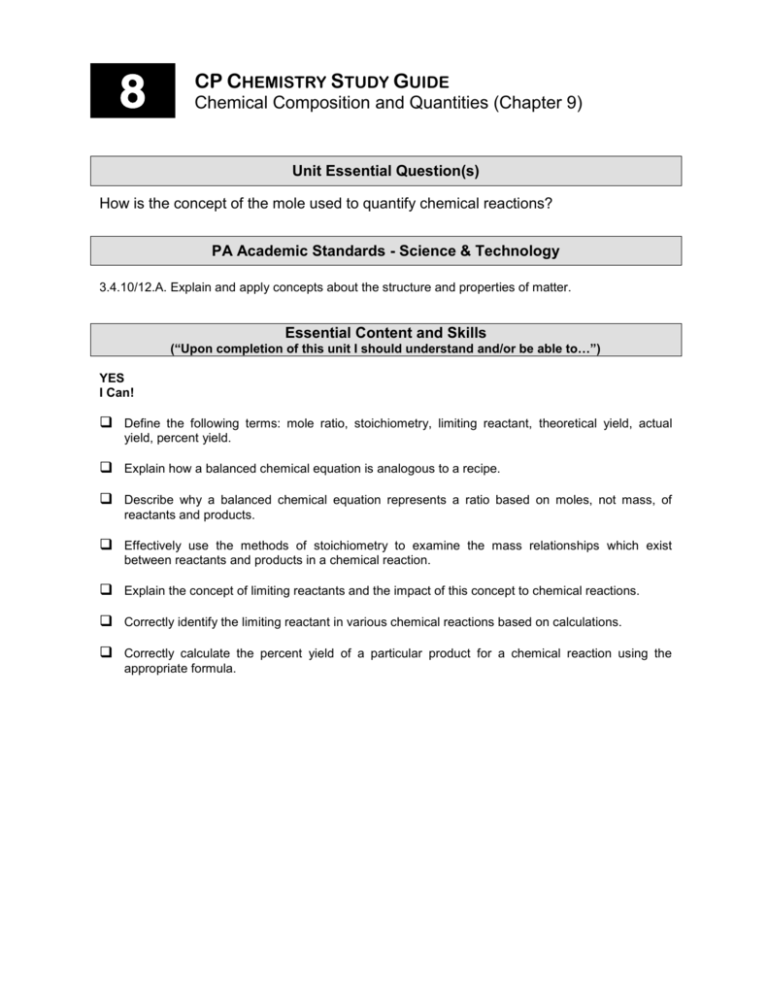 8
CP CHEMISTRY STUDY GUIDE
Chemical Composition and Quantities (Chapter 9)
Unit Essential Question(s)
How is the concept of the mole used to quantify chemical reactions?
PA Academic Standards - Science & Technology
3.4.10/12.A. Explain and apply concepts about the structure and properties of matter.
Essential Content and Skills
("Upon completion of this unit I should understand and/or be able to…")
YES
I Can!
 Define the following terms: mole ratio, stoichiometry, limiting reactant, theoretical yield, actual
yield, percent yield.
 Explain how a balanced chemical equation is analogous to a recipe.
 Describe why a balanced chemical equation represents a ratio based on moles, not mass, of
reactants and products.
 Effectively use the methods of stoichiometry to examine the mass relationships which exist
between reactants and products in a chemical reaction.
 Explain the concept of limiting reactants and the impact of this concept to chemical reactions.
 Correctly identify the limiting reactant in various chemical reactions based on calculations.
 Correctly calculate the percent yield of a particular product for a chemical reaction using the
appropriate formula.