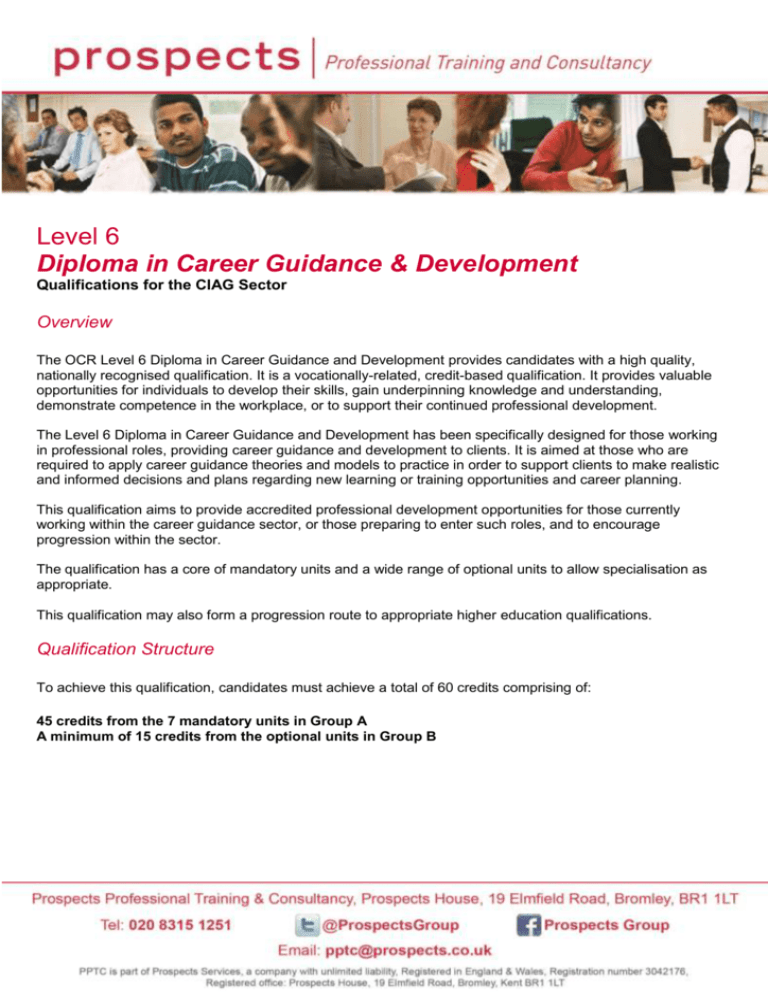 Level 6
Diploma in Career Guidance & Development
Qualifications for the CIAG Sector
Overview
The OCR Level 6 Diploma in Career Guidance and Development provides candidates with a high quality,
nationally recognised qualification. It is a vocationally-related, credit-based qualification. It provides valuable
opportunities for individuals to develop their skills, gain underpinning knowledge and understanding,
demonstrate competence in the workplace, or to support their continued professional development.
The Level 6 Diploma in Career Guidance and Development has been specifically designed for those working
in professional roles, providing career guidance and development to clients. It is aimed at those who are
required to apply career guidance theories and models to practice in order to support clients to make realistic
and informed decisions and plans regarding new learning or training opportunities and career planning.
This qualification aims to provide accredited professional development opportunities for those currently
working within the career guidance sector, or those preparing to enter such roles, and to encourage
progression within the sector.
The qualification has a core of mandatory units and a wide range of optional units to allow specialisation as
appropriate.
This qualification may also form a progression route to appropriate higher education qualifications.
Qualification Structure
To achieve this qualification, candidates must achieve a total of 60 credits comprising of:
45 credits from the 7 mandatory units in Group A
A minimum of 15 credits from the optional units in Group B
The following tables contain the groups of mandatory and optional units:Group A
OCR Unit No
1
2
3
4
5
6
7
Group B
OCR Unit No
Unit title
Preparing to work in the career information,
advice and guidance sector
Reflect on and improve professional practice
Career guidance theory
Agree the purpose of client-centred career
guidance interviews and maintain
communication with clients
Explore and agree the career guidance and
development needs of clients
Use career and Labour Market Information with
clients
Work with other agencies for the benefit of
clients and the organisation
Unit title
19
Use diagnostic and assessment tools with
clients
Advocate on behalf of clients
Understand how to support specific client
groups to overcome barriers to learning,
training and work
Engage with support networks to help clients to
meet their career-related needs
Assist clients to apply for learning, training and
work
Provide ongoing support to clients
Prepare to deliver services to clients in an
outreach setting
Source, evaluate and use Labour Market
Intelligence with clients
Obtain and organise career-related information
to support clients
Promote career-related learning to clients
Plan, deliver and evaluate career-related
learning in groups
Evaluate service provision
20
Undertake research on behalf of the service
8
9
10
11
12
13
14
15
16
17
18
Unit Accreditation
Number (UAN)
Credit
value
Level
GLH
A/502/8432
6
4
40
T/502/8428
6
6
40
M/502/8444
9
6
70
K/502/8443
6
6
40
L/502/8421
6
6
40
L/502/8435
6
6
40
H/502/8439
6
6
40
Unit Accreditation
Number (UAN)
Credit
value
Level
GLH
A/502/8446
6
5
40
H/502/8442
4
6
40
D/502/8441
3
4
20
L/502/8404
3
4
20
Y/502/8423
3
4
20
R/502/8436
2
4
15
M/502/8430
2
4
15
T/502/8431
3
6
20
J/502/8420
3
4
20
F/502/8433
6
4
40
D/502/8424
6
6
40
H/502/8408
3
4
20
J/502/8434
6
6
40
How to achieve this qualification with Prospects Qualifications Centre
You will first of all need to complete our application form. This will help us to ensure you are in a suitable
job-role to access the evidence you will need at the appropriate level.
Once you are accepted onto the course, you will be invited to attend a one day induction. Here you will look
at all the units and the types of evidence that are suggested as the most effective way to meet the learning
outcomes for each unit.
We utilise the full range of assessment methods to enable you to achieve your qualification as smoothly as
possible. These include written assignments; professional discussion; observations; and witness testimonies.
These will be supported by product evidence as appropriate.
You will then be allocated an assessor who will support you as you work towards the qualification. You will
have regular telephone tutorials and support from online materials. Your assessor will also come out to your
workplace to observe your practice.
All of our learners use an online system (known as Ecordia) to build their portfolio of evidence. This enables
you to be in control of your progress. A proactive learner with relevant opportunities and experience can gain
their qualification well within the 15 month time frame allocated from initial workshop to portfolio completion.
Summary programme
Induction: one day
Workshop on Careers Guidance theories: one day
Workshop on Guidance models and methodologies : one day
Further support for units are available online.
Workshops can be delivered at our Bromley Centre, at another Prospects centre or at a venue of your
choosing. Contact us to discuss your requirements.