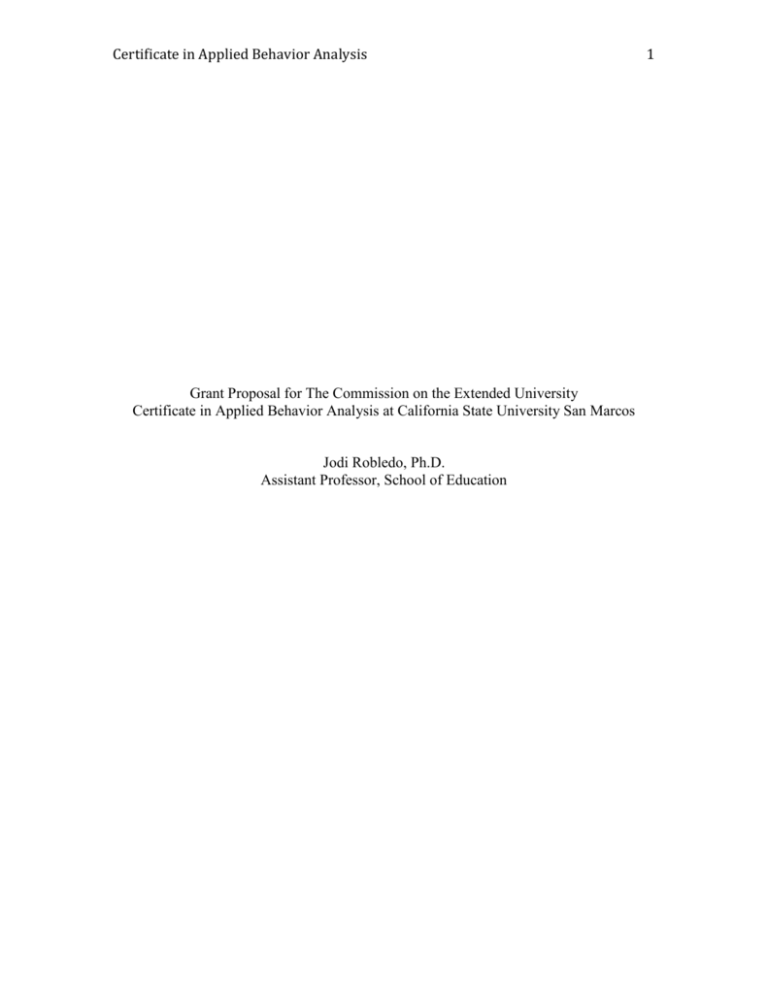 Certificate in Applied Behavior Analysis
Grant Proposal for The Commission on the Extended University
Certificate in Applied Behavior Analysis at California State University San Marcos
Jodi Robledo, Ph.D.
Assistant Professor, School of Education
1
Certificate in Applied Behavior Analysis
2
Recent statistics from the Center for Disease Control and Prevention (CDC)
identify around 1 in 88 American children as on the autism spectrum – a ten-fold increase
in prevalence in 40 years. With the dramatic increase in children diagnosed with Autism
Spectrum Disorder (ASD), there is incredible need for evidence-based methodologies and
strategies to support individuals with autism and their families. The National Autism
Center launched a project in 2005 with the support and guidance of an expert panel
composed of nationally recognized scholars, researchers, and other leaders representing
diverse fields of study. The culmination of this rigorous multi-year project was the
National Standards Report, the most comprehensive analysis available to date about
treatments for children and adolescents with ASD. Within this report, strategies and
methodologies incorporating Applied Behavior Analysis (ABA) were deemed highly
recommended, meaning the research indicated that children with autism developed skills
and reduced inappropriate behavior when receiving treatments based in Applied Behavior
Analysis.
Currently 34 states have insurance mandates for ABA treatment for children with
Autism Spectrum Disorder. Five other states have this mandate in process. In 2014, the
Affordable Health Care Plan is to include ABA programming for autism services for all
50 states. Currently there are not enough trained professionals to support these upcoming
programs. Without a doubt, there is a national and international need for professionals
trained and certificated in Applied Behavior Analysis.
Behavior analysts provide services to individuals, families, group homes, schools,
mental health agencies, hospitals, industrial and business settings, and other agencies
working with individuals who require intensive behavioral training and/or consultation.
Certificate in Applied Behavior Analysis
3
Training and consultation are performed in the areas of educational and adaptive living
strategies, challenging behaviors, and staff management. Special populations such as
individuals with autism and other developmental disabilities have been shown to benefit
greatly from ABA services. ABA is also frequently used in the field of education from
typical students to students with disabilities. Behavior analysis professionals are strongly
recommended to pursue BCBA® certification by the Behavior Analysis Certification
Board. This is the industry standard and is nationally and internationally recognized.
The Board Certified Behavior Analyst (BCBA) is an independent practitioner
who also may work as an employee or independent contractor for an organization. The
BCBA conducts descriptive and systematic (e.g., analogue) behavioral assessments,
including functional analyses, and provides behavior analytic interpretations of the
results. The BCBA designs and supervises behavior analytic interventions. The BCBA is
able to effectively develop and implement appropriate assessment and intervention
methods for use in unfamiliar situations and for a range of cases. The BCBA seeks the
consultation of more experienced practitioners when necessary. The BCBA teaches
others to carry out ethical and effective behavior analytic interventions based on
published research and designs and delivers instruction in behavior analysis. BCBAs
supervise the work of Board Certified Assistant Behavior Analysts (BCaBA) and others
who implement behavior analytic interventions.
The Behavior Analysis Certification Board (BACB) awards this credential to
individuals who have met coursework, degree, fieldwork and examination requirements.
Requirements for the BCBA Certification include: A bachelor's and a master's degree in
behavior analysis or related fields and approved by the BACB from a fully accredited
Certificate in Applied Behavior Analysis
4
institution of higher learning; 225 classroom hours (online or campus) of graduate level
instruction; 1500 hours of supervised independent fieldwork in behavior analysis; and a
passing score on the BCBA exam.
Nationally there are hundreds, if not thousands, of ABA companies and school
districts that are constantly looking for professionals with BCBA's and/or BCaBA's.
Currently the Cal State System offers numerous ABA, BCBA, and BCaBA certificate
programs. However, none of these programs are offered completely online. California
State University San Marcos has recently collaborated with ACES (Autism Community
and Education Services), a well-respected company that provides ABA services to
individuals with autism and their families throughout the United States. Together, we are
currently working on developing an 18-unit online Applied Behavior Analysis Certificate
Program. This community partnership is critical to CSUSM developing a national
reputation for providing training in Applied Behavior Analysis. This grant will allow us
to develop this needed program for our community – regional, national, and international.