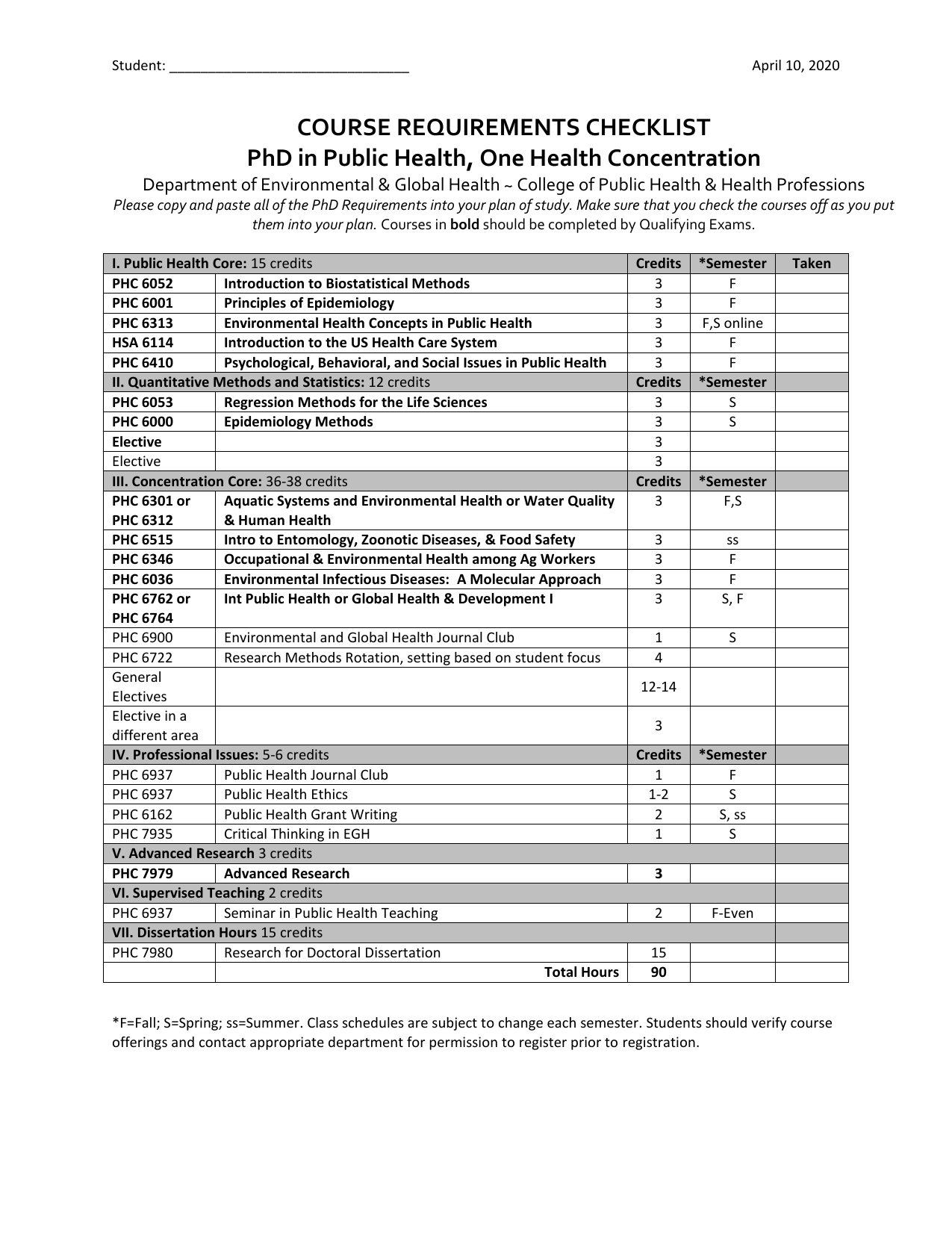 Student: _______________________________
February 8, 2016
COURSE REQUIREMENTS CHECKLIST
PhD in Public Health, One Health Concentration
Department of Environmental & Global Health ~ College of Public Health & Health Professions
Please copy and paste all of the PhD Requirements into your plan of study. Make sure that you check the courses off as you put
them into your plan. Courses in bold should be completed by Qualifying Exams.
I. Public Health Core: 15 credits
PHC 6052
Introduction to Biostatistical Methods
PHC 6001
Principles of Epidemiology
PHC 6313
Environmental Health Concepts in Public Health
HSA 6114
Introduction to the US Health Care System
PHC 6410
Psychological, Behavioral, and Social Issues in Public Health
II. Quantitative Methods and Statistics: 12 credits
PHC 6053
Regression Methods for the Life Sciences
PHC 6000
Epidemiology Methods
Elective
Elective
III. Concentration Core: 36-38 credits
PHC 6301 or
Aquatic Systems and Environmental Health or Water Quality
PHC 6312
& Human Health
PHC 6515
Intro to Entomology, Zoonotic Diseases, & Food Safety
PHC 6346
Occupational & Environmental Health among Ag Workers
PHC 6036
Environmental Infectious Diseases: A Molecular Approach
PHC 6762 or
Int Public Health or Global Health & Development I
PHC 6764
PHC 6900
Environmental and Global Health Journal Club
PHC 6722
Research Methods Rotation, setting based on student focus
General
Electives
Elective in a
different area
IV. Professional Issues: 5-6 credits
PHC 6937
Public Health Journal Club
PHC 6937
Public Health Ethics
PHC 6162
Public Health Grant Writing
PHC 7935
Critical Thinking in EGH
V. Advanced Research 3 credits
PHC 7979
Advanced Research
VI. Supervised Teaching 2 credits
PHC 6937
Seminar in Public Health Teaching
VII. Dissertation Hours 15 credits
PHC 7980
Research for Doctoral Dissertation
Total Hours
Credits
3
3
3
3
3
Credits
3
3
3
3
Credits
3
*Semester
F
F
F,S online
F
F
*Semester
S
S
3
3
3
3
ss
F
F
S, F
1
4
S
Taken
*Semester
F,S
12-14
3
Credits
1
1-2
2
1
*Semester
F
S
S, ss
S
3
2
F-Even
15
90
*F=Fall; S=Spring; ss=Summer. Class schedules are subject to change each semester. Students should verify course
offerings and contact appropriate department for permission to register prior to registration.