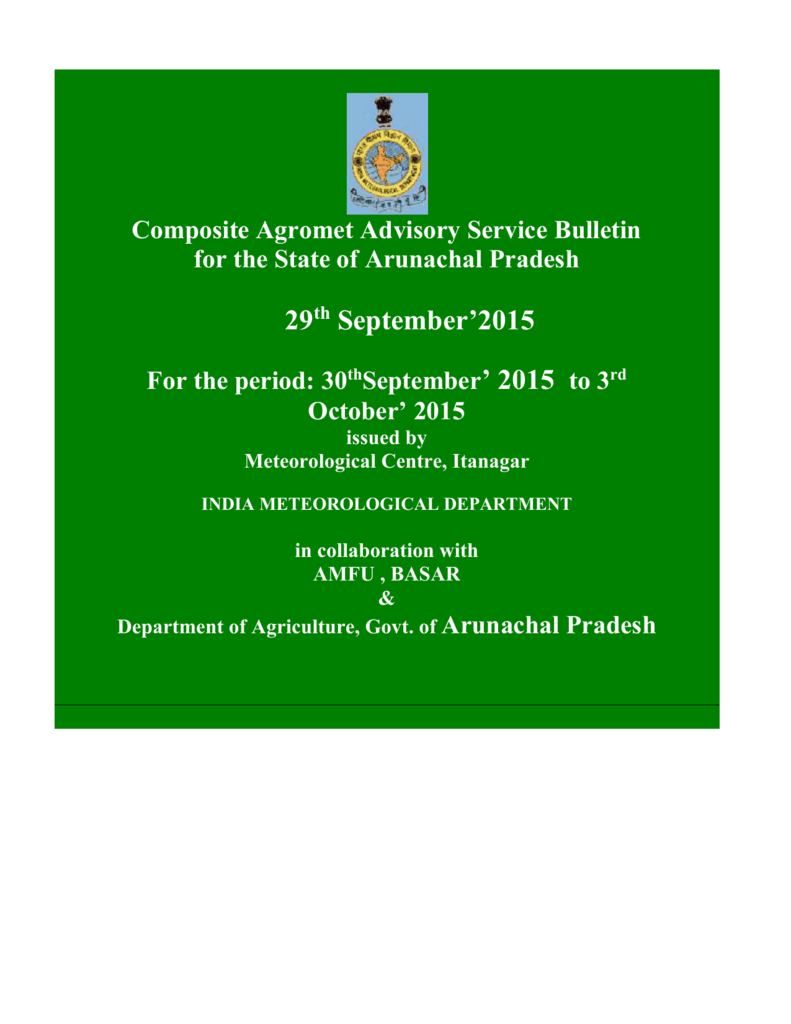 Composite Agromet Advisory Service Bulletin
for the State of Arunachal Pradesh
29th September'2015
For the period: 30thSeptember' 2015 to 3rd
October' 2015
issued by
Meteorological Centre, Itanagar
INDIA METEOROLOGICAL DEPARTMENT
in collaboration with
AMFU , BASAR
&
Department of Agriculture, Govt. of Arunachal
Pradesh
Meteorological sub-division of the state
As per IMD classification Arunachal Pradesh State consisting of Sixteen districts is considered as one
meteorological subdivision.
Agro Climatic Zones for the State of Arunachal Pradesh
Agroclimatic zones of the state
Sl. No.
Agroclimatic Zone
Districts
Agromet Field
Unit
(AMFU)
Location
1
Tawang,WestKameng, East Kameng,
Papumpare, Upper Subansiri,
Arunachal Pradesh
Lower Subansiri, West Siang,
East Siang, Upper Siang,
Dibang Valley, Lower Dibang Valley,
Lohit, Changlang, Tirap.Anjaw,
KurungKumey, Upper Dibang
Valley.
BASAR
Weather summary for the period from 25.09.15 to 28.09.15:Moderate to Rather Heavy rainfall occurred at most places with very Heavy rainfall at one or
two places on 25.09.15, Light to Moderate rainfall occurred at a few places with Rather Heavy
rainfall at one or two places on 26.09.15, Light to Moderate rainfall occurred at one or two
places on 27.09.15, Weather was dry on 28.09.15 over Arunachal Pradesh.
Stations 
Parameters
Total rainfall (mm)
Max Temp range (º c)
Bandardewa
PASSIGHAT
39.5
32-35
56.6
26-33
Min Temp range (º c)
Cloud Coverage ( octa )
Relative Humidity (%)
Wind Direction Morning
/ Speed (kmph)
Evening
23-24
04
70-85
NE'ly
02
SSE'ly
02
23-24
05
70-100
CALM
00
CALM
00
Current synoptic:The upper air cyclonic circulation over west central Bay of Bengal and adjoining coastal
area of Andhra Pradesh now lies over Rayalasuma and neighbourhood and extends up to 0.9
km above mean sea level .An upper air cyclonic circulation now lies over Tenasserim coast
and adjoining Andaman sea and extends upto mid tropospheric level .
Forecast valid till morning of 1st Oct, 2015 :-
.
Weather will be dry over Arunachal Pradesh.
WARNING:Nil.
Outlook for subsequent two days:
Little change.