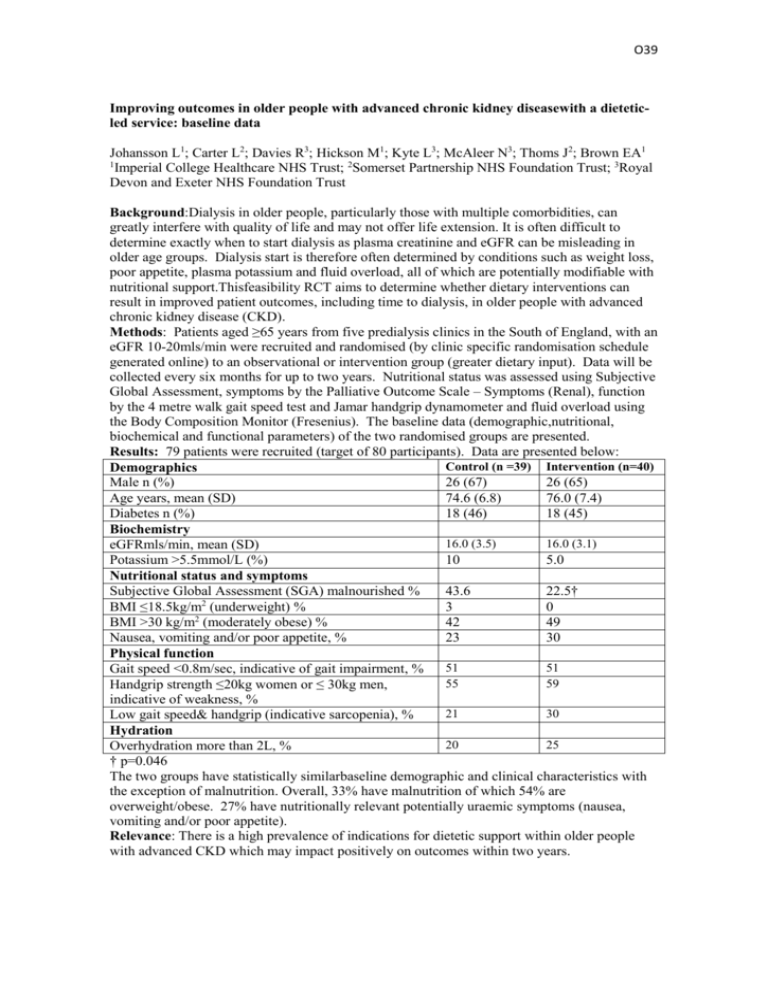 O39
Improving outcomes in older people with advanced chronic kidney diseasewith a dieteticled service: baseline data
Johansson L1; Carter L2; Davies R3; Hickson M1; Kyte L3; McAleer N3; Thoms J2; Brown EA1
1
Imperial College Healthcare NHS Trust; 2Somerset Partnership NHS Foundation Trust; 3Royal
Devon and Exeter NHS Foundation Trust
Background:Dialysis in older people, particularly those with multiple comorbidities, can
greatly interfere with quality of life and may not offer life extension. It is often difficult to
determine exactly when to start dialysis as plasma creatinine and eGFR can be misleading in
older age groups. Dialysis start is therefore often determined by conditions such as weight loss,
poor appetite, plasma potassium and fluid overload, all of which are potentially modifiable with
nutritional support.Thisfeasibility RCT aims to determine whether dietary interventions can
result in improved patient outcomes, including time to dialysis, in older people with advanced
chronic kidney disease (CKD).
Methods: Patients aged ≥65 years from five predialysis clinics in the South of England, with an
eGFR 10-20mls/min were recruited and randomised (by clinic specific randomisation schedule
generated online) to an observational or intervention group (greater dietary input). Data will be
collected every six months for up to two years. Nutritional status was assessed using Subjective
Global Assessment, symptoms by the Palliative Outcome Scale – Symptoms (Renal), function
by the 4 metre walk gait speed test and Jamar handgrip dynamometer and fluid overload using
the Body Composition Monitor (Fresenius). The baseline data (demographic,nutritional,
biochemical and functional parameters) of the two randomised groups are presented.
Results: 79 patients were recruited (target of 80 participants). Data are presented below:
Control (n =39) Intervention (n=40)
Demographics
Male n (%)
26 (67)
26 (65)
Age years, mean (SD)
74.6 (6.8)
76.0 (7.4)
Diabetes n (%)
18 (46)
18 (45)
Biochemistry
16.0 (3.5)
16.0 (3.1)
eGFRmls/min, mean (SD)
Potassium >5.5mmol/L (%)
10
5.0
Nutritional status and symptoms
Subjective Global Assessment (SGA) malnourished %
43.6
22.5†
BMI ≤18.5kg/m2 (underweight) %
3
0
BMI >30 kg/m2 (moderately obese) %
42
49
Nausea, vomiting and/or poor appetite, %
23
30
Physical function
51
51
Gait speed <0.8m/sec, indicative of gait impairment, %
55
59
Handgrip strength ≤20kg women or ≤ 30kg men,
indicative of weakness, %
21
30
Low gait speed& handgrip (indicative sarcopenia), %
Hydration
20
25
Overhydration more than 2L, %
† p=0.046
The two groups have statistically similarbaseline demographic and clinical characteristics with
the exception of malnutrition. Overall, 33% have malnutrition of which 54% are
overweight/obese. 27% have nutritionally relevant potentially uraemic symptoms (nausea,
vomiting and/or poor appetite).
Relevance: There is a high prevalence of indications for dietetic support within older people
with advanced CKD which may impact positively on outcomes within two years.