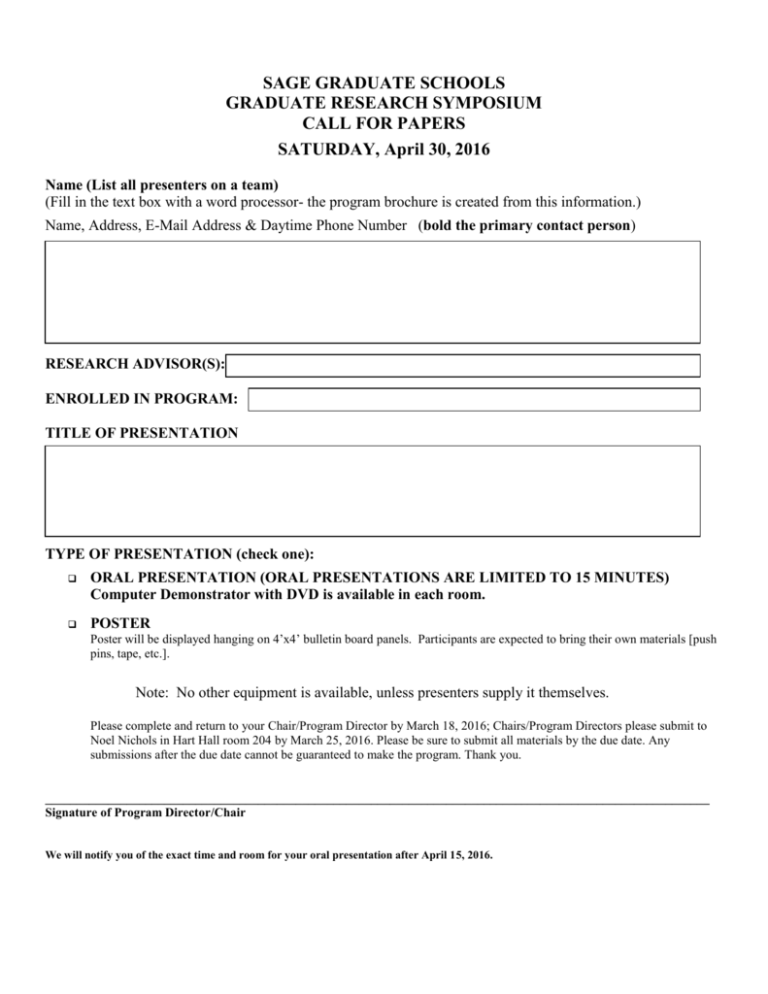 SAGE GRADUATE SCHOOLS
GRADUATE RESEARCH SYMPOSIUM
CALL FOR PAPERS
SATURDAY, April 30, 2016
Name (List all presenters on a team)
(Fill in the text box with a word processor- the program brochure is created from this information.)
Name, Address, E-Mail Address & Daytime Phone Number (bold the primary contact person)
RESEARCH ADVISOR(S):
ENROLLED IN PROGRAM:
TITLE OF PRESENTATION
TYPE OF PRESENTATION (check one):

ORAL PRESENTATION (ORAL PRESENTATIONS ARE LIMITED TO 15 MINUTES)
Computer Demonstrator with DVD is available in each room.

POSTER
Poster will be displayed hanging on 4'x4' bulletin board panels. Participants are expected to bring their own materials [push
pins, tape, etc.].
Note: No other equipment is available, unless presenters supply it themselves.
Please complete and return to your Chair/Program Director by March 18, 2016; Chairs/Program Directors please submit to
Noel Nichols in Hart Hall room 204 by March 25, 2016. Please be sure to submit all materials by the due date. Any
submissions after the due date cannot be guaranteed to make the program. Thank you.
__________________________________________________________________________________________________________
Signature of Program Director/Chair
We will notify you of the exact time and room for your oral presentation after April 15, 2016.