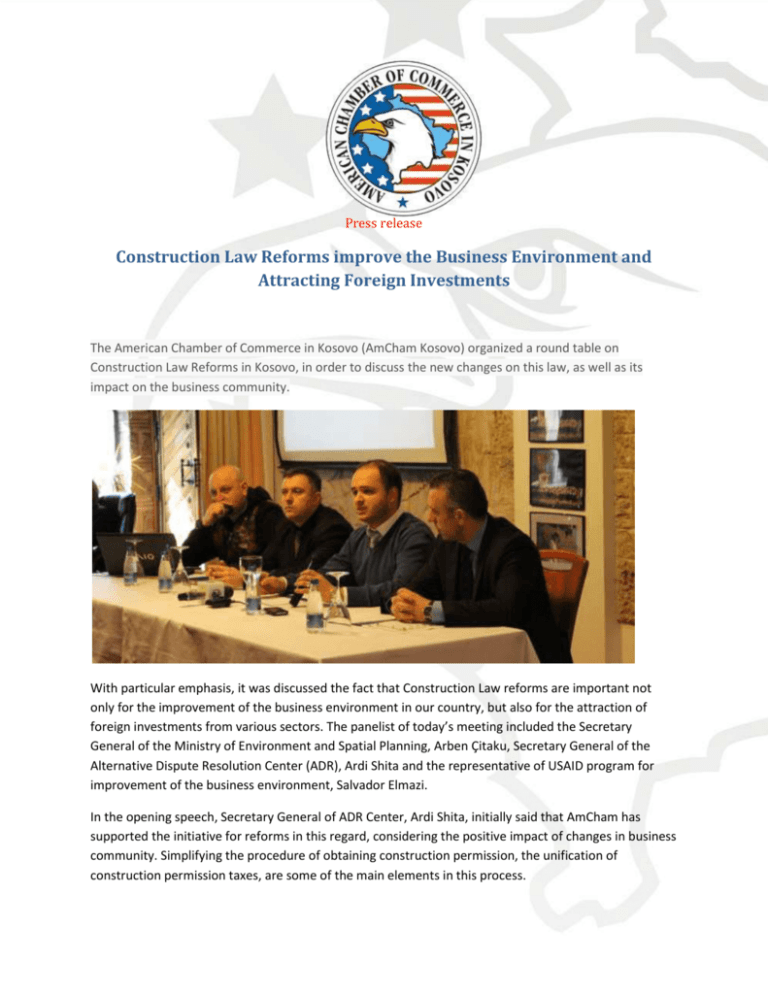 Press release
Construction Law Reforms improve the Business Environment and
Attracting Foreign Investments
The American Chamber of Commerce in Kosovo (AmCham Kosovo) organized a round table on
Construction Law Reforms in Kosovo, in order to discuss the new changes on this law, as well as its
impact on the business community.
With particular emphasis, it was discussed the fact that Construction Law reforms are important not
only for the improvement of the business environment in our country, but also for the attraction of
foreign investments from various sectors. The panelist of today's meeting included the Secretary
General of the Ministry of Environment and Spatial Planning, Arben Çitaku, Secretary General of the
Alternative Dispute Resolution Center (ADR), Ardi Shita and the representative of USAID program for
improvement of the business environment, Salvador Elmazi.
In the opening speech, Secretary General of ADR Center, Ardi Shita, initially said that AmCham has
supported the initiative for reforms in this regard, considering the positive impact of changes in business
community. Simplifying the procedure of obtaining construction permission, the unification of
construction permission taxes, are some of the main elements in this process.
In addition, Mr. Shita informed that the Arbitration Center of the American Chamber Kosovo will
contribute by drafting the development agreement, as well as including of arbitration clauses so that
businesses and municipalities to have a center where they can solve disputes through accelerated
procedures.
On the other hand, Mr. Çitaku informed that the Ministry is committed to continue these reforms, with
another platform of laws which recently have already passed in Assembly, such as: Law on Spatial
Planning and Law on Illegal Construction Treatment. Mr. Çitaku added that a modern law is drafted,
where basic principles of developed and democratic countries have been adopted, and it is needed the
support of all communities, especially of businesses in order to implement this reform.
During the meeting, a presentation was delivered from the USAID representative, Salvador Elmaz, who
informed the participants in details on these reforms and reconstruction taxes in accordance with
administrative order.
AmCham in cooperation with USAID program for improvment of the Business Environment organized a
series of round tables in order to discuss Construction Law Reforms in 7 cities of Kosovo, including:
Mitrovica, Prizren, Gracanice, Gjakove, Ferizaj, Peje, Gjilan and Prishtina.