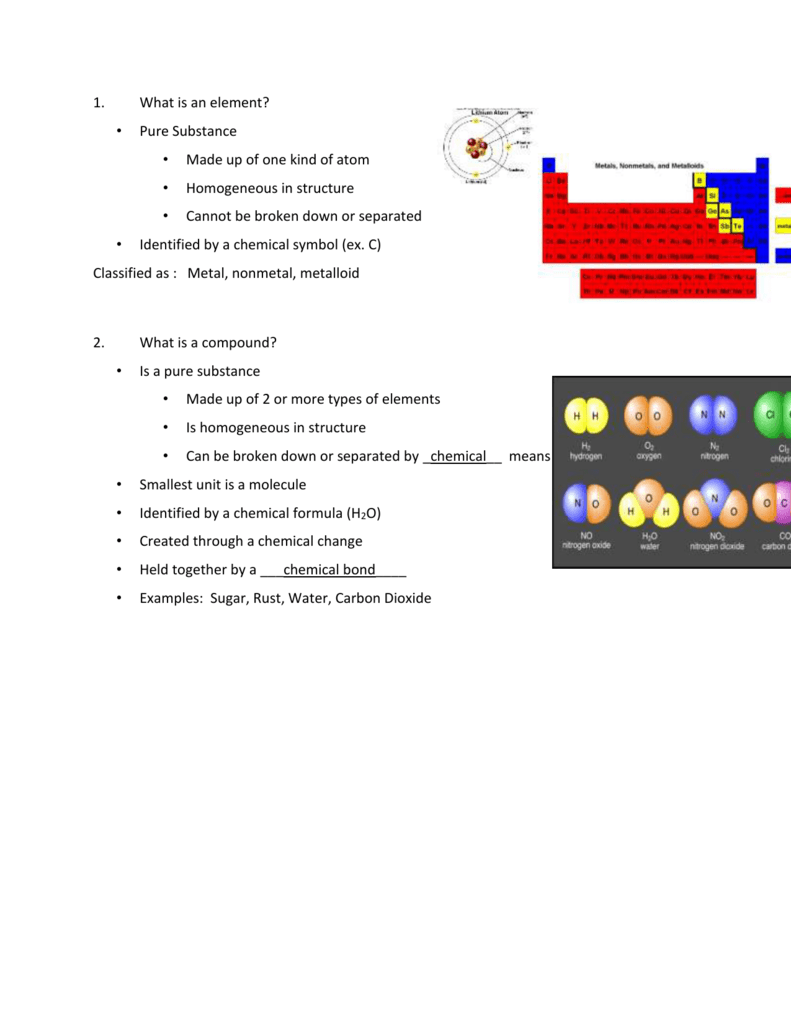 1.
What is an element?
•
•
Pure Substance
•
Made up of one kind of atom
•
Homogeneous in structure
•
Cannot be broken down or separated
Identified by a chemical symbol (ex. C)
Classified as : Metal, nonmetal, metalloid
2.
What is a compound?
•
Is a pure substance
•
Made up of 2 or more types of elements
•
Is homogeneous in structure
•
Can be broken down or separated by _chemical__ means
•
Smallest unit is a molecule
•
Identified by a chemical formula (H2O)
•
Created through a chemical change
•
Held together by a ___chemical bond____
•
Examples: Sugar, Rust, Water, Carbon Dioxide
3.
Complete the chart below using a periodic table
Element Name
Element
Symbol
Symbol
Name
Gold
Mn
Ag
Magnesium
Cu
Mercury
Zinc
Fe
Sodium
4.
Lead
Elements are Grouped By Type
Metals
•
•
•
•
•
5.
Solid and Shiny
Conduct Electricity and Heat
Nonmetals
•
•
•
•
Liquid/Gas
Brittle
Elements
a. Symbol
i. ______________________
ii. Not always first letter
iii. Sometimes Latin Name
1. Ex. Gold = Au = Aurum
Metalloids
•
•
•
6.
Writing Compounds
a. Coefficient
i. Number ___________ the
element/compound
ii. Tells you how many of the
element/compound there are
b. Subscript
i. Number _____________ element
ii. Tells you how many atoms of that element there are
7.
Counting Atoms in a Compound Practice
a. CaCO3
i. Ca =
ii. C =
iii. O =
b. C9H8O4
i. C =
ii. H =
iii. O =
c. Mg(OH)2
i. Mg =
ii. O =
iii. H =
d. 2FeS2
i. Fe =
ii. S =
e. H2O + O2 =
i. H =
ii. O =
f.
2C7H5(NO2)3
i. C =
ii. H =
iii. N =
iv. O =
8. List the number of atoms of each element within the compound below.
C=2
O =4
Compound
Atoms in Compound
Na = 1
NaCl
Cl = 1
Ba =
BaCl2
Cl =
LiBr
FeS2
Ba =
BaSO4
S=
CaSO4
3CaCO2
C6H4Cl2
C2H4O2
Mg(OH)2
C7H5(NO2)3
2 Ca(H2PO4)2
2HBr
3H20
2C202
O=
9. Translate the description into chemical equations
a. Two molecules of ethane (C2H6) reacts with seven molecules of oxygen
(O2) to form four molecules of carbon dioxide ( CO2) and six molecules of
water (H2O).
b. Four atoms of phosphorus (P) reacts with five molecules of oxygen (O 2) to
form two molecules of diphosphorus pentoxide (P2O5).