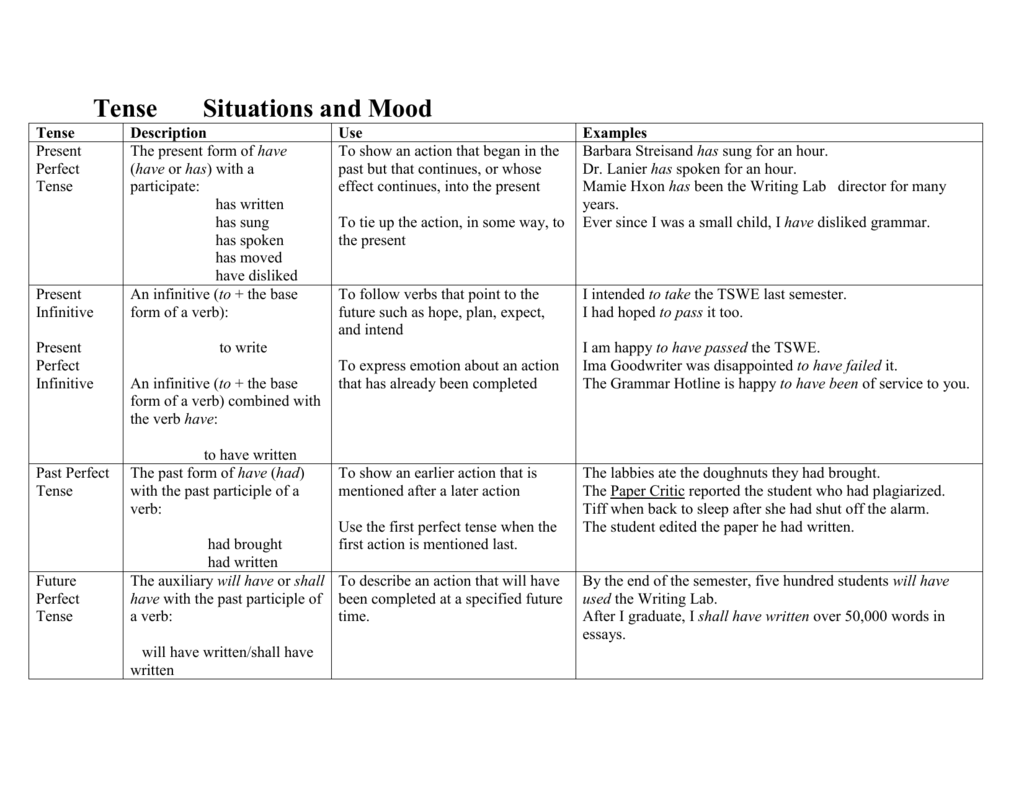 Tense
Tense
Present
Perfect
Tense
Present
Infinitive
Present
Perfect
Infinitive
Past Perfect
Tense
Situations and Mood
Description
The present form of have
(have or has) with a
participate:
has written
has sung
has spoken
has moved
have disliked
An infinitive (to + the base
form of a verb):
Use
To show an action that began in the
past but that continues, or whose
effect continues, into the present
To tie up the action, in some way, to
the present
To follow verbs that point to the
future such as hope, plan, expect,
and intend
to write
An infinitive (to + the base
form of a verb) combined with
the verb have:
to have written
The past form of have (had)
with the past participle of a
verb:
To express emotion about an action
that has already been completed
To show an earlier action that is
mentioned after a later action
Use the first perfect tense when the
first action is mentioned last.
Future
Perfect
Tense
had brought
had written
The auxiliary will have or shall To describe an action that will have
have with the past participle of been completed at a specified future
a verb:
time.
will have written/shall have
written
Examples
Barbara Streisand has sung for an hour.
Dr. Lanier has spoken for an hour.
Mamie Hxon has been the Writing Lab director for many
years.
Ever since I was a small child, I have disliked grammar.
I intended to take the TSWE last semester.
I had hoped to pass it too.
I am happy to have passed the TSWE.
Ima Goodwriter was disappointed to have failed it.
The Grammar Hotline is happy to have been of service to you.
The labbies ate the doughnuts they had brought.
The Paper Critic reported the student who had plagiarized.
Tiff when back to sleep after she had shut off the alarm.
The student edited the paper he had written.
By the end of the semester, five hundred students will have
used the Writing Lab.
After I graduate, I shall have written over 50,000 words in
essays.
Present
Tense
The base and –s form of a
verb:
Past Tense
writes (base form is
write)
The past form of a verb
Past Perfect
for
Condition
Conditional
An if-clause + a past perfect
verb
Subjunctive
Most common:
would have
I wish that I were…
If I were…
To show universally true statements,
not limited to a particular time
Hamlet is one of the most indecisive characters in literature.
The labbie reminded us that "all right" is two words.
To show an action that has already
taken place
To state a condition under which
something could have or would have
happened
Use in only one part of the
sentence—the part that shows what
would have happened if an earlier
action (past present) had occurred.
Be sure not to use the words "would
have" in the "if" clause.
Ralph Ellison wrote Invisible Man, which is a story about a
man's struggle to find his identity in society.
If I had seen the light, I would have stopped.
It is very likely that they would have struck oil if only they had
drilled twenty feet more.
INCORRECT: If it would have rained another ten minutes, the
game would have been called off.
CORRECT: If it had rained another ten minutes, the game
would have been called off.
OTHER EXAMPLES: Frank would not have bought the car if
he had known the reputation of the dealer.
You too would have bought the dress if you had seen it.
WISH STATEMENTS: I wish that I were going with you to
Europe this summer.
If I were President, I would lower taxes.
A DOUBT OR UNCERTAINTY: If the weather report be
true, we will have to change our plans.
STATEMENT CONTRARY TO FACT: If she were appointed
chair, we would have strong leadership.
PARLIAMENTARY MOTION: I move that the proposal be
adopted.
CERTAIN SET PHRASES: Heaven forbid!
If I were you… Far be it from me…
Winner need not be present to win.
TO EXPRESS NECESSITY, URGENCY, IMPORTANCE,
OR INSISTENCE IN THAT –CLAUSES: It is important that
all reports be submitted on time.
The most common examples of
subjunctive mood are wish
statements. Subjunctive mood can
also be used to express a doubt or
uncertainty, statement contrary to
fact, a parliamentary motion, and
certain set phrases. Subjunctive
mood is also used to express
necessity, urgency, importance or
insistence in that clauses after verbs
of insisting, asking, ordering,
requesting, and expressions as it is
necessary and it was urged.