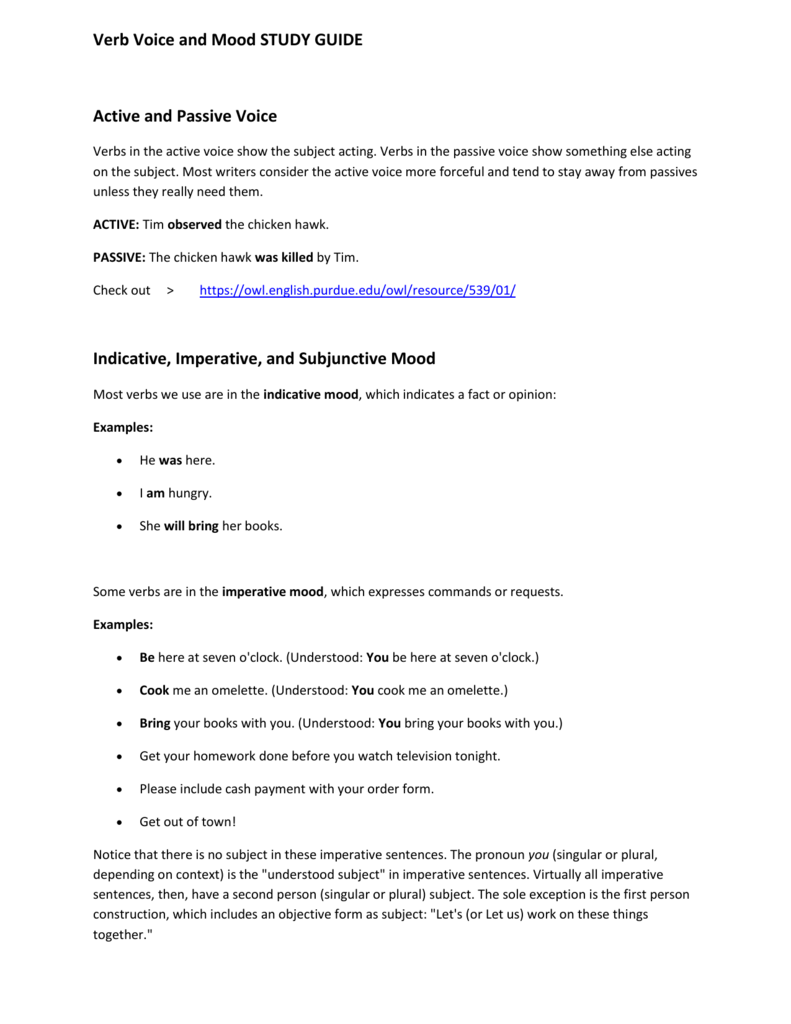 Verb Voice and Mood STUDY GUIDE
Active and Passive Voice
Verbs in the active voice show the subject acting. Verbs in the passive voice show something else acting
on the subject. Most writers consider the active voice more forceful and tend to stay away from passives
unless they really need them.
ACTIVE: Tim observed the chicken hawk.
PASSIVE: The chicken hawk was killed by Tim.
Check out
>
https://owl.english.purdue.edu/owl/resource/539/01/
Indicative, Imperative, and Subjunctive Mood
Most verbs we use are in the indicative mood, which indicates a fact or opinion:
Examples:

He was here.

I am hungry.

She will bring her books.
Some verbs are in the imperative mood, which expresses commands or requests.
Examples:

Be here at seven o'clock. (Understood: You be here at seven o'clock.)

Cook me an omelette. (Understood: You cook me an omelette.)

Bring your books with you. (Understood: You bring your books with you.)

Get your homework done before you watch television tonight.

Please include cash payment with your order form.

Get out of town!
Notice that there is no subject in these imperative sentences. The pronoun you (singular or plural,
depending on context) is the "understood subject" in imperative sentences. Virtually all imperative
sentences, then, have a second person (singular or plural) subject. The sole exception is the first person
construction, which includes an objective form as subject: "Let's (or Let us) work on these things
together."
When verbs show something contrary to fact, they are in the subjunctive mood.
The subjunctive mood is used in dependent clauses that do the following: 1) express a wish; 2) begin
with ifand express a condition that does not exist (is contrary to fact); 3) begin with as if and as
though when such clauses describe a speculation or condition contrary to fact; and 4) begin
with that and express a demand, requirement, request, or suggestion.
When you express a wish or something that is not actually true, use the past tense or past perfect tense;
when using the verb 'to be' in the subjunctive, always use were rather than was:
Examples:

If he were here... (Implied: ...but he's not.)

I wish I had something to eat. (Implied: ...but I don't.)

It would be better if you had brought your books with you. (Implied: ...but you haven't brought
them.)

She wishes her boyfriend were here.

If Juan were more aggressive, he'd be a better hockey player.

We would have passed if we had studied harder.

He acted as if he were guilty.

I requested that he be present at the hearing.
The present tense of the subjunctive uses only the base form of the verb.

He demanded that his students use two-inch margins.

She suggested that we be on time tomorrow.
The past tense of the subjunctive has the same forms as the indicative except (unfortunately)
for the verb to be, which uses were regardless of the number of the subject.

If I were seven feet tall, I'd be a great basketball player.

He wishes he were a better student.

If you were rich, we wouldn't be in this mess.

If they were faster, we could have won that race.