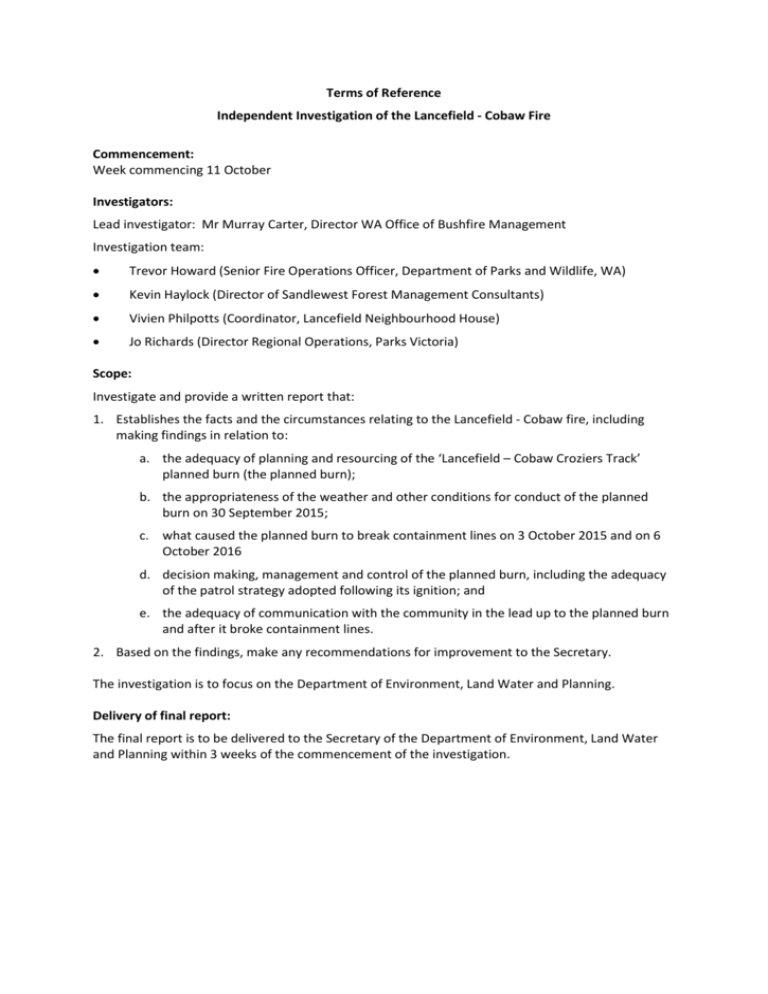 Terms of Reference
Independent Investigation of the Lancefield - Cobaw Fire
Commencement:
Week commencing 11 October
Investigators:
Lead investigator: Mr Murray Carter, Director WA Office of Bushfire Management
Investigation team:

Trevor Howard (Senior Fire Operations Officer, Department of Parks and Wildlife, WA)

Kevin Haylock (Director of Sandlewest Forest Management Consultants)

Vivien Philpotts (Coordinator, Lancefield Neighbourhood House)

Jo Richards (Director Regional Operations, Parks Victoria)
Scope:
Investigate and provide a written report that:
1. Establishes the facts and the circumstances relating to the Lancefield - Cobaw fire, including
making findings in relation to:
a. the adequacy of planning and resourcing of the 'Lancefield – Cobaw Croziers Track'
planned burn (the planned burn);
b. the appropriateness of the weather and other conditions for conduct of the planned
burn on 30 September 2015;
c. what caused the planned burn to break containment lines on 3 October 2015 and on 6
October 2016
d. decision making, management and control of the planned burn, including the adequacy
of the patrol strategy adopted following its ignition; and
e. the adequacy of communication with the community in the lead up to the planned burn
and after it broke containment lines.
2. Based on the findings, make any recommendations for improvement to the Secretary.
The investigation is to focus on the Department of Environment, Land Water and Planning.
Delivery of final report:
The final report is to be delivered to the Secretary of the Department of Environment, Land Water
and Planning within 3 weeks of the commencement of the investigation.