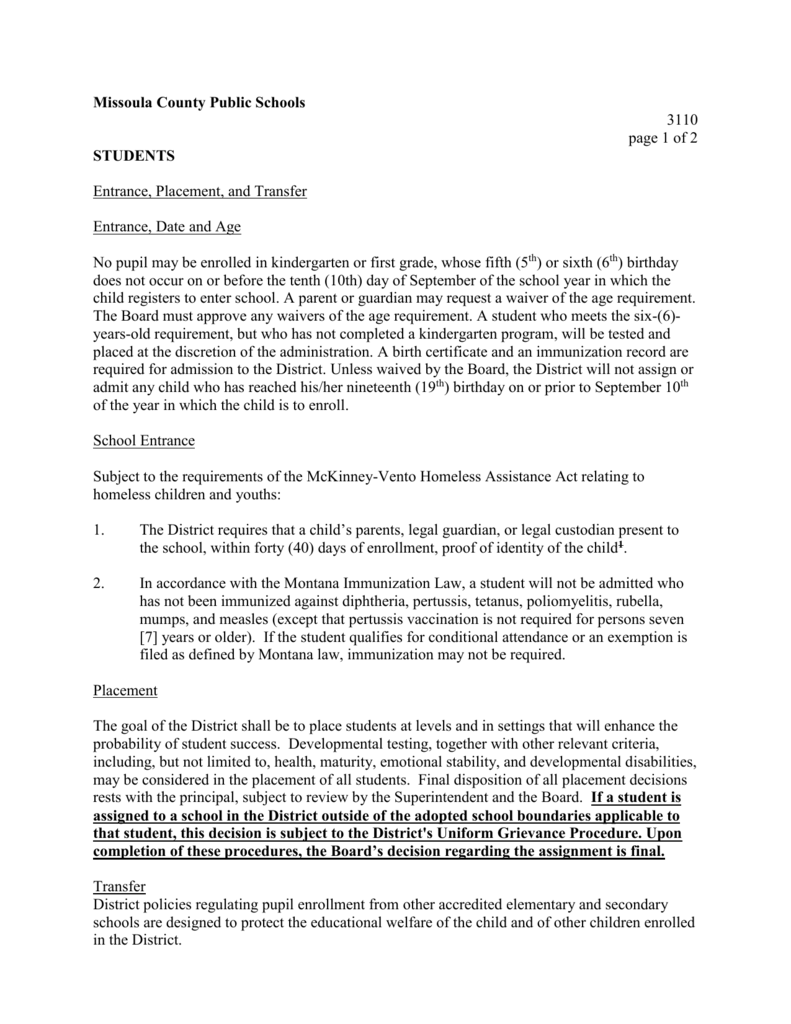 Missoula County Public Schools
3110
page 1 of 2
STUDENTS
Entrance, Placement, and Transfer
Entrance, Date and Age
No pupil may be enrolled in kindergarten or first grade, whose fifth (5th) or sixth (6th) birthday
does not occur on or before the tenth (10th) day of September of the school year in which the
child registers to enter school. A parent or guardian may request a waiver of the age requirement.
The Board must approve any waivers of the age requirement. A student who meets the six-(6)years-old requirement, but who has not completed a kindergarten program, will be tested and
placed at the discretion of the administration. A birth certificate and an immunization record are
required for admission to the District. Unless waived by the Board, the District will not assign or
admit any child who has reached his/her nineteenth (19th) birthday on or prior to September 10th
of the year in which the child is to enroll.
School Entrance
Subject to the requirements of the McKinney-Vento Homeless Assistance Act relating to
homeless children and youths:
1.
The District requires that a child's parents, legal guardian, or legal custodian present to
the school, within forty (40) days of enrollment, proof of identity of the child1.
2.
In accordance with the Montana Immunization Law, a student will not be admitted who
has not been immunized against diphtheria, pertussis, tetanus, poliomyelitis, rubella,
mumps, and measles (except that pertussis vaccination is not required for persons seven
[7] years or older). If the student qualifies for conditional attendance or an exemption is
filed as defined by Montana law, immunization may not be required.
Placement
The goal of the District shall be to place students at levels and in settings that will enhance the
probability of student success. Developmental testing, together with other relevant criteria,
including, but not limited to, health, maturity, emotional stability, and developmental disabilities,
may be considered in the placement of all students. Final disposition of all placement decisions
rests with the principal, subject to review by the Superintendent and the Board. If a student is
assigned to a school in the District outside of the adopted school boundaries applicable to
that student, this decision is subject to the District's Uniform Grievance Procedure. Upon
completion of these procedures, the Board's decision regarding the assignment is final.
Transfer
District policies regulating pupil enrollment from other accredited elementary and secondary
schools are designed to protect the educational welfare of the child and of other children enrolled
in the District.
3110
page 2 of 2
Elementary Grades (K-8): Any student transferring into the District will be admitted and placed
on a probationary basis for a period of two (2) weeks.
Should any doubt exist with teacher and/or principal as to grade and level placement of the
student, the student shall be subject to an educational assessment to determine appropriate grade
and level placement.
During the two-(2)-week probationary period, the student will be subject to observation by the
teacher and building principal.
Secondary Grades (9-12): Credit Transfer: Resident students seeking to transfer to a District school
will be admitted and placed pursuant to the terms of this policy. The District will request the
student's records from the prior school district prior to making any final decision on placement.
High school students shall be placed according to the number of credits earned in their previous
accredited school districts, subject to Montana Accreditation Rules and Standards and local alternate
procedures for earning credit.
Cross Reference:
Board Policy1700
Uniform Grievance Procedure
Legal Reference:
42 USC § 11431 et seq.
§ 20-5-101, MCA
§ 20-5-403, MCA
Education for Homeless Children and Youths
Admittance of child to school
Immunization required – release and
acceptance of immunization records
Conditional attendance
Medical or religious exemption
Immunization record
Kindergarten and preschool programs
Definition of proof of identity
§ 20-5-404, MCA
§ 20-5-405, MCA
§ 20-5-406, MCA
§ 20-7-117, MCA
§ 44-2-511(6)(a), MCA
10.55.601 et seq., ARM
Policy History:
Adopted on: December 9, 2003
PN&P Committee for revision review on February 27, 2008
Approved on: March 11, 2008
Revised at PN&P Committee on: June 30, 2010 and posted for public comment
Approved on: August 10, 2010
Revised at PN&P Committee on: October 31, 2012 and posted for public comment
Approved on: December 11, 2012
Revised at PN&P Committee on June 26, 2013 and posted for public comment.