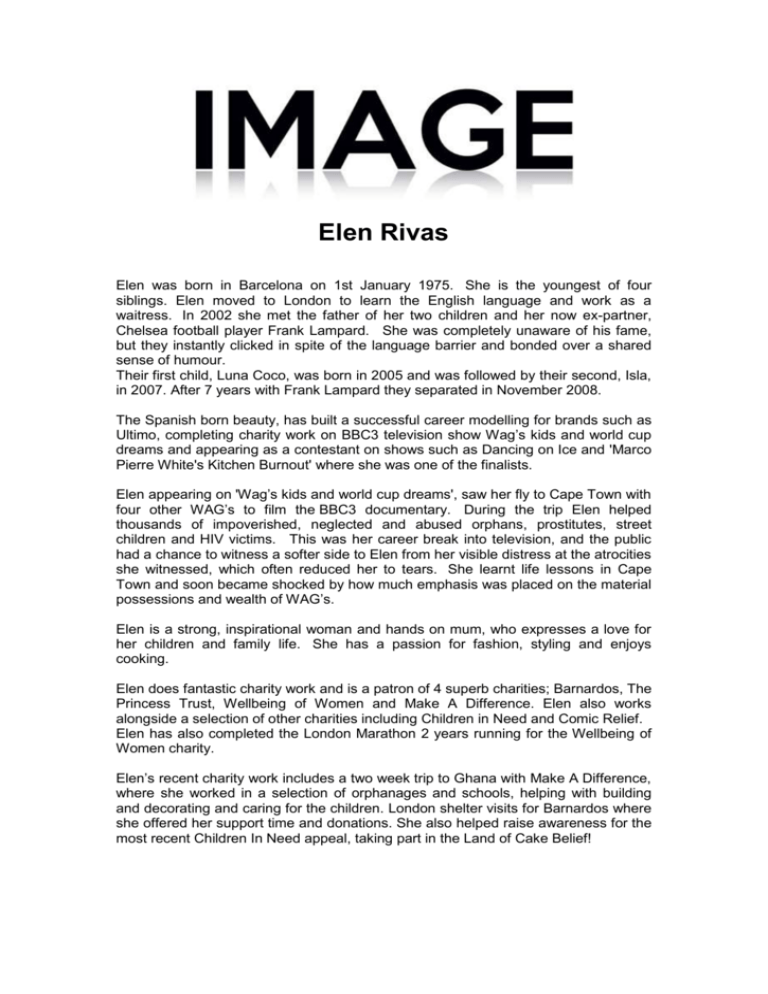 Elen Rivas
Elen was born in Barcelona on 1st January 1975. She is the youngest of four
siblings. Elen moved to London to learn the English language and work as a
waitress. In 2002 she met the father of her two children and her now ex-partner,
Chelsea football player Frank Lampard. She was completely unaware of his fame,
but they instantly clicked in spite of the language barrier and bonded over a shared
sense of humour.
Their first child, Luna Coco, was born in 2005 and was followed by their second, Isla,
in 2007. After 7 years with Frank Lampard they separated in November 2008.
The Spanish born beauty, has built a successful career modelling for brands such as
Ultimo, completing charity work on BBC3 television show Wag's kids and world cup
dreams and appearing as a contestant on shows such as Dancing on Ice and 'Marco
Pierre White's Kitchen Burnout' where she was one of the finalists.
Elen appearing on 'Wag's kids and world cup dreams', saw her fly to Cape Town with
four other WAG's to film the BBC3 documentary. During the trip Elen helped
thousands of impoverished, neglected and abused orphans, prostitutes, street
children and HIV victims. This was her career break into television, and the public
had a chance to witness a softer side to Elen from her visible distress at the atrocities
she witnessed, which often reduced her to tears. She learnt life lessons in Cape
Town and soon became shocked by how much emphasis was placed on the material
possessions and wealth of WAG's.
Elen is a strong, inspirational woman and hands on mum, who expresses a love for
her children and family life. She has a passion for fashion, styling and enjoys
cooking.
Elen does fantastic charity work and is a patron of 4 superb charities; Barnardos, The
Princess Trust, Wellbeing of Women and Make A Difference. Elen also works
alongside a selection of other charities including Children in Need and Comic Relief.
Elen has also completed the London Marathon 2 years running for the Wellbeing of
Women charity.
Elen's recent charity work includes a two week trip to Ghana with Make A Difference,
where she worked in a selection of orphanages and schools, helping with building
and decorating and caring for the children. London shelter visits for Barnardos where
she offered her support time and donations. She also helped raise awareness for the
most recent Children In Need appeal, taking part in the Land of Cake Belief!