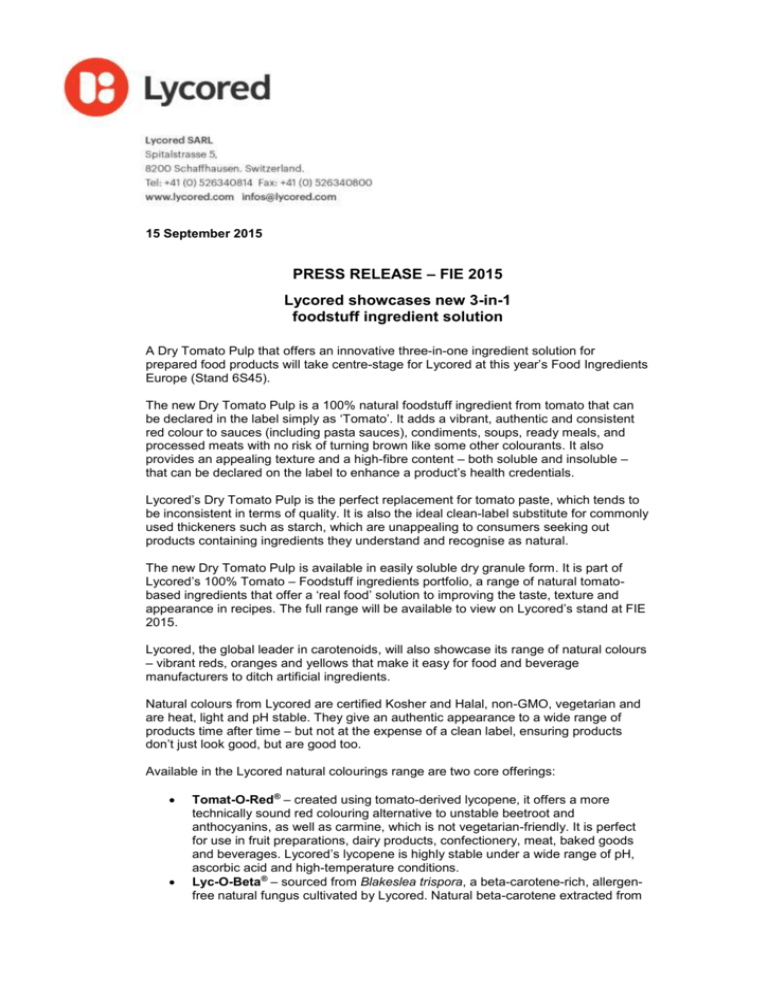 15 September 2015
PRESS RELEASE – FIE 2015
Lycored showcases new 3-in-1
foodstuff ingredient solution
A Dry Tomato Pulp that offers an innovative three-in-one ingredient solution for
prepared food products will take centre-stage for Lycored at this year's Food Ingredients
Europe (Stand 6S45).
The new Dry Tomato Pulp is a 100% natural foodstuff ingredient from tomato that can
be declared in the label simply as 'Tomato'. It adds a vibrant, authentic and consistent
red colour to sauces (including pasta sauces), condiments, soups, ready meals, and
processed meats with no risk of turning brown like some other colourants. It also
provides an appealing texture and a high-fibre content – both soluble and insoluble –
that can be declared on the label to enhance a product's health credentials.
Lycored's Dry Tomato Pulp is the perfect replacement for tomato paste, which tends to
be inconsistent in terms of quality. It is also the ideal clean-label substitute for commonly
used thickeners such as starch, which are unappealing to consumers seeking out
products containing ingredients they understand and recognise as natural.
The new Dry Tomato Pulp is available in easily soluble dry granule form. It is part of
Lycored's 100% Tomato – Foodstuff ingredients portfolio, a range of natural tomatobased ingredients that offer a 'real food' solution to improving the taste, texture and
appearance in recipes. The full range will be available to view on Lycored's stand at FIE
2015.
Lycored, the global leader in carotenoids, will also showcase its range of natural colours
– vibrant reds, oranges and yellows that make it easy for food and beverage
manufacturers to ditch artificial ingredients.
Natural colours from Lycored are certified Kosher and Halal, non-GMO, vegetarian and
are heat, light and pH stable. They give an authentic appearance to a wide range of
products time after time – but not at the expense of a clean label, ensuring products
don't just look good, but are good too.
Available in the Lycored natural colourings range are two core offerings:


Tomat-O-Red® – created using tomato-derived lycopene, it offers a more
technically sound red colouring alternative to unstable beetroot and
anthocyanins, as well as carmine, which is not vegetarian-friendly. It is perfect
for use in fruit preparations, dairy products, confectionery, meat, baked goods
and beverages. Lycored's lycopene is highly stable under a wide range of pH,
ascorbic acid and high-temperature conditions.
Lyc-O-Beta® – sourced from Blakeslea trispora, a beta-carotene-rich, allergenfree natural fungus cultivated by Lycored. Natural beta-carotene extracted from
Blakeslea Trispora offers a spectrum of yellow to orange shades for use in
bakery, fillings, confectionery, dairy and beverages.
FIE 2015 takes place from 1-3 December 2015 at Paris Nord Villepinte, France.
ENDS
For more information, please contact:
Kine Bjoralt, Ingredient Communications
Tel: +44 141 280 4141
Email: kine@ingredientcommunications.com
@ingredientcomms
About Lycored
Committed to 'Cultivating Wellness', Lycored is an international company at the forefront
of unearthing and combining nature's nutrition potential with cutting edge science to
develop natural ingredients and products. Established in 1995, Lycored is the global
leader in natural carotenoids for food, beverage and dietary supplement products. The
company develops and supplies natural ingredient formulations into four main business
areas: active health ingredients for wellness; colourings; ingredients for taste & texture
improvement; and nutrient premixes for fortification. Lycored is based in Israel, with
sales & production operations in the UK, Switzerland, the US, Ukraine and China. For
more information visit www.lycored.com.