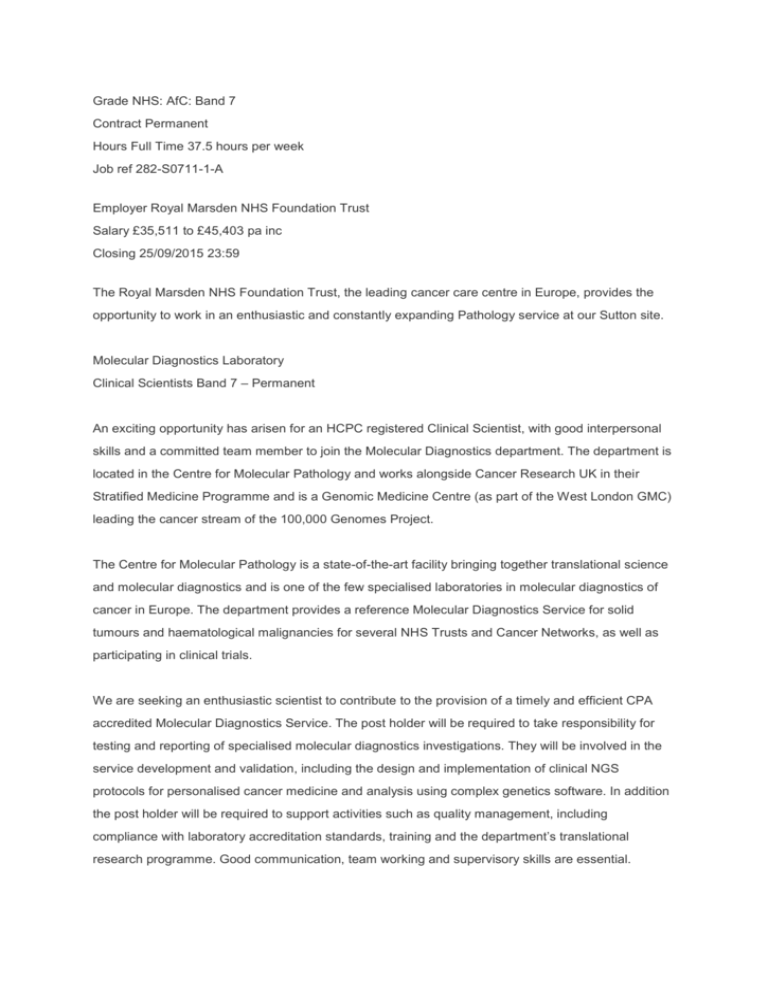 Grade NHS: AfC: Band 7
Contract Permanent
Hours Full Time 37.5 hours per week
Job ref 282-S0711-1-A
Employer Royal Marsden NHS Foundation Trust
Salary £35,511 to £45,403 pa inc
Closing 25/09/2015 23:59
The Royal Marsden NHS Foundation Trust, the leading cancer care centre in Europe, provides the
opportunity to work in an enthusiastic and constantly expanding Pathology service at our Sutton site.
Molecular Diagnostics Laboratory
Clinical Scientists Band 7 – Permanent
An exciting opportunity has arisen for an HCPC registered Clinical Scientist, with good interpersonal
skills and a committed team member to join the Molecular Diagnostics department. The department is
located in the Centre for Molecular Pathology and works alongside Cancer Research UK in their
Stratified Medicine Programme and is a Genomic Medicine Centre (as part of the West London GMC)
leading the cancer stream of the 100,000 Genomes Project.
The Centre for Molecular Pathology is a state-of-the-art facility bringing together translational science
and molecular diagnostics and is one of the few specialised laboratories in molecular diagnostics of
cancer in Europe. The department provides a reference Molecular Diagnostics Service for solid
tumours and haematological malignancies for several NHS Trusts and Cancer Networks, as well as
participating in clinical trials.
We are seeking an enthusiastic scientist to contribute to the provision of a timely and efficient CPA
accredited Molecular Diagnostics Service. The post holder will be required to take responsibility for
testing and reporting of specialised molecular diagnostics investigations. They will be involved in the
service development and validation, including the design and implementation of clinical NGS
protocols for personalised cancer medicine and analysis using complex genetics software. In addition
the post holder will be required to support activities such as quality management, including
compliance with laboratory accreditation standards, training and the department's translational
research programme. Good communication, team working and supervisory skills are essential.
The successful applicant should have an MSc in a biological science (or equivalent) and must be
HCPC state-registered Clinical Scientist. They should have considerable experience in a molecular
diagnostic laboratory and with molecular diagnostics techniques. Experience in NGS is desirable but
not essential, as training will be provided.
The Trust encourages and supports continuing professional and personal development and Pathology
runs a CPD Club. Staff benefits include child care facilities, some accommodation, car parking at
Sutton and various sports and social activities.