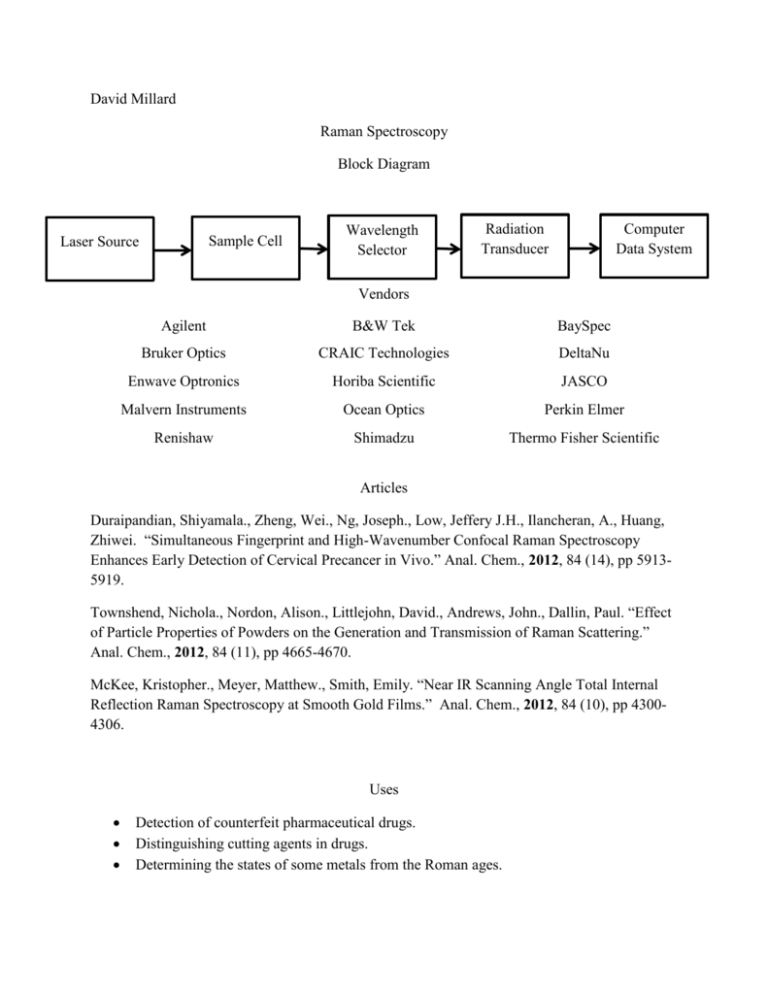 David Millard
Raman Spectroscopy
Block Diagram
Sample Cell
Laser Source
Wavelength
Selector
Radiation
Transducer
Computer
Data System
Vendors
Agilent
B&W Tek
BaySpec
Bruker Optics
CRAIC Technologies
DeltaNu
Enwave Optronics
Horiba Scientific
JASCO
Malvern Instruments
Ocean Optics
Perkin Elmer
Renishaw
Shimadzu
Thermo Fisher Scientific
Articles
Duraipandian, Shiyamala., Zheng, Wei., Ng, Joseph., Low, Jeffery J.H., Ilancheran, A., Huang,
Zhiwei. "Simultaneous Fingerprint and High-Wavenumber Confocal Raman Spectroscopy
Enhances Early Detection of Cervical Precancer in Vivo." Anal. Chem., 2012, 84 (14), pp 59135919.
Townshend, Nichola., Nordon, Alison., Littlejohn, David., Andrews, John., Dallin, Paul. "Effect
of Particle Properties of Powders on the Generation and Transmission of Raman Scattering."
Anal. Chem., 2012, 84 (11), pp 4665-4670.
McKee, Kristopher., Meyer, Matthew., Smith, Emily. "Near IR Scanning Angle Total Internal
Reflection Raman Spectroscopy at Smooth Gold Films." Anal. Chem., 2012, 84 (10), pp 43004306.
Uses



Detection of counterfeit pharmaceutical drugs.
Distinguishing cutting agents in drugs.
Determining the states of some metals from the Roman ages.