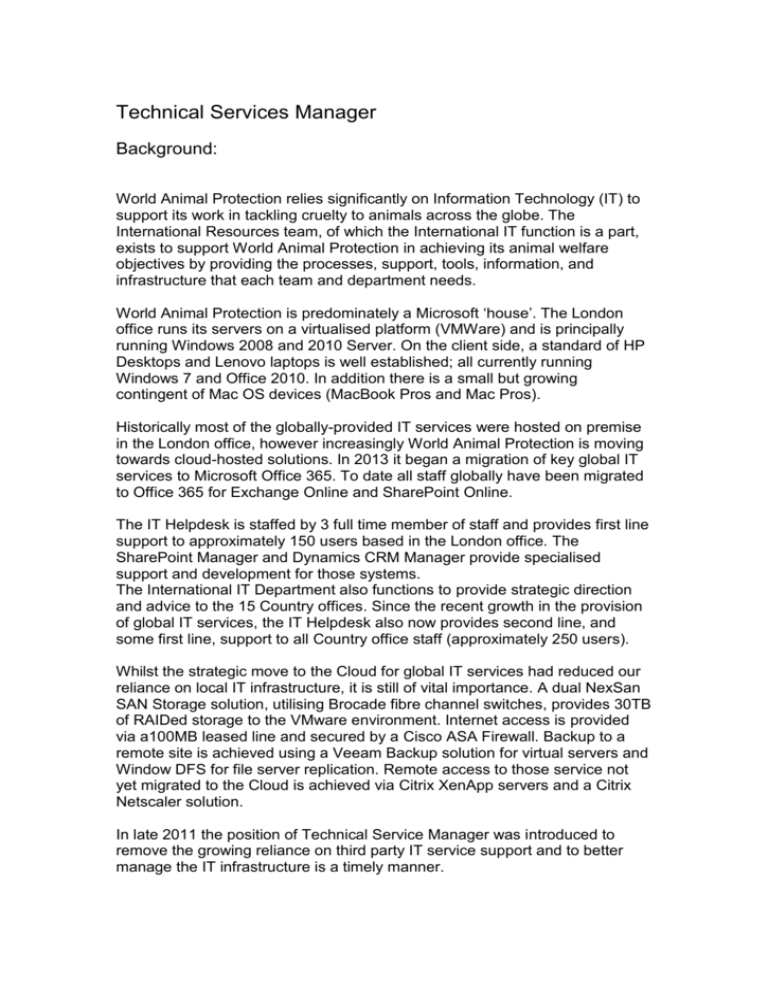 Technical Services Manager
Background:
World Animal Protection relies significantly on Information Technology (IT) to
support its work in tackling cruelty to animals across the globe. The
International Resources team, of which the International IT function is a part,
exists to support World Animal Protection in achieving its animal welfare
objectives by providing the processes, support, tools, information, and
infrastructure that each team and department needs.
World Animal Protection is predominately a Microsoft 'house'. The London
office runs its servers on a virtualised platform (VMWare) and is principally
running Windows 2008 and 2010 Server. On the client side, a standard of HP
Desktops and Lenovo laptops is well established; all currently running
Windows 7 and Office 2010. In addition there is a small but growing
contingent of Mac OS devices (MacBook Pros and Mac Pros).
Historically most of the globally-provided IT services were hosted on premise
in the London office, however increasingly World Animal Protection is moving
towards cloud-hosted solutions. In 2013 it began a migration of key global IT
services to Microsoft Office 365. To date all staff globally have been migrated
to Office 365 for Exchange Online and SharePoint Online.
The IT Helpdesk is staffed by 3 full time member of staff and provides first line
support to approximately 150 users based in the London office. The
SharePoint Manager and Dynamics CRM Manager provide specialised
support and development for those systems.
The International IT Department also functions to provide strategic direction
and advice to the 15 Country offices. Since the recent growth in the provision
of global IT services, the IT Helpdesk also now provides second line, and
some first line, support to all Country office staff (approximately 250 users).
Whilst the strategic move to the Cloud for global IT services had reduced our
reliance on local IT infrastructure, it is still of vital importance. A dual NexSan
SAN Storage solution, utilising Brocade fibre channel switches, provides 30TB
of RAIDed storage to the VMware environment. Internet access is provided
via a100MB leased line and secured by a Cisco ASA Firewall. Backup to a
remote site is achieved using a Veeam Backup solution for virtual servers and
Window DFS for file server replication. Remote access to those service not
yet migrated to the Cloud is achieved via Citrix XenApp servers and a Citrix
Netscaler solution.
In late 2011 the position of Technical Service Manager was introduced to
remove the growing reliance on third party IT service support and to better
manage the IT infrastructure is a timely manner.
The Brief
The Technical Services Manager provides top-level support for all of World
Animal Protection's IT services and infrastructure. They act as the principal
technical lead for all International and global IT projects. In addition they
provide support and assistance to the IT Helpdesk as necessary.
Main Tasks and Responsibilities:
Managing Servers and Infrastructure

Take ownership of all matters relating to Servers, Server infrastructure (e.g.
VMWare), Storage (e.g. SAN) and Networking (WAN and LAN).

Responsible for Server deployment both physical and virtual, including
upgrades and patch management.

Oversee the creation and maintenance of the Change Control log of all
changes made to Server and Network infrastructure

To manage the Server and Comms rooms, providing a stable, secure and
presentable operating environment.

Introduce processes and procedures to improve maintenance of the
equipment.

Recognise system deficiencies and implementing effective solutions.

Monitoring and reporting on resource usage (including data storage and
bandwidth) and managing capacity.

Responsible for the security management of servers and infrastructure
including server backups and antivirus.
Technical Projects Management

To lead and deliver specific technology projects in accordance to strategic
business objectives.

To plan, execute, and finalise projects according to strict deadlines and
within budget.

Acquiring resources and coordinating the efforts of team members and
third-party contractors or consultants in order to deliver projects according
to plan.
Introduction of New Technologies

Responsible for the delivery of new infrastructure technology in World
Animal Protection.

To manage the evaluation, selection and implementation of innovative
technologies in support of new business initiatives, ensuring fit with
business goals and in consideration of the IT strategy and of market trends.

To support the implementation of technical solutions and systems
integration activities being lead from outside of the IT Department.

Consulting within the User Services Manager to develop appropriate ongoing support for newly introduced technologies.

To monitor and track technology marketplace trends, advising on the
opportunities arising from new innovations and the risks associated with
any existing platforms with falling market support.
General

Supporting the User Services Team. Providing 2nd and 3rd line desktop
support when required and facilitating the resolution of technical problems
on all hardware and software.

To support the technology work of colleagues outside of the IT Department
in particular the Fundraising Database Team, Digital Team and Film and
Photography unit.

To manage or support procurements of specified technology as
appropriate.

To share skills, knowledge and understanding with colleagues in the IT
Team. Keeping the Team well informed of changes made to the technical
infrastructure.

To work collaboratively with colleagues in other departments, to ensure
that technology standards and approaches are understood.

Assisting the Head of IT in planning strategic technology infrastructure
development.

Liaising with suppliers and third-party support companies as necessary.
Skills, Knowledge and Experience:
Networking - In depth knowledge and experience of WAN and LAN
technologies including the configuration, maintenance and management of
Firewalls (Cisco ASA), Switches (HP Pro Curve), Routers, Wireless (Cisco
Wireless APs and LAN Controller), VPNs (including Cisco IPsec) and
underlying Networking architectures (including extensive use of VLAN).
Storage - Extensive experience in the configuration, maintenance and
management of SAN and DAS storage environments, including a SAN fabric
(iSCSi and Fibre Channel).
Server Virtualisation- In depth knowledge and experience of VMware vSphere
and vCentre. Creating, configuring and managing virtual machines, vNetwork
Switches, port groups and VLANs, data stores, vMotion migrations and
resource monitoring.
Windows Server - Extensive experience of Server deployment, configuration,
management and maintenance for the following: Windows Server (2003 and
above), Exchange (2003 and above), SQL Server (2005 and above), WSUS
and MDT. In depth knowledge and experience of DNS, DHCP, Active
Directory and Group Policy.
Desktop support - Experience of providing 2nd and 3rd line desktop support is
essential. Experience of automated OS and application deployment, Image
builds and MSI packaging advantageous. Experience of supporting Mac OSX,
preferable.
Application Presentation - Sound understanding of Citrix XenApp and Citrix
Netscaler application delivery. Including publishing applications, configuring
printing and general troubleshooting.
Office 365 - some experience of Office 365 Administration is preferable. In
particular, experience of Domain setup and DirSync Server management and
configuration.
Familiar with telephone system (PBX) management (preferably Avaya IP
Office).
A logical approach to problem solving and the flexibility to work in a fast
changing support environment.
Good communication skills (written and verbal) with the ability to interact with
business staff at all levels.
Able to priorities and work under own initiative
Experience of managing technical change through documented change
management procedures
Experience in IT Operations Management and IT Service Delivery based on
industry leading frameworks of ITIL, desirable.