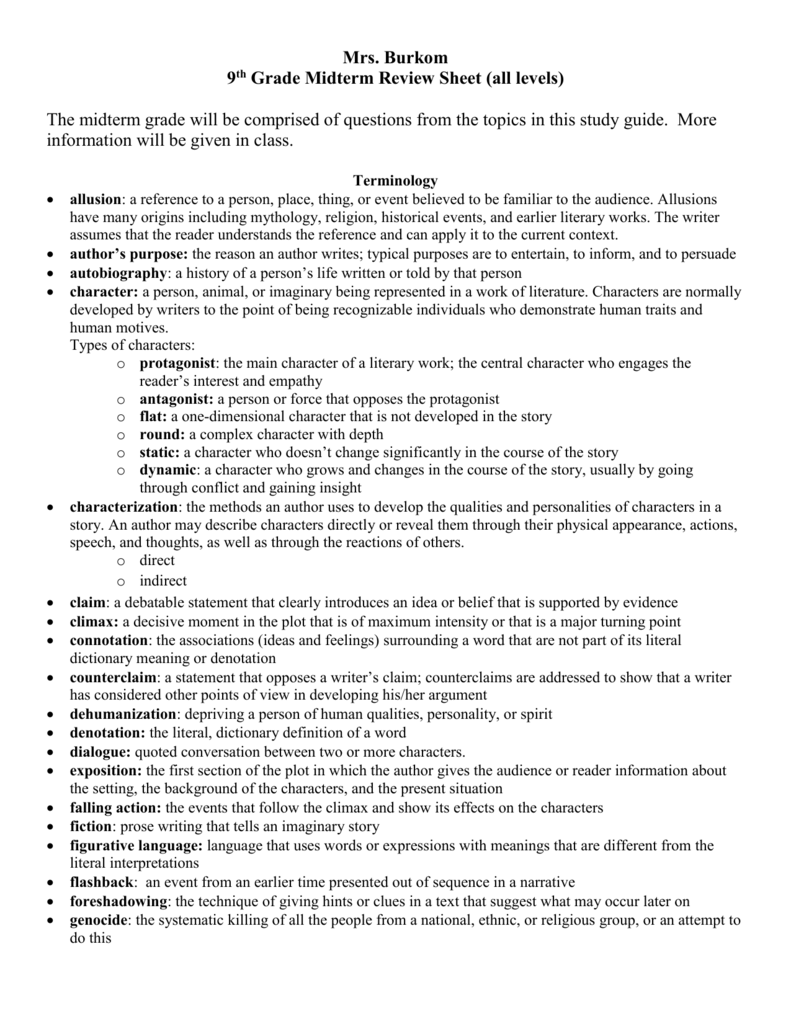 Mrs. Burkom
9 Grade Midterm Review Sheet (all levels)
th
The midterm grade will be comprised of questions from the topics in this study guide. More
information will be given in class.



















Terminology
allusion: a reference to a person, place, thing, or event believed to be familiar to the audience. Allusions
have many origins including mythology, religion, historical events, and earlier literary works. The writer
assumes that the reader understands the reference and can apply it to the current context.
author's purpose: the reason an author writes; typical purposes are to entertain, to inform, and to persuade
autobiography: a history of a person's life written or told by that person
character: a person, animal, or imaginary being represented in a work of literature. Characters are normally
developed by writers to the point of being recognizable individuals who demonstrate human traits and
human motives.
Types of characters:
o protagonist: the main character of a literary work; the central character who engages the
reader's interest and empathy
o antagonist: a person or force that opposes the protagonist
o flat: a one-dimensional character that is not developed in the story
o round: a complex character with depth
o static: a character who doesn't change significantly in the course of the story
o dynamic: a character who grows and changes in the course of the story, usually by going
through conflict and gaining insight
characterization: the methods an author uses to develop the qualities and personalities of characters in a
story. An author may describe characters directly or reveal them through their physical appearance, actions,
speech, and thoughts, as well as through the reactions of others.
o direct
o indirect
claim: a debatable statement that clearly introduces an idea or belief that is supported by evidence
climax: a decisive moment in the plot that is of maximum intensity or that is a major turning point
connotation: the associations (ideas and feelings) surrounding a word that are not part of its literal
dictionary meaning or denotation
counterclaim: a statement that opposes a writer's claim; counterclaims are addressed to show that a writer
has considered other points of view in developing his/her argument
dehumanization: depriving a person of human qualities, personality, or spirit
denotation: the literal, dictionary definition of a word
dialogue: quoted conversation between two or more characters.
exposition: the first section of the plot in which the author gives the audience or reader information about
the setting, the background of the characters, and the present situation
falling action: the events that follow the climax and show its effects on the characters
fiction: prose writing that tells an imaginary story
figurative language: language that uses words or expressions with meanings that are different from the
literal interpretations
flashback: an event from an earlier time presented out of sequence in a narrative
foreshadowing: the technique of giving hints or clues in a text that suggest what may occur later on
genocide: the systematic killing of all the people from a national, ethnic, or religious group, or an attempt to
do this

imagery: the forming of mental images, figures, or likenesses of things. It is also the use of language to
represent actions, persons, objects, and ideas descriptively. This means encompassing the senses also, rather
than just forming a mental picture.
 memoir: an account of the personal experiences of the writer, often shorter than an autobiography and
usually including the author's reflections on those experiences
 metaphor: a type of figurative language in which a statement is made that says that one thing is something
else, but, literally, it is not
 mood: the effect of the author's words on the reader; how a literary work makes the reader feel (See
"tone.")
 narrative: a story or account of events, experiences, or the like, whether true or fictitious. A narrative uses a
sequence of events known as a plot structure.
 personal narrative: a true story about events in the writer's life
 personification: giving inanimate objects human characteristics.
 plot: a storyline or sequence of events in narrative works such as movies, novels, and plays. Parts of the plot
include the following: exposition, rising action, climax or turning point, falling action, resolution or
denouement.
 point of view (literary): the perspective from which a narrative is told; the author's choice of narrator for a
story. This choice determines the amount of information a reader will be given, as well as the perspective
from which this information will be presented. The major points of view are first person and third person.
The first person narrator is a character in the story who can reveal only his or her feelings and thoughts or
information that has been directly received from other characters. The third person narrator, an outsider, can
present an omniscient or all-knowing point of view, either a limited point of view in which the narrator
enters the mind of only one character, or an objective or factual point of view.
 prejudice: a preconceived opinion, usually unfavorable, that is based on insufficient knowledge or irrational
feelings
 rising action: a related series of incidents that develop the conflict in a plot and build toward the climax
● setting: the time and place of the action of a story or play. In plays, the setting may be described in the stage
directions or at the beginning of each scene.
o physical setting: the time and place of the action of a story or play
o social setting: a description of the main character's interaction with those around him or her
o cultural setting: a description of customs, habits, and traditions of the people
 simile: comparison of two unlike things, using like or as
 symbolism: the technique of using symbols to represent abstract ideas; the attribution of symbolic meanings
to objects, events, or relationships
 theme: a distinct and unifying, often universal, idea that forms the basis of a work of literature; a unifying
or dominant idea of a literary work or work of art; a theme is a combination of a "big" idea and what is said
about that idea. A theme is a recurring idea in a text, but it also moves outside the text and applies to people
in general, not just the characters in the story.
 tone: the author's attitude, stated or implied, toward a subject or audience. Words used to describe attitudes
include these: serious, bitter, humorous, sympathetic, indignant, whimsical, joyous, mocking, cynical, and
ironic. An author's tone can be revealed through choice of words and details.
 voice: the sense of an author's character, personality, and attitude that is created by his/her words
Grammar
Coordinating conjunctions
(FANBOYS)
Subordinating conjunctions
(Sentence Destroyers)
Fragments
Run-ons
Commas
Periods
Question marks
Exclamation marks
Sentences
Quotation marks
Parentheses
Verb tense
Nouns
Adjectives
Punctuating Dialogue
Vocabulary
Unit 1
Syn
Synagogue
Synopsis
Syntax
Synthesize
Agon
Protagonist
Antagonist
Agony
Anecdote
Unit 6
Auto
Autonomous
Autodidact
Autobiography
Equi
Equinox
Equidistant
Equivalent
Deleterious
Sagacity
Unit 2
Holo
Holocaust
Omni
Omnipotent
Omniscient
Omnivorous
Magn
Magnanimous
Magnitude
Magnate
Ostentatious
Unit 7
Path
Apathetic
Antipathy
Empathy
Sympathy
Brev
Brevity
Abbrieviate
Torp
Torpid
Fortuitous
Writing
Integrating Quotes
TIQET format
Introductions
Conclusions
Thesis Statement
Plagiarism
Citations
MLA format
Argument
Rebuttal
Reading Strategies
Use background knowledge
Use context clues
Make predictions
Make connections
Vocabulary in context
Annotate/Talk to the Text
Unit 3
Cide
Patricide
Fratricide
Genocide
Homicide
Herbicide
Pyr
Pyromania
Pyrosis
Pyrometer
Pretentious
Unit 4
Liber
Liberty
Liberal
Liberate
Pecc
Impeccable
Peccadillo
Resilient
Benevolent
Books
Night
Jurassic Park
Unit 5
Alg
Nostalgia
Analgesic
Myalgia
Dia
Dialogue
Dialect
Diatribe
Diagnosis
Circuitous
EXTRA CREDIT FOR SECOND QUARTER
Name
Period
Vocab Word
Newspaper/Magazine article sentence cut out
and pasted here, with vocab word highlighted
Vocab Word, Part of Speech
Definition
You may find up to 15 of our vocabulary words for 1 extra credit point each.
Your words must come directly from a magazine or newspaper, NOT
from a photocopy or the internet! You MAY find multiple instances of the
same word if the instances are from different sources. Each word must be
glued on an index card. DUE: DAY OF MIDTERM!