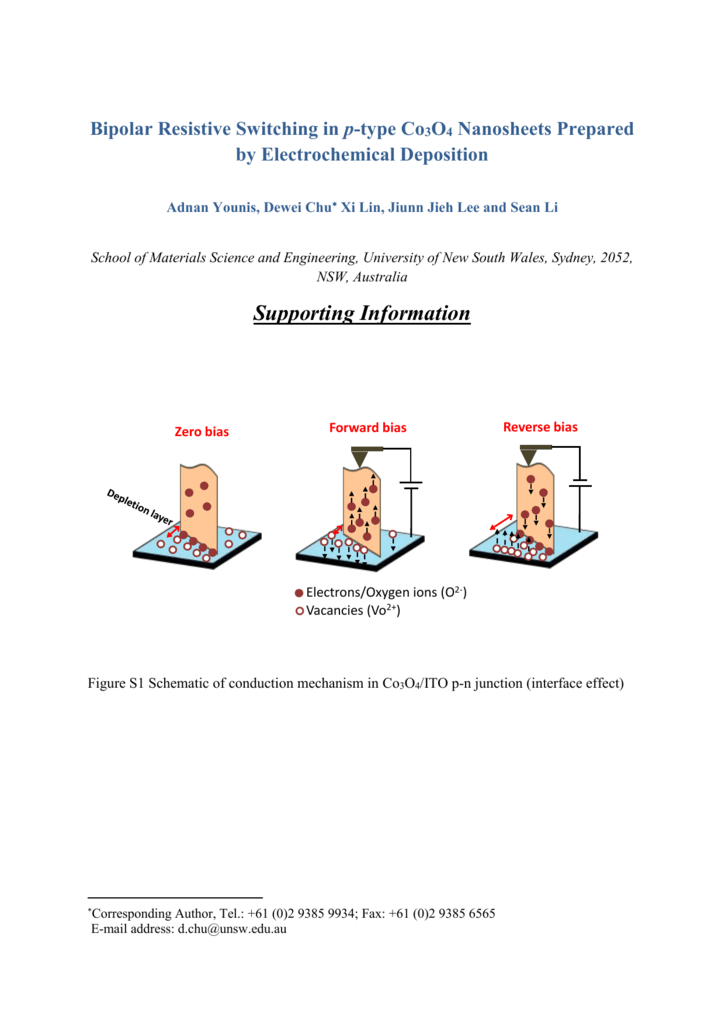 Bipolar Resistive Switching in p-type Co3O4 Nanosheets Prepared
by Electrochemical Deposition
Adnan Younis, Dewei Chu Xi Lin, Jiunn Jieh Lee and Sean Li
School of Materials Science and Engineering, University of New South Wales, Sydney, 2052,
NSW, Australia
Supporting Information
Zero bias
Forward bias
Reverse bias
Electrons/Oxygen ions (O2-)
Vacancies (Vo2+)
Figure S1 Schematic of conduction mechanism in Co3O4/ITO p-n junction (interface effect)

Corresponding Author, Tel.: +61 (0)2 9385 9934; Fax: +61 (0)2 9385 6565
E-mail address: [email protected]
Current(A)
6.0x10
-3
3.0x10
-3
0.0
-3.0x10
-3
-6.0x10
-3
-2
-1
0
1
2
Applied Voltage (V)
Figure S2: (a) Bipolar resistance switching I–V curves of the Co3O4/ITO device. ((inset data
Resistance (
retention Au/Co3O4/ITO memory cell for (>104s)), (c) I-V curves on log scale
10
4
10
3
10
2
OFF/ON ~ 25
0
50
100
150
200
Cycles(Numbers)
Figure S3: (b) Electrical pulse-induced resistance switching of the Co3O4/ITO memory cell at
room temperature for 60 sec,
The conductivity nature of Co3O4 film was confirmed by observing hall co-efficient, carrier
mobility and sheet carrier concentration as (+0.0269 m2/C), (18.3 cm2/v-sec) and 2.319x1016
cm-2 respectively.