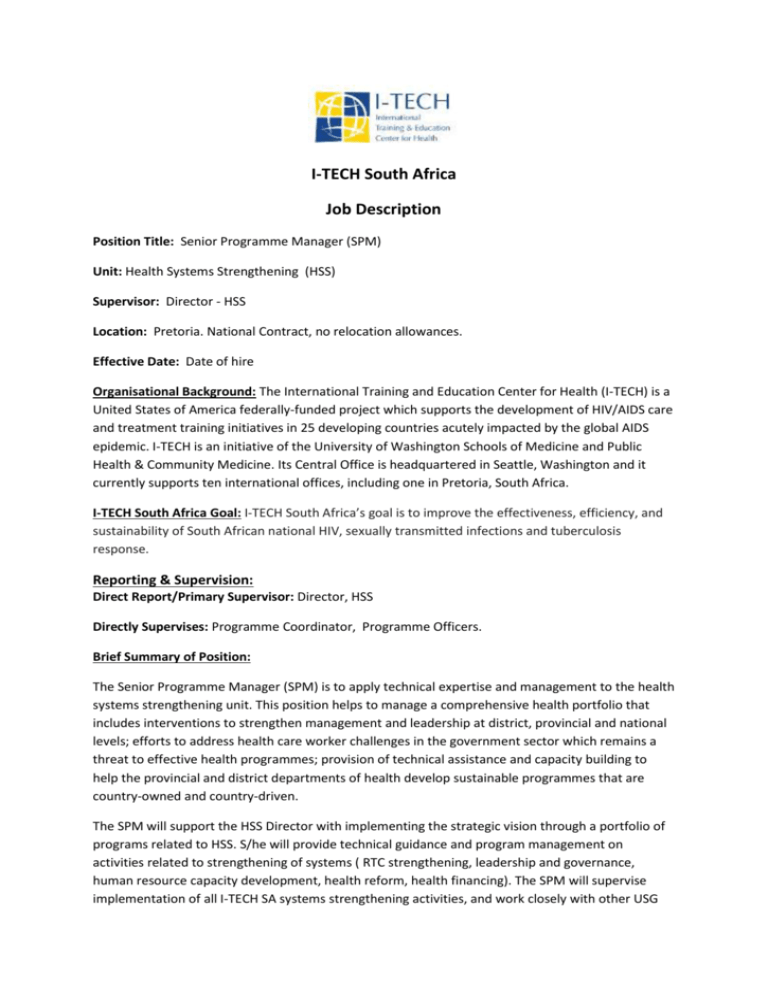 I-TECH South Africa
Job Description
Position Title: Senior Programme Manager (SPM)
Unit: Health Systems Strengthening (HSS)
Supervisor: Director - HSS
Location: Pretoria. National Contract, no relocation allowances.
Effective Date: Date of hire
Organisational Background: The International Training and Education Center for Health (I-TECH) is a
United States of America federally-funded project which supports the development of HIV/AIDS care
and treatment training initiatives in 25 developing countries acutely impacted by the global AIDS
epidemic. I-TECH is an initiative of the University of Washington Schools of Medicine and Public
Health & Community Medicine. Its Central Office is headquartered in Seattle, Washington and it
currently supports ten international offices, including one in Pretoria, South Africa.
I-TECH South Africa Goal: I-TECH South Africa's goal is to improve the effectiveness, efficiency, and
sustainability of South African national HIV, sexually transmitted infections and tuberculosis
response.
Reporting & Supervision:
Direct Report/Primary Supervisor: Director, HSS
Directly Supervises: Programme Coordinator, Programme Officers.
Brief Summary of Position:
The Senior Programme Manager (SPM) is to apply technical expertise and management to the health
systems strengthening unit. This position helps to manage a comprehensive health portfolio that
includes interventions to strengthen management and leadership at district, provincial and national
levels; efforts to address health care worker challenges in the government sector which remains a
threat to effective health programmes; provision of technical assistance and capacity building to
help the provincial and district departments of health develop sustainable programmes that are
country-owned and country-driven.
The SPM will support the HSS Director with implementing the strategic vision through a portfolio of
programs related to HSS. S/he will provide technical guidance and program management on
activities related to strengthening of systems ( RTC strengthening, leadership and governance,
human resource capacity development, health reform, health financing). The SPM will supervise
implementation of all I-TECH SA systems strengthening activities, and work closely with other USG
agencies in South Africa and the National and Provinical Departments of Health on broader policy
and systems strengthening issues.
The SPM will manage a multi-cultural team, and collaborate across program and operations teams at
I-TECH SA. S/he will report to the Director, HSS. S/he will be expected to work independently with
initiative, and make programme recommendations in collaboration with broader program teams,.
S/he will advise I-TECH SA on all aspects of strengthening health systems to support sustainable
programmes.
S/he must be able to cope with rapid change of direction based on needs identified by local
governmental partners, HRSA, CDC South Africa, and resulting scale-up of I-TECH
activities. Successful candidate will be able to problem solve in light of shifting priorities and to
interface and communicate at a various range of levels from headquarters and field office support
staff to highly placed government officials. It is the responsibility of the SPM to understand the
organisation's "Operating Principles" and "Management Guidelines" and to apply these principles in
their work.
Responsibilities include:
Programme Implementation and Management (60%)







Serve as technical expert at I-TECH SA on the development and management of the HSS
portfolio including workforce development, leadership and management and service
delivery in collaboration with HSS Director.
Develop and implement achievable, measurable program objectives, activities, and outputs
that align to the Partnership Framework in support of South Africa's National HIV, AIDS and
TB Reponse and the National Strategic Plan.
Collaborate with Country Director, HSS Director, Finance Director, Program Directors and
Seattle-based colleagues on annual budget development and routine budget monitoring
activities for the section.
Facilitate regular workplan review process with the team and HSS Director to make
adjustments to workplan based upon progress and shifting priorities.
Lead implementation of programs with a team approach to ensure efficient, and effective
and sustainable activities across the HSS portfolio.
Ensure program is harmonized to the vision and mission developed by HSS Director and
Country Director for I-TECH SA.
Collaborate with HSS Director on development of annual Country Operations Plan in
collaboration with CDC activity manager(s) and internal I-TECH SA management team.
Monitoring and Evaluation (15%)


Support M&E team and HSS Director with developing outcome and output indicators, M&E
plan, and logic model for HSS activities. Ensuring program evaluation is embedded at all
levels of the program.
Support M&E team in the development and design of operational research studies and
outcome evaluations related to HSS activities in South Africa.

Support HSS Director and M&E Director with routine reporting to funders, and internal and
external stakeholders on progress towards program objectives.
Communication and Knowledge Management (15%)






Represents I-TECH at national and regional conferences and workshops related to health
care systems of significant consequence or importance.
Provides regular communication with I-TECH HQ in Seattle to ensure harmonization of
activities with I-TECH global program standards and policies and facilitates network
knowledge management.
Participates in regular internal management and staff meetings.
Coordinates and communicates regularly with activity managers at the Centers for Disease
Control and Prevention, the National and Provincial Departments of Health and other
partners to support programming and technical accuracy for health systems strengthening
activities.
Collaborates with HQ Communications team to develop current, relevant, communication
materials related to HSS activities.
Produce regular program status reports.
Human Resources and Operations (10%)






Provides supervision and technical support for assigned members of the HSS team, which
requires delegation of responsibilities and assignments, performance monitoring and
evaluation as well as jointly coordinating activities for the development and management of
new HSS activities.
Develops and manages consulting agreements based on program needs for health systesms
strengthening.
Monitors program outputs of subcontractors related to HSS activities in collaboration with
HSS Director.
Coordinate with the Director of Operations and Finance Director to keep them abreast of
scheduled program activities to ensure appropriate levels of operational and financial
support that required are met
Assist HSS Director in recruitment efforts as needed.
Other duties as assigned
Requirements:



A Master's Degree in Public Health, Health Policy, Nursing, or related field is required,
degree in nursing AND six years work professional experience in planning and managing
public health programmes related to health systems strengthening and capacity building
initiatives. At least four years in a leadership role in a complex, multi-faceted project.
At least three years of experience supervising the work of consultants or other staff.
In-depth knowledge of Human Resources for Health programmes, policies, regulations and
precedents applicable to development and administration of national public health
programmes.














In-depth specialist knowledge of USG HSS public health programmes, strategies, methods,
processes and techniques used to plan, develop, implement and evaluate results of care and
support programmes is desired.
Experience working with South African National and Provincial Departments of Health.
Experience training health care workers.
Ability to exercise good judgment and decision-making.
Excellent writing and editing skills.
Fluency in English (reading, writing, speaking).
Commitment to building personal and organisational capacity.
Demonstrated ability to communicate between colleagues with a variety of cultural
backgrounds in a respectful and diplomatic manner.
Demonstrated ability to enhance effective professional partnerships.
Evidence of problem solving, decision-making, organizational and communication skills with
ability to prioritize multiple tasks and work effectively in a demanding environment.
Strong organisational, electronic file management and computer skills including MS
Office, Power Point, Excel and Access.
Ability to facilitate and present publically at project meetings and in public forums.
Excels in interpersonal skills, including patience, flexibility, diplomacy, willingness to listen,
and respect for colleagues
An equivalent combination of education and experience may be substituted for minimum
education requirement.
Desired:






Advanced experience in instructional design.
Knowledge of HIV issues in South Africa.
Capacity building and/or health worker training experience in resource-limited settings.
Fluency in one or more national South African languages.
Strong relationships and experience in the RTC and DOH network across South Africa
Experience working with or for an international NGO
Conditions of Employment: This position is 1.0 FTE, based in Pretoria, South Africa. Must be
available and willing to travel within South Africa, and up to 1-2 trips/year to regional and or
international meetings/conferences. Up to several times per month, the SPM job requires
participation in telephone conference calls during the early morning and late evening to
accommodate the time zones of countries where I-TECH works. Complex deliverables on short
timelines may require work in excess of 40 hours.
Application process:
Applicants are required to quote the relevant Position Titles mentioned above when submitting
their applications via email to recruitment@itech-southafrica.org or fax to (+27)0 86 750 2630
before 8th April 2012. No late applications will be considered. Only short-listed candidates will be
contacted. Preference will be given to South African applicants. Please note that by clicking on the
position title, a full copy of the job duties can be secured.