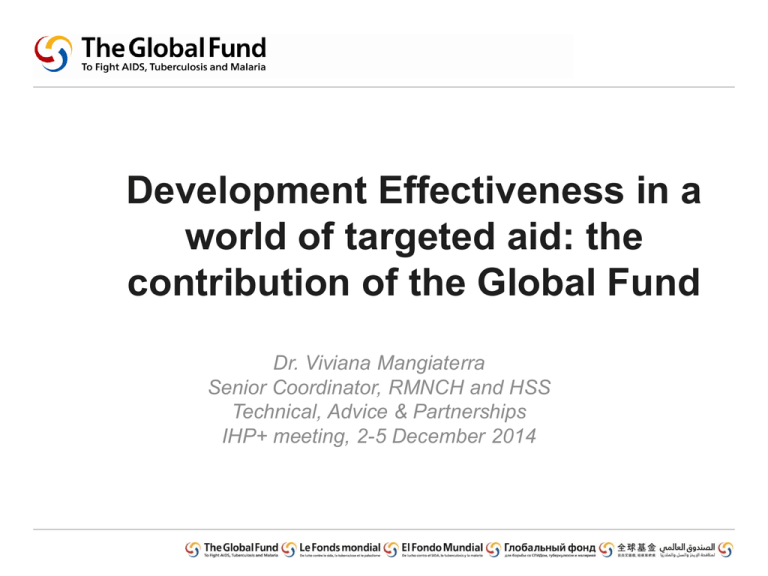 Development Effectiveness in a
world of targeted aid: the
contribution of the Global Fund
Dr. Viviana Mangiaterra
Senior Coordinator, RMNCH and HSS
Technical, Advice & Partnerships
IHP+ meeting, 2-5 December 2014
Global Fund's 2012-2016 strategy: Investing for impact
Strategic Action 1.3 - Maximize the impact of Global Fund
investments on strengthening health systems
 Ensure strategic targeting of HSS investments towards most-in-need countries and highimpact interventions
 Enhance effectiveness of HSS investments through better alignment, harmonization, and
tracking of HSS outcomes and impact
Strategic Action 1.4 - Maximize the impact of Global Fund
investments on improving the health of mothers and children
 Work more strategically with partners
 Develop and present for Board consideration a proposal for a targeted MNCH initiative
Between 2003-2010 the Global Fund has contributed
approximately $3.12 billion to RMNCH
Official Development Assistance to *MNCH
for the 74 Countdown Priority Countries
2003-2010
US$ (millions)
7000
6000
Total
5000
4000
Global
Fund
3000
GAVI
2000
1000
0
2003 2004 2005 2006 2007 2008 2009 2010
• In 2010, it is estimated
that the Global Fund
share of contribution in
the total ODA for
*MNCH was 12%
• Need to ensure that how
we invest leads to
optimal RMNCH
outcomes
Mills et al.
2012. Lancet
*The study did not include "Reproductive health"
NFM is a key opportunity for driving development
effectiveness and for increasing integration across
subsectors.
Ongoing Country Dialogue
2nd
GAC
TRP
National
Strategic Plan
Concept Note
Grant-Making
GAC
• Country allocation
communicated Mar 2014
• CCMs submit split for
Secretariat sign-off
• RMNCAH activities often
spread across concept
notes
• TRP reviews concept notes
for strategic focus and
technical soundness
Board
• Country team and country
finalize grant agreement
documents
Grant
Implementation
3 years
• After Board
approval, grant
is signed and
disbursements
can begin
How will the Global Fund invest in HSS?
Five Priority Areas
1
Service delivery
2
Procurement and Supply Chain
3
Health Workforce
4 Health Management Information System (HMIS)
5 Financial Management/Expenditures/Resources tracking
5
Innovative partnerships for investing
in HSS and RMNCAH Integration
•
Aim is to improve alignment of GF investments with UNICEF, UNFPA& WB efforts to improve RMNCAH health
outcomes through more integrated approaches
MoU with UNICEF (signed April 2014)
Aim: To maximize availability of essential
medicines and commodities
• Strengthen:
– diagnosis and treatment for
pneumonia, diarrhea to
complement GF malaria inputs
– ANC platform to complement GF
inputs in HIV and malaria
• Jointly identify countries and integrate
packages of care
• Support governments to revise
national strategies to strengthen
alignment and donor support
MoU withUNFPA (signed August 2014)
World Bank RBF Collaboration
Aim: To improve sexual and reproductive
health through universal and integrated SRH
services, including HIV services
Multi-donor trust fund that supports Results
Based Financing (RBF) approaches in the
health sector for achievement of the healthrelated focus on MDGs 4&5
• Jointly identify countries to increase
access to SRH commodities
• Mobilize additional funding to target
barriers to delivery, including human
resources; forecasting, procurement and
supply chain management
• Establish joint M&E tools and modalities
NFM: Challenges and opportunities for
driving improvements of the health system
• Imbalances in overall capacity and resources between well funded HIV, TB and malaria
programs and poorly resourced RMNCH programs continue to be a barrier to integrated
service delivery.
• This is an opportunity to amplify the impact of integration. While technical partners
and donors support the creation and development of linkages between disease-specific
programming and RMNCH, the support itself is not harmonized.
• While many countries have leveraged HSS funding to drive integration efforts in
innovative ways, its full potential remains unleveraged, particularly in relation to
integrated procurement and supply chain management (PSM), management of Human
Resources for health (HRH) and health management information systems (HMIS).
• There are significant opportunities for operational research in the area of integrated
service delivery.