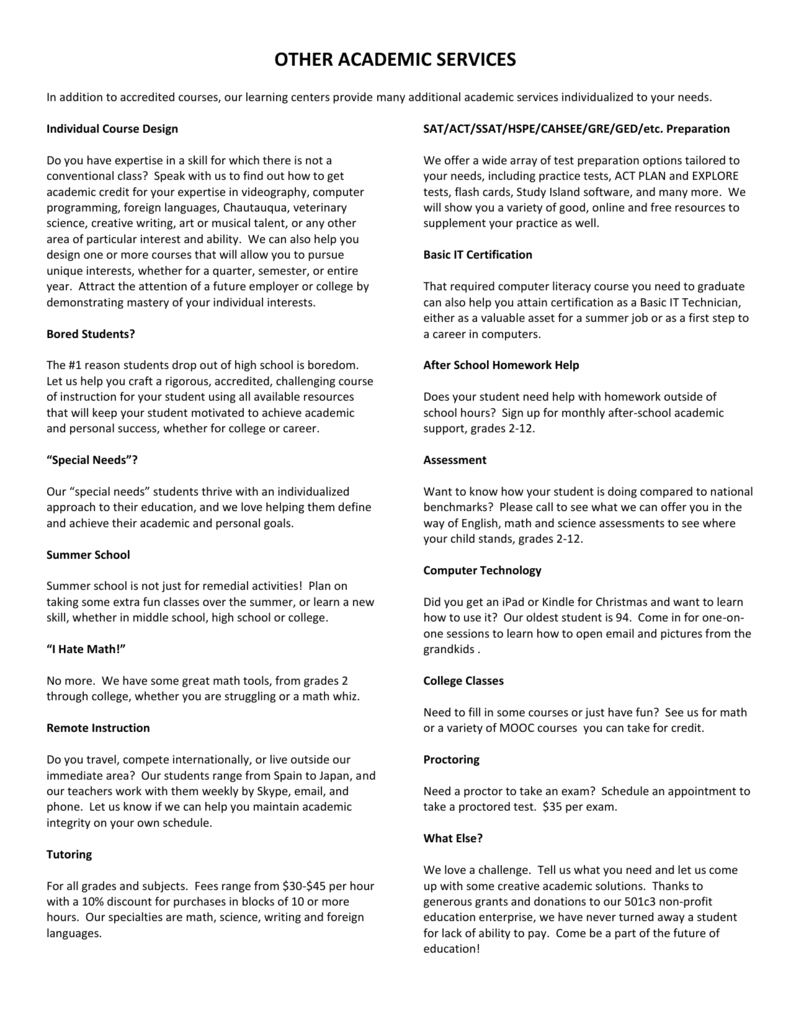 OTHER ACADEMIC SERVICES
In addition to accredited courses, our learning centers provide many additional academic services individualized to your needs.
Individual Course Design
SAT/ACT/SSAT/HSPE/CAHSEE/GRE/GED/etc. Preparation
Do you have expertise in a skill for which there is not a
conventional class? Speak with us to find out how to get
academic credit for your expertise in videography, computer
programming, foreign languages, Chautauqua, veterinary
science, creative writing, art or musical talent, or any other
area of particular interest and ability. We can also help you
design one or more courses that will allow you to pursue
unique interests, whether for a quarter, semester, or entire
year. Attract the attention of a future employer or college by
demonstrating mastery of your individual interests.
We offer a wide array of test preparation options tailored to
your needs, including practice tests, ACT PLAN and EXPLORE
tests, flash cards, Study Island software, and many more. We
will show you a variety of good, online and free resources to
supplement your practice as well.
Bored Students?
Basic IT Certification
That required computer literacy course you need to graduate
can also help you attain certification as a Basic IT Technician,
either as a valuable asset for a summer job or as a first step to
a career in computers.
The #1 reason students drop out of high school is boredom.
Let us help you craft a rigorous, accredited, challenging course
of instruction for your student using all available resources
that will keep your student motivated to achieve academic
and personal success, whether for college or career.
After School Homework Help
"Special Needs"?
Assessment
Our "special needs" students thrive with an individualized
approach to their education, and we love helping them define
and achieve their academic and personal goals.
Want to know how your student is doing compared to national
benchmarks? Please call to see what we can offer you in the
way of English, math and science assessments to see where
your child stands, grades 2-12.
Does your student need help with homework outside of
school hours? Sign up for monthly after-school academic
support, grades 2-12.
Summer School
Computer Technology
Summer school is not just for remedial activities! Plan on
taking some extra fun classes over the summer, or learn a new
skill, whether in middle school, high school or college.
"I Hate Math!"
No more. We have some great math tools, from grades 2
through college, whether you are struggling or a math whiz.
Remote Instruction
Do you travel, compete internationally, or live outside our
immediate area? Our students range from Spain to Japan, and
our teachers work with them weekly by Skype, email, and
phone. Let us know if we can help you maintain academic
integrity on your own schedule.
Did you get an iPad or Kindle for Christmas and want to learn
how to use it? Our oldest student is 94. Come in for one-onone sessions to learn how to open email and pictures from the
grandkids .
College Classes
Need to fill in some courses or just have fun? See us for math
or a variety of MOOC courses you can take for credit.
Proctoring
Need a proctor to take an exam? Schedule an appointment to
take a proctored test. $35 per exam.
What Else?
Tutoring
For all grades and subjects. Fees range from $30-$45 per hour
with a 10% discount for purchases in blocks of 10 or more
hours. Our specialties are math, science, writing and foreign
languages.
We love a challenge. Tell us what you need and let us come
up with some creative academic solutions. Thanks to
generous grants and donations to our 501c3 non-profit
education enterprise, we have never turned away a student
for lack of ability to pay. Come be a part of the future of
education!