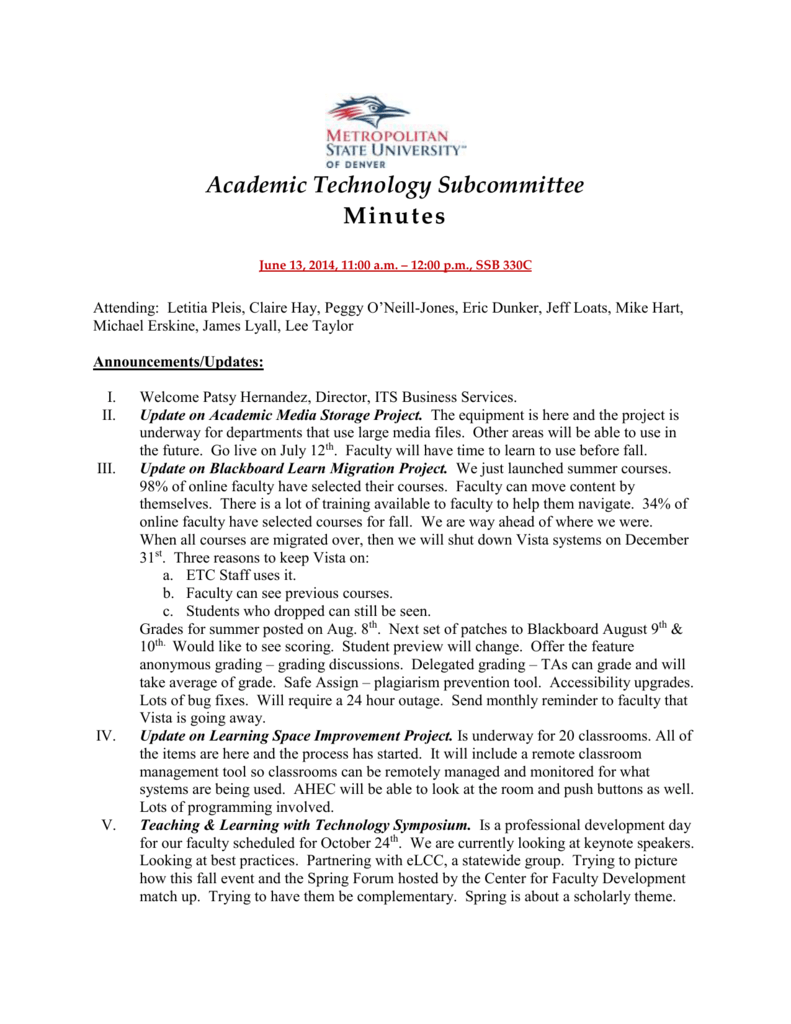 Academic Technology Subcommittee
Minutes
June 13, 2014, 11:00 a.m. – 12:00 p.m., SSB 330C
Attending: Letitia Pleis, Claire Hay, Peggy O'Neill-Jones, Eric Dunker, Jeff Loats, Mike Hart,
Michael Erskine, James Lyall, Lee Taylor
Announcements/Updates:
I.
II.
III.
IV.
V.
Welcome Patsy Hernandez, Director, ITS Business Services.
Update on Academic Media Storage Project. The equipment is here and the project is
underway for departments that use large media files. Other areas will be able to use in
the future. Go live on July 12th. Faculty will have time to learn to use before fall.
Update on Blackboard Learn Migration Project. We just launched summer courses.
98% of online faculty have selected their courses. Faculty can move content by
themselves. There is a lot of training available to faculty to help them navigate. 34% of
online faculty have selected courses for fall. We are way ahead of where we were.
When all courses are migrated over, then we will shut down Vista systems on December
31st. Three reasons to keep Vista on:
a. ETC Staff uses it.
b. Faculty can see previous courses.
c. Students who dropped can still be seen.
Grades for summer posted on Aug. 8th. Next set of patches to Blackboard August 9th &
10th. Would like to see scoring. Student preview will change. Offer the feature
anonymous grading – grading discussions. Delegated grading – TAs can grade and will
take average of grade. Safe Assign – plagiarism prevention tool. Accessibility upgrades.
Lots of bug fixes. Will require a 24 hour outage. Send monthly reminder to faculty that
Vista is going away.
Update on Learning Space Improvement Project. Is underway for 20 classrooms. All of
the items are here and the process has started. It will include a remote classroom
management tool so classrooms can be remotely managed and monitored for what
systems are being used. AHEC will be able to look at the room and push buttons as well.
Lots of programming involved.
Teaching & Learning with Technology Symposium. Is a professional development day
for our faculty scheduled for October 24th. We are currently looking at keynote speakers.
Looking at best practices. Partnering with eLCC, a statewide group. Trying to picture
how this fall event and the Spring Forum hosted by the Center for Faculty Development
match up. Trying to have them be complementary. Spring is about a scholarly theme.
VI.
Fall is best practices. At the end of the day on October 24th, would like to have some
folks from the symposium come together for a discussion over drinks.
Update on Office 365 Recommendation. We went through ITSOC, the subcommittees,
ASA Senior Leadership, VP's, and finally Cabinet approved to go forward with Office
365. We don't have a contract yet. We want to have live for students on August 9th.
May require an outage. We are going to start with a few features to begin with. Email is
the big thing. Will move everything to Microsoft's datacenter, where it will be hosted. 1
TB per person. The goal is to have a standup new server in the data center before
migration. Google should stay live for 3 to 6 months. Will migrate students Gmail
accounts over to Office 365 first. Will add OneDrive. There are 1500 apps available
through Office 365. Will have someone from Blackboard come and talk to our group
about what's available. When Blackboard comes, we want some specific information on
how other faculty are using. They will be bringing their best pitch for a number of their
tools. We will not have all features on day one and users are not forced to use all of the
features. All apps will be looked at carefully before they're turned on.
Procedure Items:
I.
II.
Minutes from April 11th meeting unanimously approved.
Scheduling our next meeting for August 15th or 22nd for Blackboard Learn Roadmap
Presentation. They will let us know what changes will be made in the next year. We need
to let campus know what Blackboard is going to do with their product. It was agreed that
the 22nd was the best date. Will move from August 8th.
Items Discussion:
I.
II.
III.
Blackboard Learn xpLor. Is an open object repository. Developing course content
through xpLor. If items that go into it are yours, you can grab content between schools.
If you put it into share, can share with other faculty. Content issue faculty or institution?
Content really geared for K-12. Maybe have faculty speak to this group why they really
want this. Not easily implemented. We would be the first institution to use it in
Colorado. Tabled with follow-up.
Blackboard Learn Badges. Can assign for something you've done in your Blackboard
course. Can assign badges to students. Only lives in the course. Once course gone,
certificate gone. Lots of issues around this. Sounds like a lot of work. Once a badge is
offered it can't ever be recalled. Have to use the main campus system. Banner is still
semester driven. Tabled.
ETC Digital Community of Practice. Michael was going to do demo, but we ran out of
time and he will send by email.