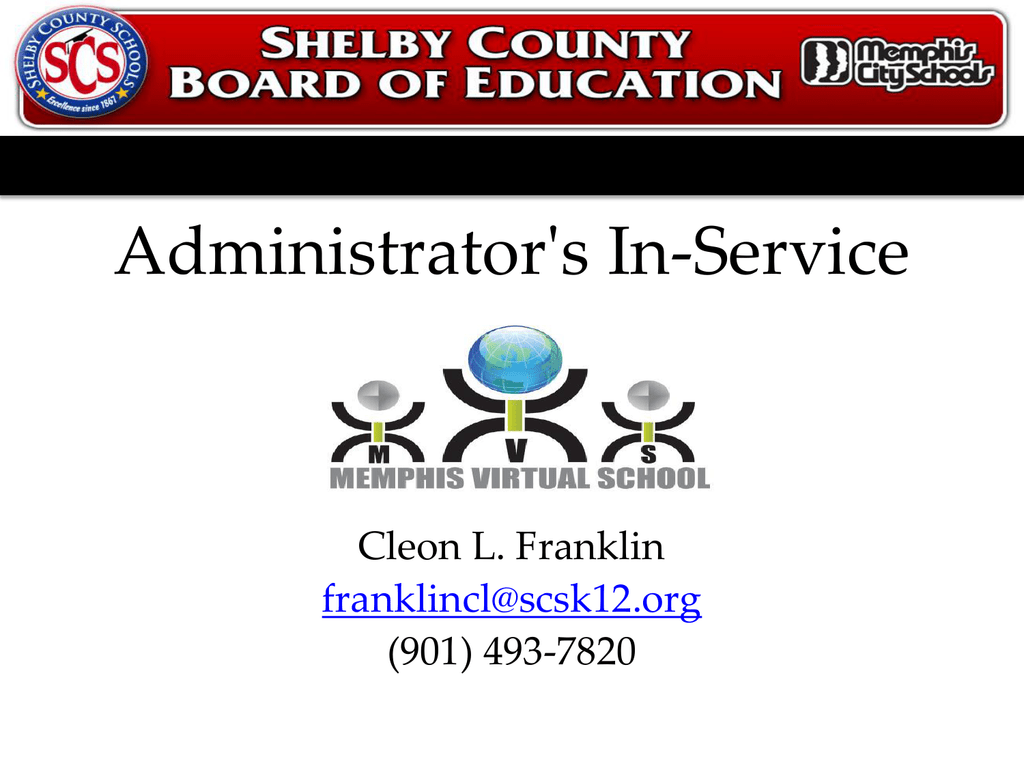 Administrator's In-Service
Cleon L. Franklin
[email protected]
(901) 493-7820
Increased Virtual School Offerings
The Memphis Virtual School provides all students in
grades 6th-12th, as well as adult learners, access to 183
online classes for new coursework, credit recovery, or
extended year.
Students can enroll:
 As Full-Time Students
 As Part-Time Students Taking Additional Coursework
 As Blended Students During the Traditional School Day
G.R.A.S.S.Y
Learning Management System
All students have access to:
•
•
•
•
•
•
•
•
An active learning interface using Blackboard, Blackboard Mobile,
Blackboard Collaborate, and MediaSite
All SCS instructional technology software
The Tennessee electronic library
Electronically filtered & human monitored e-mail
Social networking tools, grade level appropriate educational gaming,
open source document/spreadsheet/presentation creation, digital storage
lockers, for peer-to-peer collaboration and virtual study groups
Instructional videos from Khan Academy and MediaSite
17 museums through the Google Art Project
Supplemental learning opportunities through the SCS extended day
program
G.R.A.S.S.Y
Highlights
• All courses offer traditional and accelerated paths
• Students can log into courses from mobile devices
• Virtual courses provide a comprehensive catalog of
Honors/Advanced Placement, Industry Certification, S.T.E.M.,
Foreign Language, and credit recovery courses to all students in
grades 6th-Adult Education at absolutely no cost to parents
G.R.A.S.S.Y
Accelerated Plan
Year 1
Semester 1
Year 2
Semester 2
Semester 1
Semester 2
English I
English II
English III
English IV
Geometry
Algebra II
Pre-Calculus
Calculus
Biology
Chemistry
Physics
Environmental Science
World Geography Health
U. S. History
Art History
French I
Web Design I
Web Design II
French II
Computer Applications
Quarter 1
Personal Finance
Quarter 2
Physical Education
Quarter 3
Economics
Quarter 4
U.S. Government
G.R.A.S.S.Y
Student Registration
• Students can register for courses by using the Memphis Virtual
School Course Request Form or the online course listing can be
added to existing school registration forms.
• Once course requests are received, the Professional School
Counselor, (or Principal designee) will request courses in the SMS
Panel
• Students will be scheduled in the MVS database, Blackboard login
credentials will be created, and a verification list will be sent to
schools to correct any errors.
• Students have ten (10) schools days from the date of course
activation to drop an online course.
• After course activation, a student has ten (10) days to login to each
course. Failure to do so will result in the student being
administratively dropped from the course.
G.R.A.S.S.Y
Progress Monitoring
• The Learner Management System Advisor will send the status of
every student taking online courses to the building principal
weekly beginning Tuesday, August 20th.
• Principals can log into Blackboard at any time using the
Blackboard credentials that will be mailed on Friday, August 9th.
G.R.A.S.S.Y
QUESTIONS?