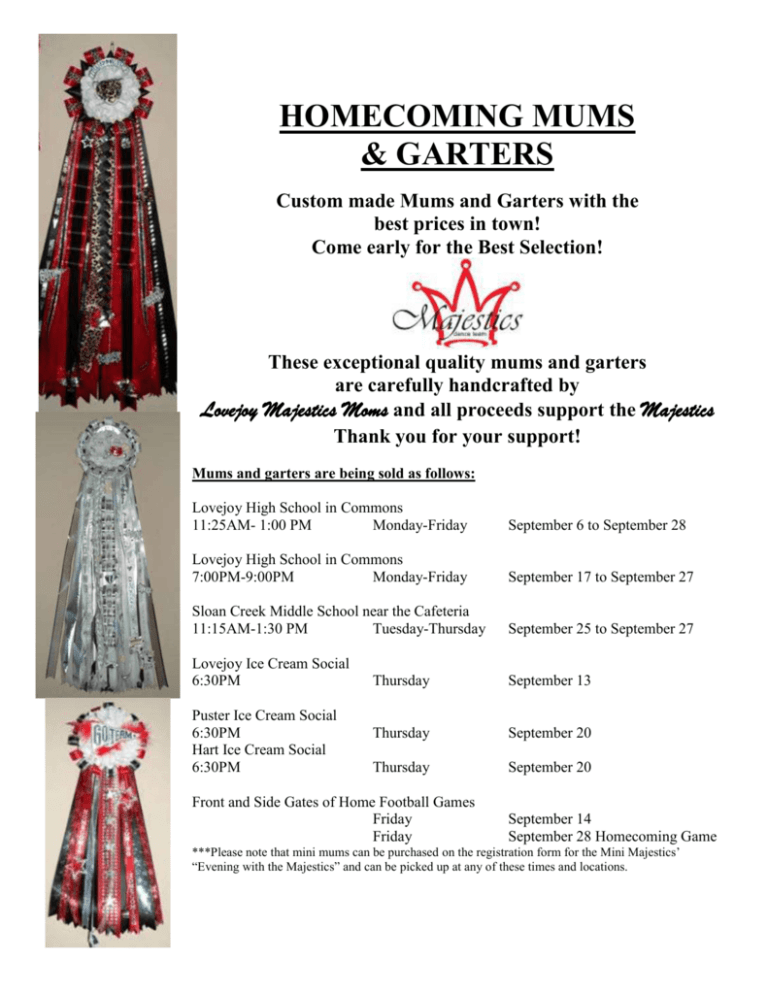 HOMECOMING MUMS
& GARTERS
Custom made Mums and Garters with the
best prices in town!
Come early for the Best Selection!
These exceptional quality mums and garters
are carefully handcrafted by
Lovejoy Majestics Moms and all proceeds support the Majestics
Thank you for your support!
Mums and garters are being sold as follows:
Lovejoy High School in Commons
11:25AM- 1:00 PM
Monday-Friday
September 6 to September 28
Lovejoy High School in Commons
7:00PM-9:00PM
Monday-Friday
September 17 to September 27
Sloan Creek Middle School near the Cafeteria
11:15AM-1:30 PM
Tuesday-Thursday
September 25 to September 27
Lovejoy Ice Cream Social
6:30PM
Thursday
September 13
Thursday
September 20
Thursday
September 20
Puster Ice Cream Social
6:30PM
Hart Ice Cream Social
6:30PM
Front and Side Gates of Home Football Games
Friday
Friday
September 14
September 28 Homecoming Game
***Please note that mini mums can be purchased on the registration form for the Mini Majestics'
"Evening with the Majestics" and can be picked up at any of these times and locations.