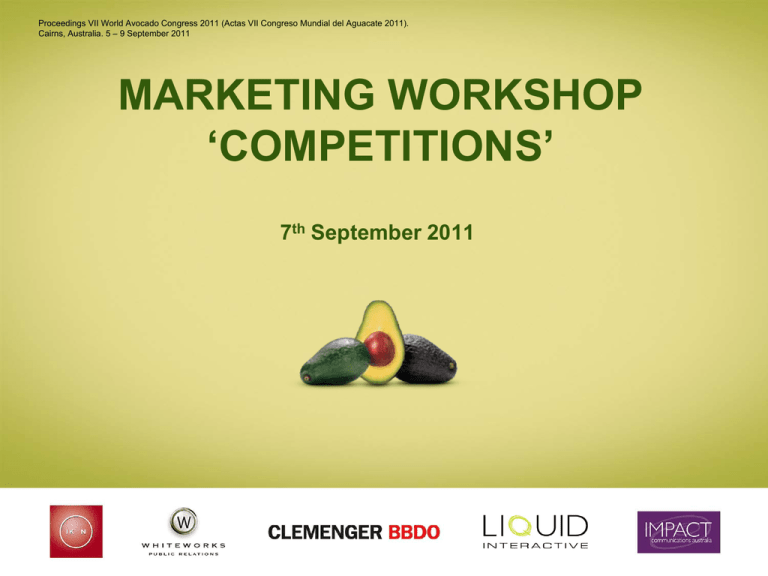 Proceedings VII World Avocado Congress 2011 (Actas VII Congreso Mundial del Aguacate 2011).
Cairns, Australia. 5 – 9 September 2011
MARKETING WORKSHOP
'COMPETITIONS'
7th September 2011
Wednesday 25th of August 2011
CASE STUDY - KRAFT
"Real Women of Philadelphia"
Agency: Digitas, New York (2010)
VIDEO
CAMPAIGN SUMMARY





16 weeks
Competition hosted by Celebrity chef
Seeded (launched) online
Video recipes entries online
4 winners to become ambassadors for the brand
SUCCESS FOR KRAFT
 5,000 video recipes were submitted
 National 'earned' media coverage
 TV, Radio, Print and Online
 From launch, to weekly winners, finalists and winners
 220,000 strong community / ambassadors acquired
 Realwomenofphiladelphia.com now a community hub for
women to share ideas, interact and inspire
 Has become a platform for annual competition and
ongoing loyalty program and CRM brand tool
 Interestingly, no mention of sales increase?
KEY LEARNINGS DISCUSSION
"Was it successful? And Why?"
WHAT WAS KRAFT'S CORE
OBJECTIVE?
OBJECTIVES
 Build a strong community of brand loyalists & advocates
 With a longer term view of sales growth:
 through advocate influence (the hallow affect)
 complete customer loyalty
 versatility of product applications
WHO DID THEY IDENTIFY AS
THEIR AUDIENCE FOR
SUCCESS?
FOCUSED SEGMENT – BEYOND THE WOMAN




Real women – heartland USA
Genuine – heart on their sleeves
Hard working Moms
Enthusiastic Cooks
 Passionate
 Highly involved
WHAT DID THEY IDENTIFY AS
THE KEY MOTIVATORS?
SIMPLE BUT POWERFUL INSIGHTS
 Mum loves a little bit of support and recognition for all
she does
 No-one appreciates Mums like other mums – recognition
from peers
CAMPAIGN'S MIX OF
INGREDIENTS FOR SUCCESS?
COMM'S STRATEGY





Put mum's hard working skills and passion to good use
For everyone to share and appreciate
Connecting her with likeminded souls (her peers)
And reward her talents amidst her peers
For them, and them alone (no advertising, segment
specific)
 All American Chef – "Paula Deen":
 Famous status creates PR without having to boast about
competition
 Brings high credibility – well respected
 High relevance – authentic, genuine, passionate/enthusiastic,
mother of 2, supportive and helpful (by your side at every step).
ROLL OUT / LOGISTICS
 'Paula' as the PR launch vehicle and competition
endorser, scout, coach / tips, encouragement, award
presenter, etc.
 Weekly themed challenges (side dishes, appetizers,
desserts, etc) to keep competition fresh, interesting and
engaging
 1 point of entry - Video recipe + personality
 Peers judging peers
 Weekly attainable prizes ($500) for successful recipes
 4 winners become 'official' brand ambassadors
 Philadelphia Cookbook
 $100,000 prize money ($25,000 each)
 Proper / live award ceremony presentation broadcasted
to the 220,000 strong online community
MORE LEARNINGS
FROM WORLDWIDE
CASE STUDIES
(McCain, Kraft Foods, Bugaboo, Ikea)
UNDERSTANDING ROLES
OF COMPETITIONS
WHY BRANDS DO COMPETITIONS
CREATE SALES SPIKES
BUILDING CUSTOMER LOYALTY











 Brand building communities
 Larger and longer term investment
Retail based competitions
Shorter term results ($$$)
Quantity of entries
Lower involvement
Lower engagement
Extra customer value
Without discounting product
Incentive for brand trial
Immediate customer reward
But superficial
It ends here.
(relationship)




Quality of entries
Higher involvement
Higher engagement
Experiencing the brand beyond its
functional product benefit
 Deeper connections
 Turning customers into advocates
and more importantly influencers
 Ongoing
CONTEXTUAL MOTIVATIONS
MUM's KEY MOTIVATORS (IN CONTEXT)
INTERNAL REWARDS
EXTERNAL REWARDS
 More quality time with her
family (together)
 Bringing the family closer
 Providing for her family
 To ensure each family
member has a good time
 Sharing
 Support / empathy
 Self worth ( to feel
connected, empowered and
in control of their lives)
 Time off (weekend away / holiday)
 Save time
 Ideas / tools (for family bonding /
child development / home
management)
 Savings / money for the family
 Make-overs (free)
 Recognition (peers)
10 Things to remember when targeting Mums
1.
2.
3.
4.
5.
Mums won't be won over by push messages. We need to join the conversation.
Mum looks for a relationship – two way dialogue that shows we listen/respond
Mum likes transparency
They don't expect brands to be perfect, but expect honesty.
Give them the tools / knowledge they need for them to customise and make
them their own.
6. Mums like relevancy. Fill a need, answer questions, value her opinion, and let
her see action taken.
7. Mums like you to get to the point. They're busy, so let's be authentic, clear, and
genuine. Otherwise, the response will be skepticism.
8. Mums love to be comfortable with decisions, and information is key to comfort.
Make their homework easier.
9. Mums are as pragmatic as emotional. Comms need to cover both sides of the
conversation.
10. They like stories – not selling!
WHAT WORKS
DEPENDING ON COMPETITION OBJECTIVES
CREATE SALES SPIKES
BUILDING CUSTOMER LOYALTY
 Mass
 Definite prize (ie buy one,
get one free)
 Instant wins (enter and find
out straight away)
 Two points of entry for ease
(SMS & Web)
 The less to do the better
 Lots of smaller prizes
(attainable)
 Relevance of prizes –
grocery vouchers to
holidays
 Quality and relevance of content,
useful.
 Segment specific (like minded)
 The journey is as important as the
outcome
 Attainable prizes still relevant, along
with major prize
 But major rewards are more about
what money can't buy – 'Earned'
 One point of entry
 Online is the perfect environment –
communicating, listening, sharing,
proof of action etc.
ENDS.