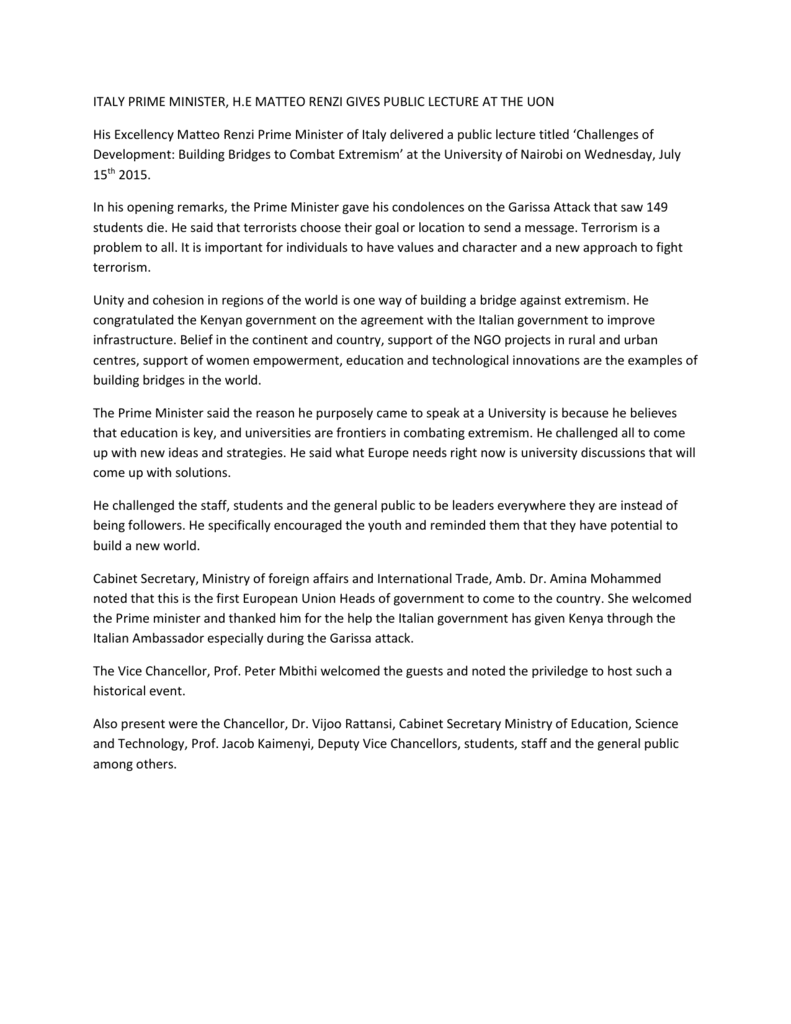 ITALY PRIME MINISTER, H.E MATTEO RENZI GIVES PUBLIC LECTURE AT THE UON
His Excellency Matteo Renzi Prime Minister of Italy delivered a public lecture titled 'Challenges of
Development: Building Bridges to Combat Extremism' at the University of Nairobi on Wednesday, July
15th 2015.
In his opening remarks, the Prime Minister gave his condolences on the Garissa Attack that saw 149
students die. He said that terrorists choose their goal or location to send a message. Terrorism is a
problem to all. It is important for individuals to have values and character and a new approach to fight
terrorism.
Unity and cohesion in regions of the world is one way of building a bridge against extremism. He
congratulated the Kenyan government on the agreement with the Italian government to improve
infrastructure. Belief in the continent and country, support of the NGO projects in rural and urban
centres, support of women empowerment, education and technological innovations are the examples of
building bridges in the world.
The Prime Minister said the reason he purposely came to speak at a University is because he believes
that education is key, and universities are frontiers in combating extremism. He challenged all to come
up with new ideas and strategies. He said what Europe needs right now is university discussions that will
come up with solutions.
He challenged the staff, students and the general public to be leaders everywhere they are instead of
being followers. He specifically encouraged the youth and reminded them that they have potential to
build a new world.
Cabinet Secretary, Ministry of foreign affairs and International Trade, Amb. Dr. Amina Mohammed
noted that this is the first European Union Heads of government to come to the country. She welcomed
the Prime minister and thanked him for the help the Italian government has given Kenya through the
Italian Ambassador especially during the Garissa attack.
The Vice Chancellor, Prof. Peter Mbithi welcomed the guests and noted the priviledge to host such a
historical event.
Also present were the Chancellor, Dr. Vijoo Rattansi, Cabinet Secretary Ministry of Education, Science
and Technology, Prof. Jacob Kaimenyi, Deputy Vice Chancellors, students, staff and the general public
among others.