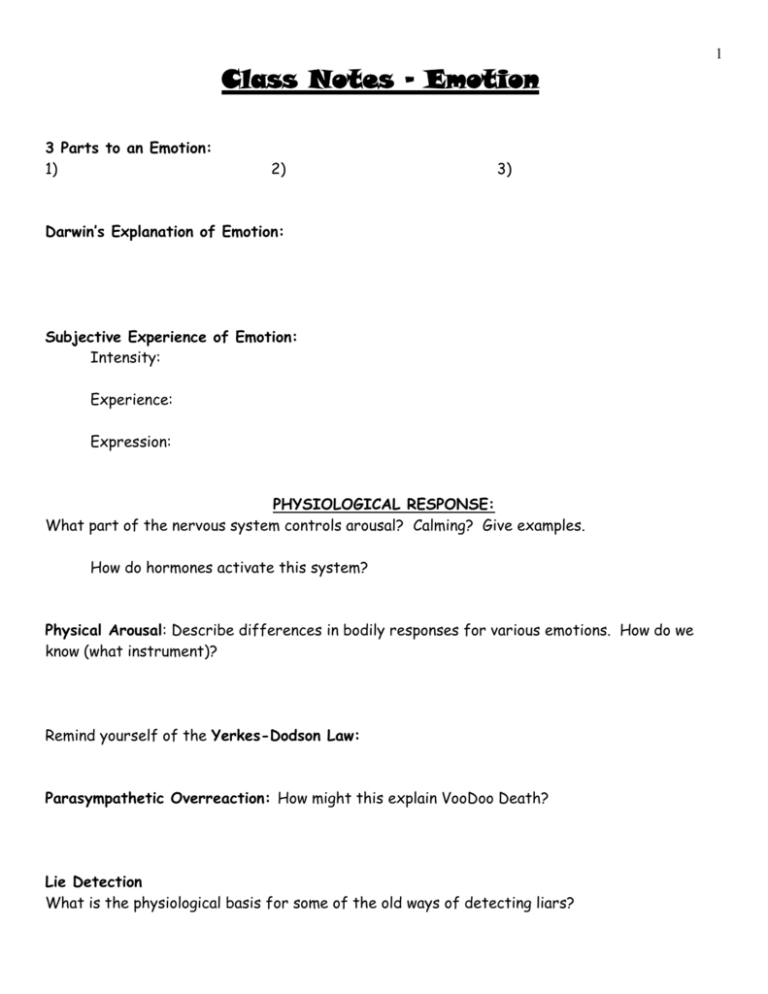 1
Class Notes – Emotion
3 Parts to an Emotion:
1)
2)
3)
Darwin's Explanation of Emotion:
Subjective Experience of Emotion:
Intensity:
Experience:
Expression:
PHYSIOLOGICAL RESPONSE:
What part of the nervous system controls arousal? Calming? Give examples.
How do hormones activate this system?
Physical Arousal: Describe differences in bodily responses for various emotions. How do we
know (what instrument)?
Remind yourself of the Yerkes-Dodson Law:
Parasympathetic Overreaction: How might this explain VooDoo Death?
Lie Detection
What is the physiological basis for some of the old ways of detecting liars?
2
What are "microexpressions?"
What does the polygraph measure?
What are its problems?
1)
2)
3)
What is a potentially better alternative to the polygraph? Why? What's another way?
EXPRESSIVE BEHAVIORS
What is oxytocin? To what kinds of behaviors is it linked?
Which side of the brain is most involved in processing + emotions? – emotions? What's the
Wada test / how was it used to figure this stuff out?
Crying – Functional Reason? Evidence? Men vs Women? Why?
Fear – what structure?
Describe the case of S.M.
Vs. Hippocampus damage?
Possible role in GAD? Autism?
What behavioral trait do serial killers often show?
3
Anger Describe catharsis. Through what behavioral principle? Does it work/evidence?
How should one handle anger?
Happiness
Describe an example of the feel-good-do-good phenomenon.
Compare / Contrast:
Adaptation Level
VS.
Relative Deprivation
What is "happiness?" Give a few examples of what it is and what it is not.
THEORIES OF EMOTION
Fill in GRAPHIC ORGANIZER OF EMOTIONS, but write here the concepts and the evidence
for these theories…these are vital to this chapter.
Common Sense Theory (why is it called this?)
James-Lange
Cannon-Bard
Other Ideas:
Lazarus: Cognitive Mediational Theory
Robert Zajonc:
What is his premise?
Schachter & Singer's 2 Factor
4
Describe his dual pathway system? How is it different than 2 Factor?
NON-VERBAL COMMUNICATION
Describe gender differences in reading / expressing non-verbal communication. What are
display rules?
Describe Paul Ekman's facial feedback theory. According to his theory, what should you do if
you want to feel happy?
What did Cohn & Tronick (1983) add?
Ohman and Stockholm (2001)?
Animal Emotion
Do you believe animals can experience emotion?