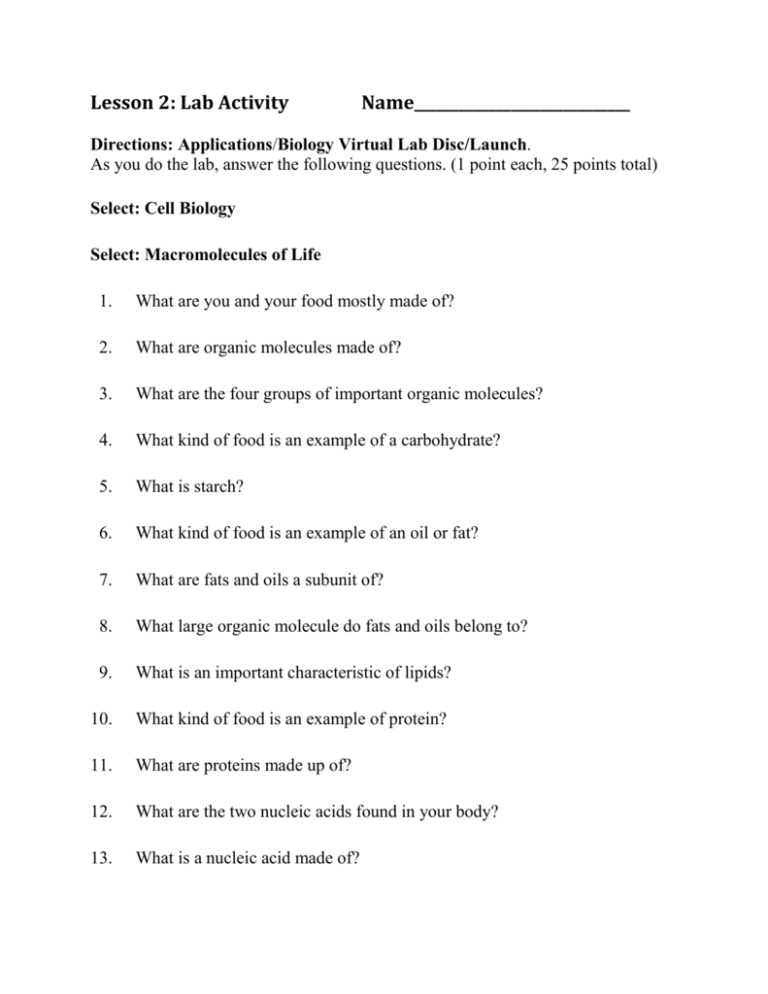 Lesson 2: Lab Activity
Name_____________________________
Directions: Applications/Biology Virtual Lab Disc/Launch.
As you do the lab, answer the following questions. (1 point each, 25 points total)
Select: Cell Biology
Select: Macromolecules of Life
1.
What are you and your food mostly made of?
2.
What are organic molecules made of?
3.
What are the four groups of important organic molecules?
4.
What kind of food is an example of a carbohydrate?
5.
What is starch?
6.
What kind of food is an example of an oil or fat?
7.
What are fats and oils a subunit of?
8.
What large organic molecule do fats and oils belong to?
9.
What is an important characteristic of lipids?
10.
What kind of food is an example of protein?
11.
What are proteins made up of?
12.
What are the two nucleic acids found in your body?
13.
What is a nucleic acid made of?
14.
What is an enzyme?
15.
What was needed to construct your disaccharide?
16.
How is a polysaccharide macromolecule formed?
17.
What is a simple plant starch?
18.
What is another name for animal starch and what is it composed of?
19.
What is a triglyceride an example of?
20.
What keeps peanut oil from becoming a solid?
21.
What lipids are solids and liquids?
22.
What was needed to form the triglyceride?
23.
How many nucleotides are responsible for DNA?
24.
What does ATP stand for and what does it do?
25.
What bases pair up to form DNA and RNA?