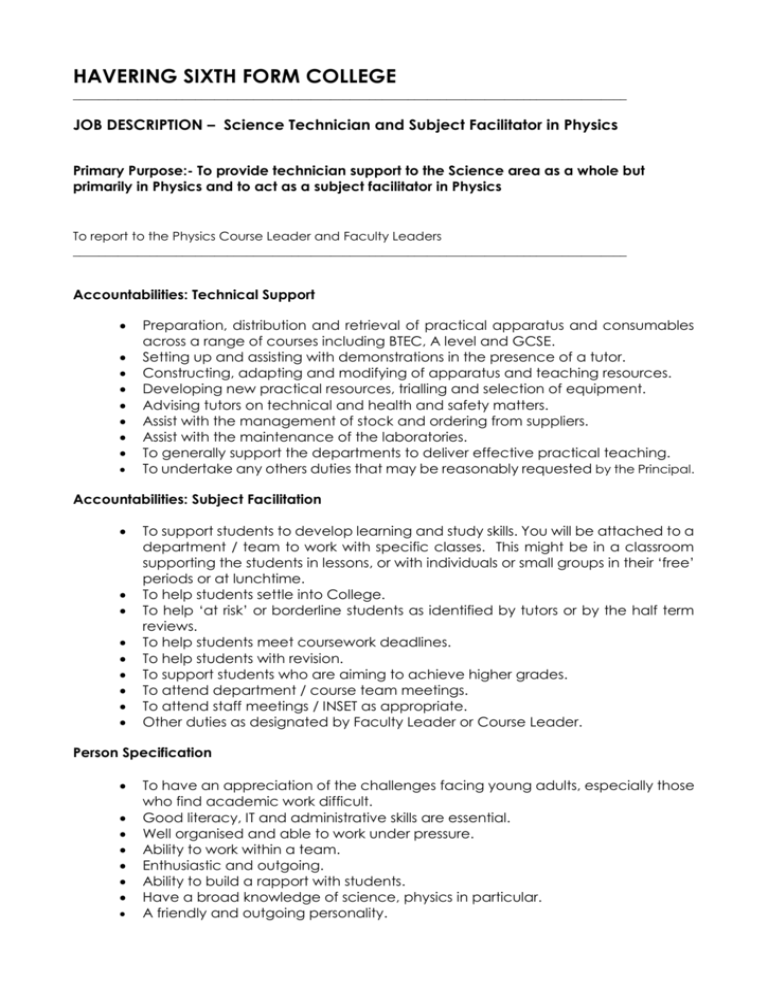 HAVERING SIXTH FORM COLLEGE
______________________________________________________________________________________
JOB DESCRIPTION – Science Technician and Subject Facilitator in Physics
Primary Purpose:- To provide technician support to the Science area as a whole but
primarily in Physics and to act as a subject facilitator in Physics
To report to the Physics Course Leader and Faculty Leaders
______________________________________________________________________________________
Accountabilities: Technical Support









Preparation, distribution and retrieval of practical apparatus and consumables
across a range of courses including BTEC, A level and GCSE.
Setting up and assisting with demonstrations in the presence of a tutor.
Constructing, adapting and modifying of apparatus and teaching resources.
Developing new practical resources, trialling and selection of equipment.
Advising tutors on technical and health and safety matters.
Assist with the management of stock and ordering from suppliers.
Assist with the maintenance of the laboratories.
To generally support the departments to deliver effective practical teaching.
To undertake any others duties that may be reasonably requested by the Principal.
Accountabilities: Subject Facilitation









To support students to develop learning and study skills. You will be attached to a
department / team to work with specific classes. This might be in a classroom
supporting the students in lessons, or with individuals or small groups in their 'free'
periods or at lunchtime.
To help students settle into College.
To help 'at risk' or borderline students as identified by tutors or by the half term
reviews.
To help students meet coursework deadlines.
To help students with revision.
To support students who are aiming to achieve higher grades.
To attend department / course team meetings.
To attend staff meetings / INSET as appropriate.
Other duties as designated by Faculty Leader or Course Leader.
Person Specification








To have an appreciation of the challenges facing young adults, especially those
who find academic work difficult.
Good literacy, IT and administrative skills are essential.
Well organised and able to work under pressure.
Ability to work within a team.
Enthusiastic and outgoing.
Ability to build a rapport with students.
Have a broad knowledge of science, physics in particular.
A friendly and outgoing personality.