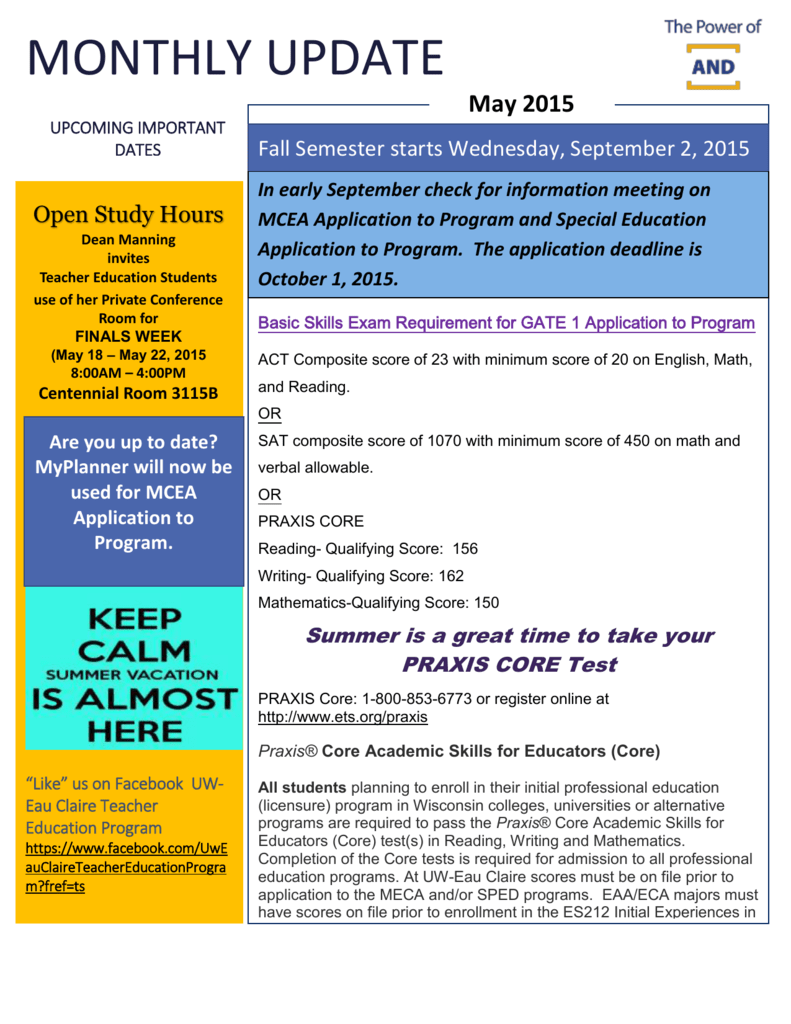 MONTHLY UPDATE
May 2015
UPCOMING IMPORTANT
DATES
Open Study Hours
Dean Manning
invites
Teacher Education Students
use of her Private Conference
Room for
FINALS WEEK
(May 18 – May 22, 2015
8:00AM – 4:00PM
Centennial Room 3115B
Are you up to date?
MyPlanner will now be
used for MCEA
Application to
Program.
Fall Semester starts Wednesday, September 2, 2015
In early September check for information meeting on
MCEA Application to Program and Special Education
Application to Program. The application deadline is
October 1, 2015.
Basic Skills Exam Requirement for GATE 1 Application to Program
ACT Composite score of 23 with minimum score of 20 on English, Math,
and Reading.
OR
SAT composite score of 1070 with minimum score of 450 on math and
verbal allowable.
OR
PRAXIS CORE
Reading- Qualifying Score: 156
Writing- Qualifying Score: 162
Mathematics-Qualifying Score: 150
Summer is a great time to take your
PRAXIS CORE Test
PRAXIS Core: 1-800-853-6773 or register online at
http://www.ets.org/praxis
Praxis® Core Academic Skills for Educators (Core)
"Like" us on Facebook UWEau Claire Teacher
Education Program
https://www.facebook.com/UwE
auClaireTeacherEducationProgra
m?fref=ts
All students planning to enroll in their initial professional education
(licensure) program in Wisconsin colleges, universities or alternative
programs are required to pass the Praxis® Core Academic Skills for
Educators (Core) test(s) in Reading, Writing and Mathematics.
Completion of the Core tests is required for admission to all professional
education programs. At UW-Eau Claire scores must be on file prior to
application to the MECA and/or SPED programs. EAA/ECA majors must
have scores on file prior to enrollment in the ES212 Initial Experiences in
Middle and High School Course.