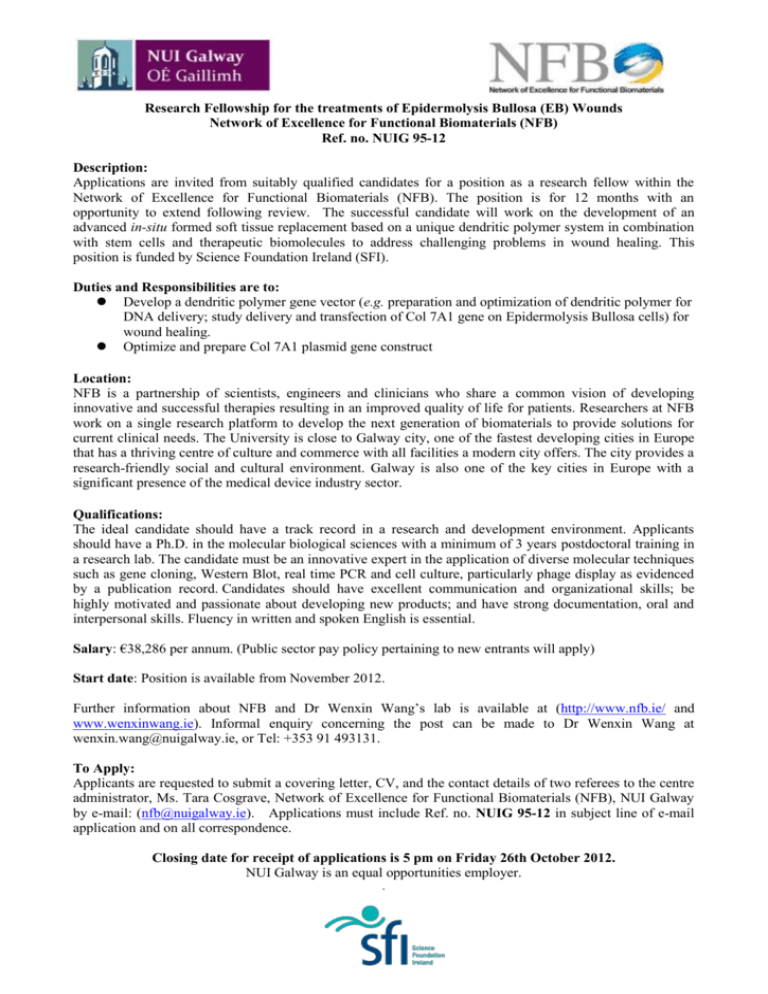 Research Fellowship for the treatments of Epidermolysis Bullosa (EB) Wounds
Network of Excellence for Functional Biomaterials (NFB)
Ref. no. NUIG 95-12
Description:
Applications are invited from suitably qualified candidates for a position as a research fellow within the
Network of Excellence for Functional Biomaterials (NFB). The position is for 12 months with an
opportunity to extend following review. The successful candidate will work on the development of an
advanced in-situ formed soft tissue replacement based on a unique dendritic polymer system in combination
with stem cells and therapeutic biomolecules to address challenging problems in wound healing. This
position is funded by Science Foundation Ireland (SFI).
Duties and Responsibilities are to:
 Develop a dendritic polymer gene vector (e.g. preparation and optimization of dendritic polymer for
DNA delivery; study delivery and transfection of Col 7A1 gene on Epidermolysis Bullosa cells) for
wound healing.
 Optimize and prepare Col 7A1 plasmid gene construct
Location:
NFB is a partnership of scientists, engineers and clinicians who share a common vision of developing
innovative and successful therapies resulting in an improved quality of life for patients. Researchers at NFB
work on a single research platform to develop the next generation of biomaterials to provide solutions for
current clinical needs. The University is close to Galway city, one of the fastest developing cities in Europe
that has a thriving centre of culture and commerce with all facilities a modern city offers. The city provides a
research-friendly social and cultural environment. Galway is also one of the key cities in Europe with a
significant presence of the medical device industry sector.
Qualifications:
The ideal candidate should have a track record in a research and development environment. Applicants
should have a Ph.D. in the molecular biological sciences with a minimum of 3 years postdoctoral training in
a research lab. The candidate must be an innovative expert in the application of diverse molecular techniques
such as gene cloning, Western Blot, real time PCR and cell culture, particularly phage display as evidenced
by a publication record. Candidates should have excellent communication and organizational skills; be
highly motivated and passionate about developing new products; and have strong documentation, oral and
interpersonal skills. Fluency in written and spoken English is essential.
Salary: €38,286 per annum. (Public sector pay policy pertaining to new entrants will apply)
Start date: Position is available from November 2012.
Further information about NFB and Dr Wenxin Wang's lab is available at (http://www.nfb.ie/ and
www.wenxinwang.ie). Informal enquiry concerning the post can be made to Dr Wenxin Wang at
[email protected], or Tel: +353 91 493131.
To Apply:
Applicants are requested to submit a covering letter, CV, and the contact details of two referees to the centre
administrator, Ms. Tara Cosgrave, Network of Excellence for Functional Biomaterials (NFB), NUI Galway
by e-mail: ([email protected]). Applications must include Ref. no. NUIG 95-12 in subject line of e-mail
application and on all correspondence.
Closing date for receipt of applications is 5 pm on Friday 26th October 2012.
NUI Galway is an equal opportunities employer.
.