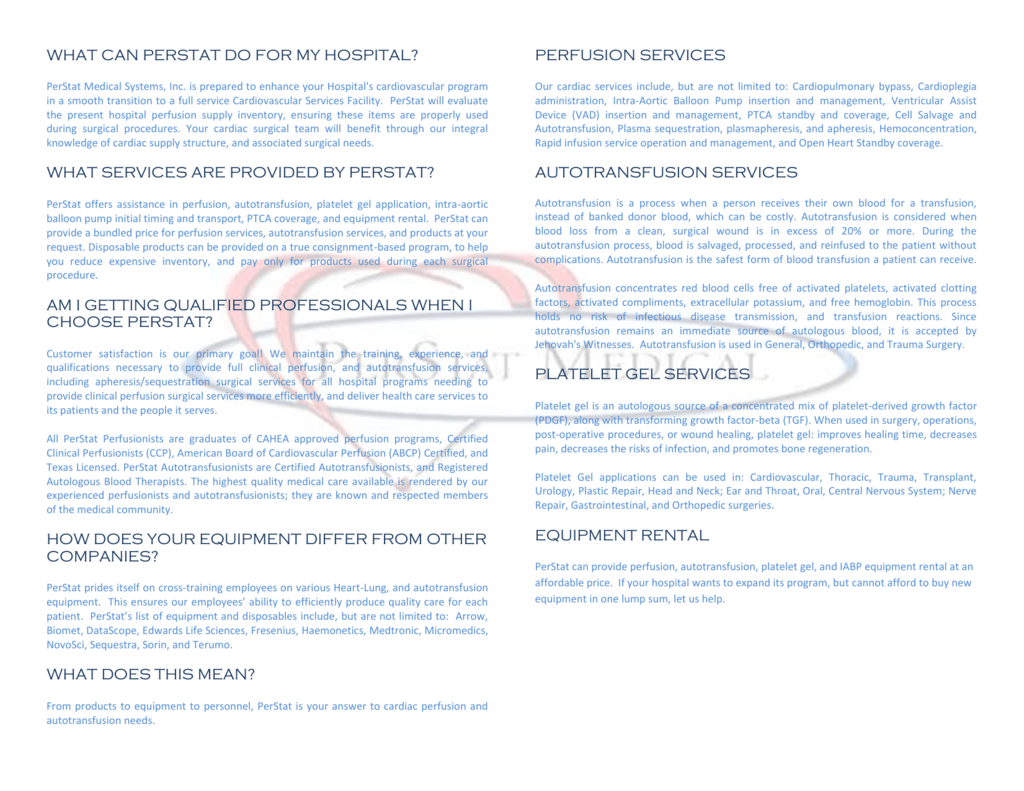 WHAT CAN PERSTAT DO FOR MY HOSPITAL?
PERFUSION SERVICES
PerStat Medical Systems, Inc. is prepared to enhance your Hospital's cardiovascular program
in a smooth transition to a full service Cardiovascular Services Facility. PerStat will evaluate
the present hospital perfusion supply inventory, ensuring these items are properly used
during surgical procedures. Your cardiac surgical team will benefit through our integral
knowledge of cardiac supply structure, and associated surgical needs.
Our cardiac services include, but are not limited to: Cardiopulmonary bypass, Cardioplegia
administration, Intra-Aortic Balloon Pump insertion and management, Ventricular Assist
Device (VAD) insertion and management, PTCA standby and coverage, Cell Salvage and
Autotransfusion, Plasma sequestration, plasmapheresis, and apheresis, Hemoconcentration,
Rapid infusion service operation and management, and Open Heart Standby coverage.
WHAT SERVICES ARE PROVIDED BY PERSTAT?
AUTOTRANSFUSION SERVICES
PerStat offers assistance in perfusion, autotransfusion, platelet gel application, intra-aortic
balloon pump initial timing and transport, PTCA coverage, and equipment rental. PerStat can
provide a bundled price for perfusion services, autotransfusion services, and products at your
request. Disposable products can be provided on a true consignment-based program, to help
you reduce expensive inventory, and pay only for products used during each surgical
procedure.
Autotransfusion is a process when a person receives their own blood for a transfusion,
instead of banked donor blood, which can be costly. Autotransfusion is considered when
blood loss from a clean, surgical wound is in excess of 20% or more. During the
autotransfusion process, blood is salvaged, processed, and reinfused to the patient without
complications. Autotransfusion is the safest form of blood transfusion a patient can receive.
AM I GETTING QUALIFIED PROFESSIONALS WHEN I
CHOOSE PERSTAT?
Customer satisfaction is our primary goal! We maintain the training, experience, and
qualifications necessary to provide full clinical perfusion, and autotransfusion services,
including apheresis/sequestration surgical services for all hospital programs needing to
provide clinical perfusion surgical services more efficiently, and deliver health care services to
its patients and the people it serves.
All PerStat Perfusionists are graduates of CAHEA approved perfusion programs, Certified
Clinical Perfusionists (CCP), American Board of Cardiovascular Perfusion (ABCP) Certified, and
Texas Licensed. PerStat Autotransfusionists are Certified Autotransfusionists, and Registered
Autologous Blood Therapists. The highest quality medical care available is rendered by our
experienced perfusionists and autotransfusionists; they are known and respected members
of the medical community.
HOW DOES YOUR EQUIPMENT DIFFER FROM OTHER
COMPANIES?
PerStat prides itself on cross-training employees on various Heart-Lung, and autotransfusion
equipment. This ensures our employees' ability to efficiently produce quality care for each
patient. PerStat's list of equipment and disposables include, but are not limited to: Arrow,
Biomet, DataScope, Edwards Life Sciences, Fresenius, Haemonetics, Medtronic, Micromedics,
NovoSci, Sequestra, Sorin, and Terumo.
WHAT DOES THIS MEAN?
From products to equipment to personnel, PerStat is your answer to cardiac perfusion and
autotransfusion needs.
Autotransfusion concentrates red blood cells free of activated platelets, activated clotting
factors, activated compliments, extracellular potassium, and free hemoglobin. This process
holds no risk of infectious disease transmission, and transfusion reactions. Since
autotransfusion remains an immediate source of autologous blood, it is accepted by
Jehovah's Witnesses. Autotransfusion is used in General, Orthopedic, and Trauma Surgery.
PLATELET GEL SERVICES
Platelet gel is an autologous source of a concentrated mix of platelet-derived growth factor
(PDGF), along with transforming growth factor-beta (TGF). When used in surgery, operations,
post-operative procedures, or wound healing, platelet gel: improves healing time, decreases
pain, decreases the risks of infection, and promotes bone regeneration.
Platelet Gel applications can be used in: Cardiovascular, Thoracic, Trauma, Transplant,
Urology, Plastic Repair, Head and Neck; Ear and Throat, Oral, Central Nervous System; Nerve
Repair, Gastrointestinal, and Orthopedic surgeries.
EQUIPMENT RENTAL
PerStat can provide perfusion, autotransfusion, platelet gel, and IABP equipment rental at an
affordable price. If your hospital wants to expand its program, but cannot afford to buy new
equipment in one lump sum, let us help.