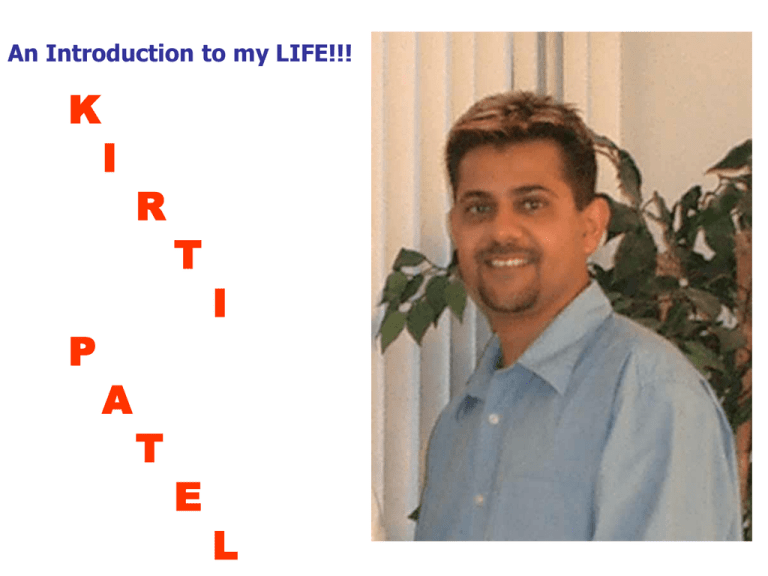 An Introduction to my LIFE!!!

K

I

R

T


P

A

T

E

I
L
A bit about me



Born in Zambia, Africa. Been in USA since 1982
Work as a cardiopulmonary perfusionist at Memorial Hermann
Baptist Hospital in Beaumont, TX for the last 2.5 years.
Interest/Hobbies include:






swimming
riding my motorcycle>>>>>>
tennis
reading
beach
traveling
My Family





Father: Self-employed businessman
Mother: Housewife
Older sister (34): Mother of 3 children and
self-employed
Younger sister (28): Nurse in Corpus Christi,
TX
Fiancé: Nurse in ICU in Beaumont, TX
My Parents
My Education





Undergraduate: UT-Austin
BS in Medical Technology: UTMB-Galveston
MPH in Disease Control: UTSPH-Houston
CCP (certified clinical perfusionist): Texas
Heart Institute
Today….working towards DrPH program in
Disease Control
My Jobs




1995-Medical Technologist
1999-Instructor for cardiopulmonary
perfusion at Texas Heart Institute
2000-Faculty at Medical University of
South Carolina
2001-Staff perfusionist/Assistant Chief
Perfusionist-Memorial Hermann Baptist
Hospital
What is a PERFUSIONIST?



Perfusionists are members of the open-heart surgery
team who are mainly responsible for the operation of
the heart-lung machine.
Perfusionists operate extracorporeal circulation
equipment during any medical situation where it is
necessary to support or temporarily replace a
patient's respiratory or circulatory functions, such as
in open heart surgery.
Perfusionists must handle very stressful situations,
pay great attention to detail, be very responsible, and
willing to stay on top of new developments in the
profession
Other Duties








Ventricular assist devices
Extracorporeal membrane
oxygenation (ECMO)
Blood conservation
techniques/Autotransfusion
Myocardial preservation
Anticoagulation & hematologic
monitoring/analysis
Physiological
monitoring/analysis
Blood gas and blood chemistry
monitoring/analysis
Induction of
hypothermia/hyperthermia with
reversal










Hemodilution
Hemofiltration
Counterpulsation
Administration of medications,
blood components and
anesthetic agents via the
extracorporeal circuit
Documentation associated with
described duties
Isolated limb/organ perfusion
Electrophysiological analysis
Surgical assistance
Organ preservation
Dialysis
The Heart Operating Room
The Heart-Lung Machine
My Fiancé and I
The "BIG" Day

Getting married June 5, 2004 at
this beautiful resort in Montego
Bay, Jamaica.
My Future Plans




Successfully complete my DrPh program.
Generate valuable data for my instituition
through my dissertation related to
cardiovascular epidemiology.
Contribute in increasing awareness of
cardiovascular diseases through research,
education and statistics.
Eventually, get involved with teaching again
and become a director of a perfusion program
at a teaching institution.