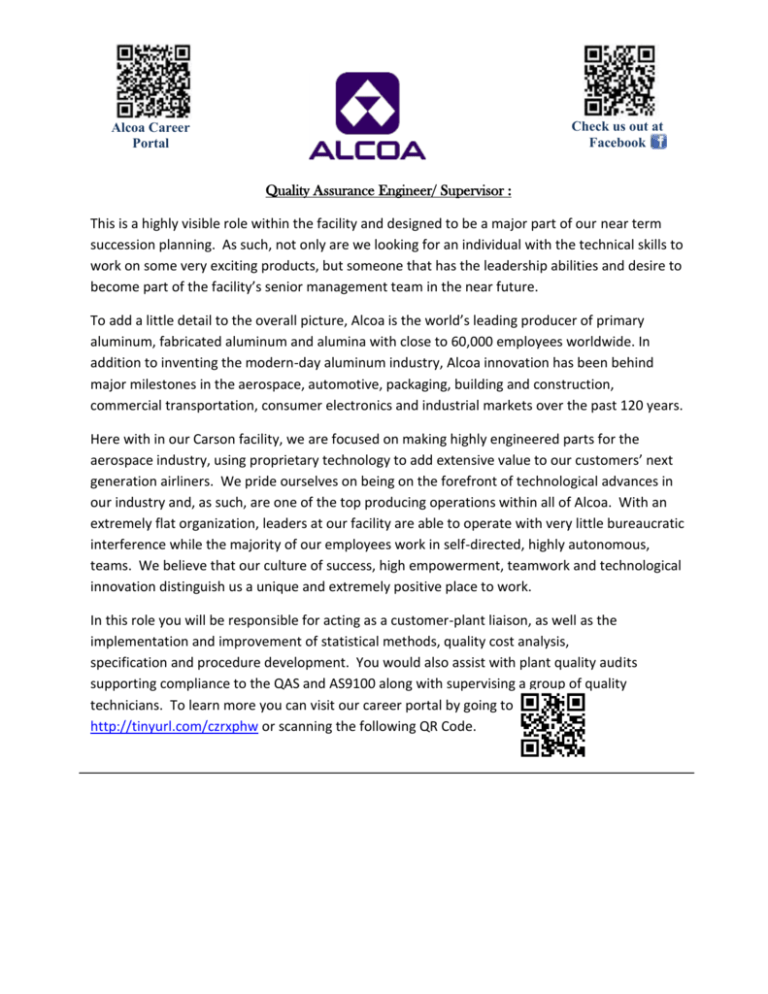 Check us out at
Facebook
Alcoa Career
Portal
Quality Assurance Engineer/ Supervisor :
This is a highly visible role within the facility and designed to be a major part of our near term
succession planning. As such, not only are we looking for an individual with the technical skills to
work on some very exciting products, but someone that has the leadership abilities and desire to
become part of the facility's senior management team in the near future.
To add a little detail to the overall picture, Alcoa is the world's leading producer of primary
aluminum, fabricated aluminum and alumina with close to 60,000 employees worldwide. In
addition to inventing the modern-day aluminum industry, Alcoa innovation has been behind
major milestones in the aerospace, automotive, packaging, building and construction,
commercial transportation, consumer electronics and industrial markets over the past 120 years.
Here with in our Carson facility, we are focused on making highly engineered parts for the
aerospace industry, using proprietary technology to add extensive value to our customers' next
generation airliners. We pride ourselves on being on the forefront of technological advances in
our industry and, as such, are one of the top producing operations within all of Alcoa. With an
extremely flat organization, leaders at our facility are able to operate with very little bureaucratic
interference while the majority of our employees work in self-directed, highly autonomous,
teams. We believe that our culture of success, high empowerment, teamwork and technological
innovation distinguish us a unique and extremely positive place to work.
In this role you will be responsible for acting as a customer-plant liaison, as well as the
implementation and improvement of statistical methods, quality cost analysis,
specification and procedure development. You would also assist with plant quality audits
supporting compliance to the QAS and AS9100 along with supervising a group of quality
technicians. To learn more you can visit our career portal by going to
http://tinyurl.com/czrxphw or scanning the following QR Code.