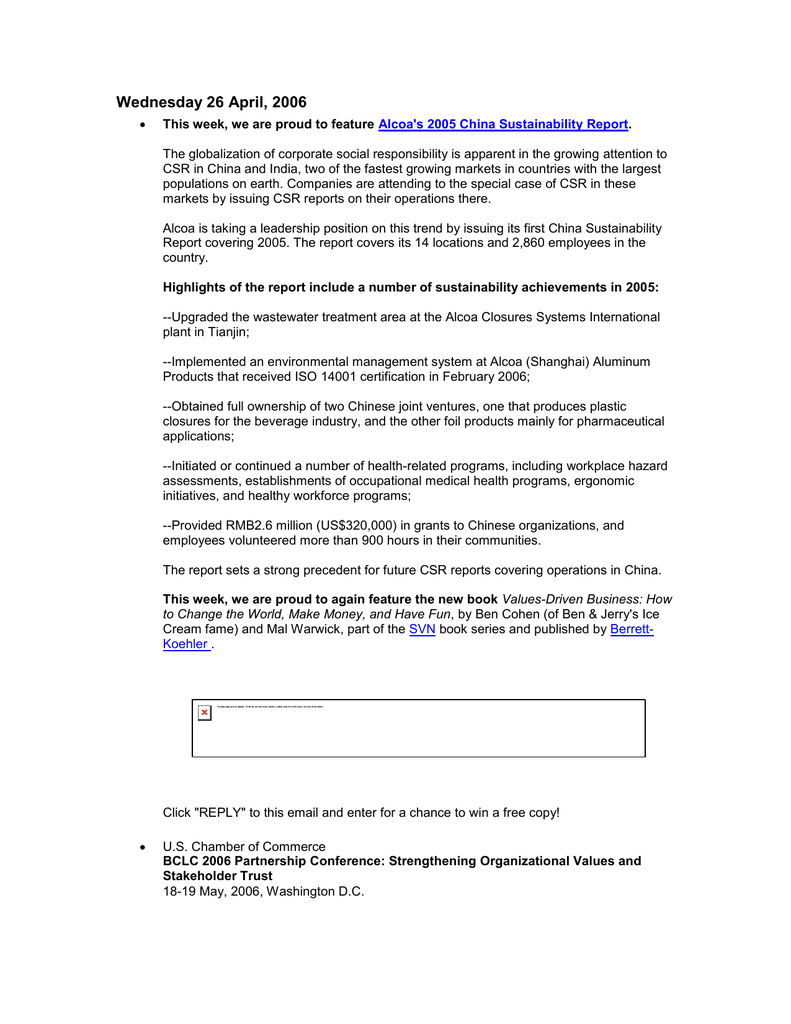 Wednesday 26 April, 2006

This week, we are proud to feature Alcoa's 2005 China Sustainability Report.
The globalization of corporate social responsibility is apparent in the growing attention to
CSR in China and India, two of the fastest growing markets in countries with the largest
populations on earth. Companies are attending to the special case of CSR in these
markets by issuing CSR reports on their operations there.
Alcoa is taking a leadership position on this trend by issuing its first China Sustainability
Report covering 2005. The report covers its 14 locations and 2,860 employees in the
country.
Highlights of the report include a number of sustainability achievements in 2005:
--Upgraded the wastewater treatment area at the Alcoa Closures Systems International
plant in Tianjin;
--Implemented an environmental management system at Alcoa (Shanghai) Aluminum
Products that received ISO 14001 certification in February 2006;
--Obtained full ownership of two Chinese joint ventures, one that produces plastic
closures for the beverage industry, and the other foil products mainly for pharmaceutical
applications;
--Initiated or continued a number of health-related programs, including workplace hazard
assessments, establishments of occupational medical health programs, ergonomic
initiatives, and healthy workforce programs;
--Provided RMB2.6 million (US$320,000) in grants to Chinese organizations, and
employees volunteered more than 900 hours in their communities.
The report sets a strong precedent for future CSR reports covering operations in China.
This week, we are proud to again feature the new book Values-Driven Business: How
to Change the World, Make Money, and Have Fun, by Ben Cohen (of Ben & Jerry's Ice
Cream fame) and Mal Warwick, part of the SVN book series and published by BerrettKoehler .
Click "REPLY" to this email and enter for a chance to win a free copy!

U.S. Chamber of Commerce
BCLC 2006 Partnership Conference: Strengthening Organizational Values and
Stakeholder Trust
18-19 May, 2006, Washington D.C.


Speakers include Norm Augustine, former Chairman and CEO of Lockheed Martin and
Richard Edelman, President and CEO of Edelman and publisher of the "Annual Edelman
Trust Barometer." Topics include: The Business Case for Business Values, Promoting a
Culture of Commitment, Responsible Leadership, Maintaining an Ethical Culture, and
more. Attendees will have the opportunity to participate in various working meetings
featuring specific case studies, issues, and strategies and to contribute insights,
experiences, and expertise to the discussion. For more details, click here.
Information Management Network
5th Annual European Summit on Corporate Governance & Responsible Investment
31 May - 1 June, 2006, Stockholm, Sweden
Now in its fifth year, on one level IMN's European Summit on Corporate Governance and
Responsible Investment captures the theme of the integration of corporate governance
and corporate social responsibility. On another, the multi-faceted and hotly-debated
issues surrounding responsible investment and sustainability are put under the
microscope by the most respected thought-leaders in the field. The program also reflects
the growing interest in identifying, quantifying and evaluating governance, social,
environmental and ethical risks and their impact on shareholder value. For more details,
click here.
Cause Marketing Forum Inc.
Cause Marketing Forum
13 June, 2006, New York
At this annual conference, business and nonprofit executives gather to explore how they
can build stronger mutually beneficial alliances and celebrate the field's best work at the
Cause Marketing Halo Awards. Learn from the experts at The Home Depot, KaBOOM!,
Cone Inc., Procter & Gamble, Gifts in Kind International and many more. The year's best
opportunity to obtain practical knowledge and develop valuable relationships with others
dedicated to doing well by doing good. For more details, click here.