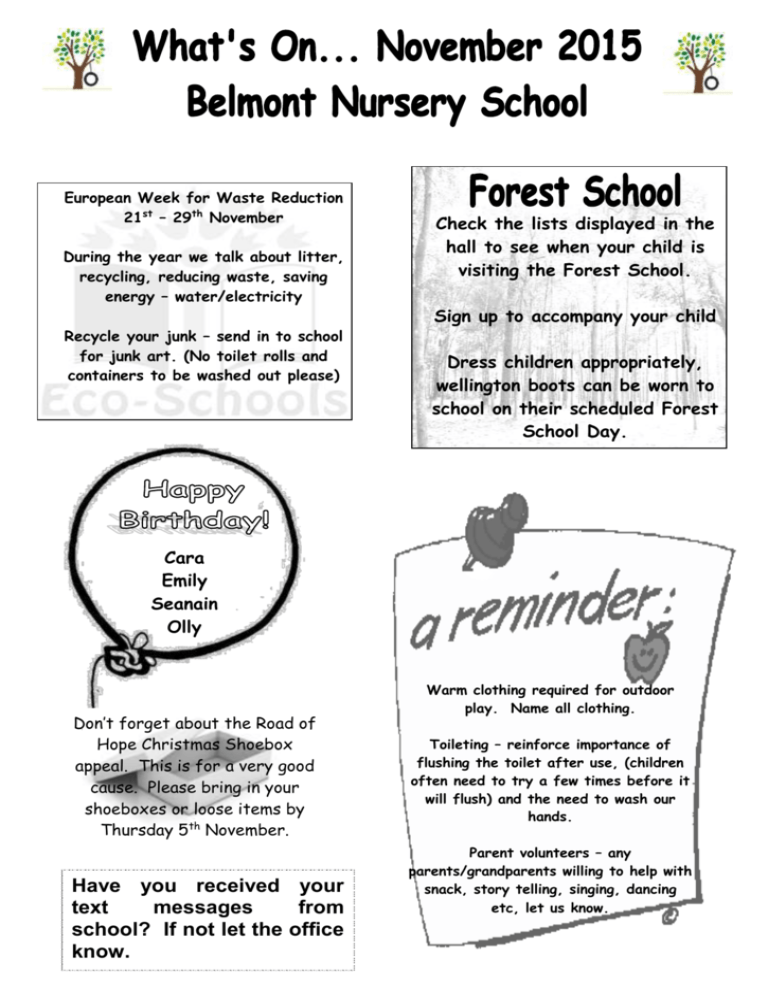 European Week for Waste Reduction
21st – 29th November
During the year we talk about litter,
recycling, reducing waste, saving
energy – water/electricity
Recycle your junk – send in to school
for junk art. (No toilet rolls and
containers to be washed out please)
Check the lists displayed in the
hall to see when your child is
visiting the Forest School.
Sign up to accompany your child
Dress children appropriately,
wellington boots can be worn to
school on their scheduled Forest
School Day.
Cara
Emily
Seanain
Olly
Don't forget about the Road of
Hope Christmas Shoebox
appeal. This is for a very good
cause. Please bring in your
shoeboxes or loose items by
Thursday 5th November.
Have you received your
text
messages
from
school? If not let the office
know.
Warm clothing required for outdoor
play. Name all clothing.
Toileting – reinforce importance of
flushing the toilet after use, (children
often need to try a few times before it
will flush) and the need to wash our
hands.
Parent volunteers – any
parents/grandparents willing to help with
snack, story telling, singing, dancing
etc, let us know.
National Tree Week
28th Nov – 6th Dec
Look out for
these colours
and bring some
examples in for
our colour table
Autumn Trail at school – looking
at leaves, weather, creepy
crawlies
Talk about hibernation and
migration of birds and animals
Dark evening! How does this colour
make you feel? What to wear if you
are walking in the dark!
Triangle –
How many sides?
How many corners?
Explore concept through hands on
experience, feely boxes etc
23rd – 29th Nov
Talk about road
safety with
your child.
World Nursery Rhyme Week
9th – 13th November
Explore the nursery rhyme resources in
the school hall area.
Sing nursery rhymes with your child (see
our info sheet on the importance of
nursery rhymes).