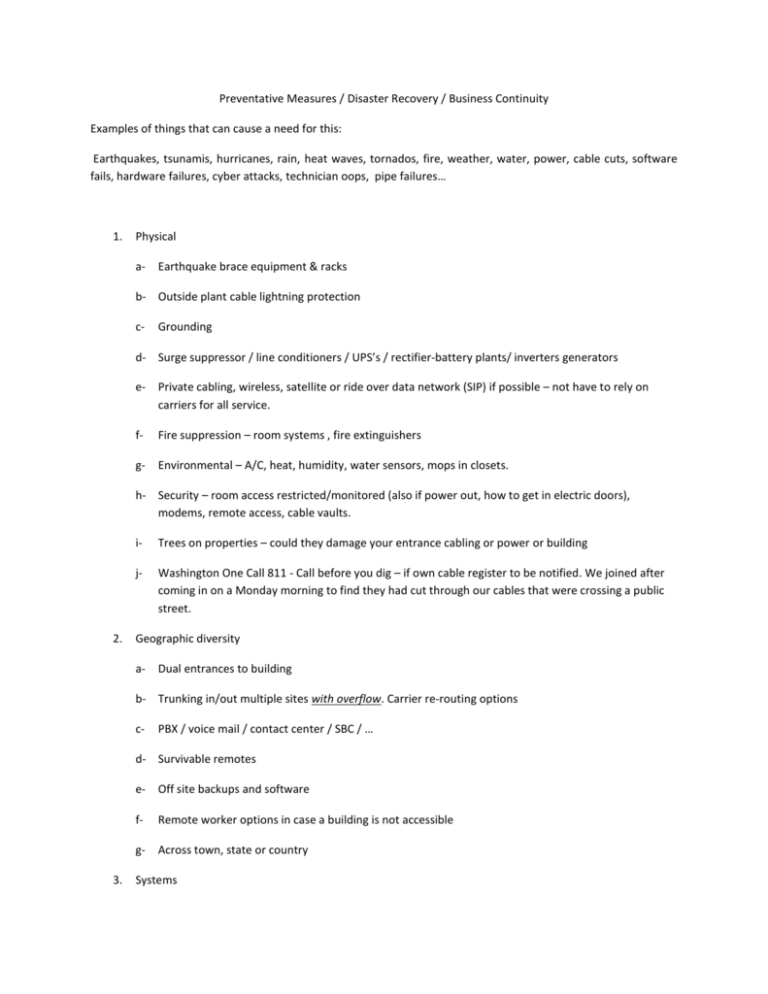 Preventative Measures / Disaster Recovery / Business Continuity
Examples of things that can cause a need for this:
Earthquakes, tsunamis, hurricanes, rain, heat waves, tornados, fire, weather, water, power, cable cuts, software
fails, hardware failures, cyber attacks, technician oops, pipe failures…
1.
Physical
a-
Earthquake brace equipment & racks
b- Outside plant cable lightning protection
c-
Grounding
d- Surge suppressor / line conditioners / UPS's / rectifier-battery plants/ inverters generators
e-
Private cabling, wireless, satellite or ride over data network (SIP) if possible – not have to rely on
carriers for all service.
f-
Fire suppression – room systems , fire extinguishers
g-
Environmental – A/C, heat, humidity, water sensors, mops in closets.
h- Security – room access restricted/monitored (also if power out, how to get in electric doors),
modems, remote access, cable vaults.
2.
i-
Trees on properties – could they damage your entrance cabling or power or building
j-
Washington One Call 811 - Call before you dig – if own cable register to be notified. We joined after
coming in on a Monday morning to find they had cut through our cables that were crossing a public
street.
Geographic diversity
a-
Dual entrances to building
b- Trunking in/out multiple sites with overflow. Carrier re-routing options
c-
PBX / voice mail / contact center / SBC / …
d- Survivable remotes
3.
e-
Off site backups and software
f-
Remote worker options in case a building is not accessible
g-
Across town, state or country
Systems
a-
Spares/crash kit – Critical parts line cards, trunk cards power supplies… spare pbx.
b- Telemanagement system to restore system configuration
c-
Nortel – ghtrout tnparser.xls
d- VM recovery tools
e-
T1 CSU's
f-
Gorden Kapes power fail transfer units
g-
QOS to keep calls up during denial attacks
h- ARS
4.
i-
Dual power supplies, separate sources
j-
Dual NIC's separate switches
Plan
a-
Documentation of configs/passwords. Password protect and accessible.
b- Test periodically what you can. (During upgrades, patching)
c-
Emergency lighting / flashlights, portable generator, a/c units, tarps, extension cords
d- Bypass options – if voicemail is down, call re-route main numbers to other system or phones.
e-
Monitoring systems for alarms – may catch something before it becomes an outage/issue.
Power/atb's/environmental
f-
Call lists: IT, key customers, vendor support
g-
Vendor maint negotiated contract – 7x24 if needed, parts & tech commitment, response time
h- Software updates plan – OS and application. WSUS security
i-
Budgeting / management support
j-
Communication/notification/documenting plan (EOC processes)
k-
Spare capacity/licensing in systems
l-
GET/TSP/cell plan? for healthcare/government agencies priority service
What concerns you most? What low hanging fruit can you do now?
Ask others what they have done, visit other sites. Sleep at night!