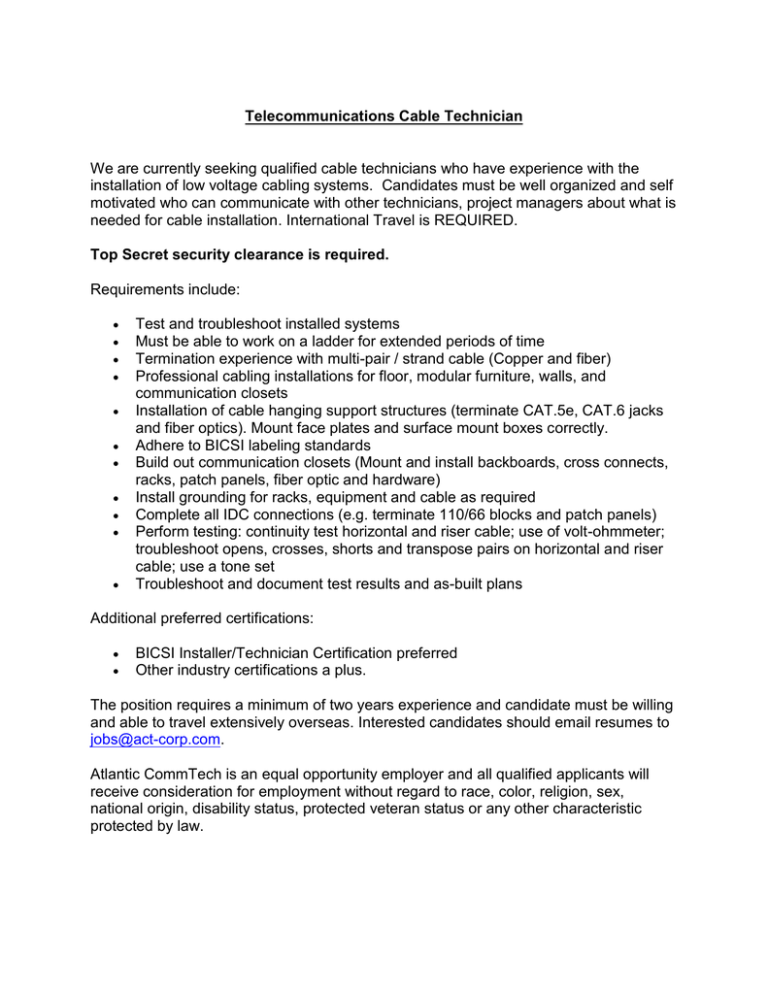 Telecommunications Cable Technician
We are currently seeking qualified cable technicians who have experience with the
installation of low voltage cabling systems. Candidates must be well organized and self
motivated who can communicate with other technicians, project managers about what is
needed for cable installation. International Travel is REQUIRED.
Top Secret security clearance is required.
Requirements include:











Test and troubleshoot installed systems
Must be able to work on a ladder for extended periods of time
Termination experience with multi-pair / strand cable (Copper and fiber)
Professional cabling installations for floor, modular furniture, walls, and
communication closets
Installation of cable hanging support structures (terminate CAT.5e, CAT.6 jacks
and fiber optics). Mount face plates and surface mount boxes correctly.
Adhere to BICSI labeling standards
Build out communication closets (Mount and install backboards, cross connects,
racks, patch panels, fiber optic and hardware)
Install grounding for racks, equipment and cable as required
Complete all IDC connections (e.g. terminate 110/66 blocks and patch panels)
Perform testing: continuity test horizontal and riser cable; use of volt-ohmmeter;
troubleshoot opens, crosses, shorts and transpose pairs on horizontal and riser
cable; use a tone set
Troubleshoot and document test results and as-built plans
Additional preferred certifications:


BICSI Installer/Technician Certification preferred
Other industry certifications a plus.
The position requires a minimum of two years experience and candidate must be willing
and able to travel extensively overseas. Interested candidates should email resumes to
jobs@act-corp.com.
Atlantic CommTech is an equal opportunity employer and all qualified applicants will
receive consideration for employment without regard to race, color, religion, sex,
national origin, disability status, protected veteran status or any other characteristic
protected by law.