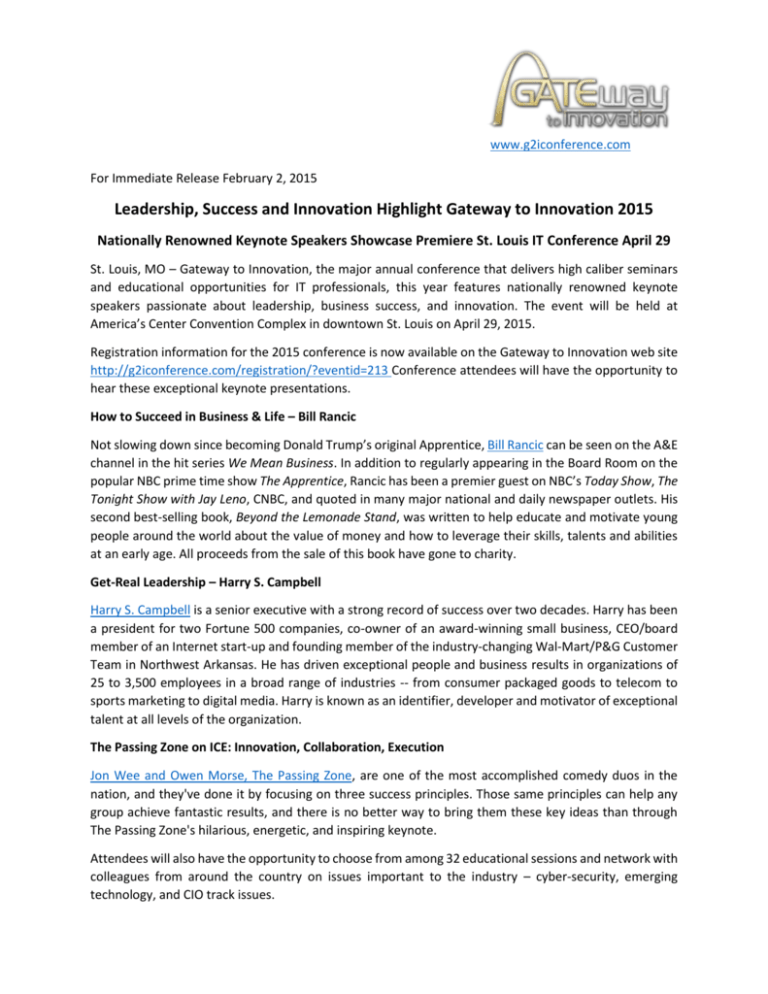 www.g2iconference.com
For Immediate Release February 2, 2015
Leadership, Success and Innovation Highlight Gateway to Innovation 2015
Nationally Renowned Keynote Speakers Showcase Premiere St. Louis IT Conference April 29
St. Louis, MO – Gateway to Innovation, the major annual conference that delivers high caliber seminars
and educational opportunities for IT professionals, this year features nationally renowned keynote
speakers passionate about leadership, business success, and innovation. The event will be held at
America's Center Convention Complex in downtown St. Louis on April 29, 2015.
Registration information for the 2015 conference is now available on the Gateway to Innovation web site
http://g2iconference.com/registration/?eventid=213 Conference attendees will have the opportunity to
hear these exceptional keynote presentations.
How to Succeed in Business & Life – Bill Rancic
Not slowing down since becoming Donald Trump's original Apprentice, Bill Rancic can be seen on the A&E
channel in the hit series We Mean Business. In addition to regularly appearing in the Board Room on the
popular NBC prime time show The Apprentice, Rancic has been a premier guest on NBC's Today Show, The
Tonight Show with Jay Leno, CNBC, and quoted in many major national and daily newspaper outlets. His
second best-selling book, Beyond the Lemonade Stand, was written to help educate and motivate young
people around the world about the value of money and how to leverage their skills, talents and abilities
at an early age. All proceeds from the sale of this book have gone to charity.
Get-Real Leadership – Harry S. Campbell
Harry S. Campbell is a senior executive with a strong record of success over two decades. Harry has been
a president for two Fortune 500 companies, co-owner of an award-winning small business, CEO/board
member of an Internet start-up and founding member of the industry-changing Wal-Mart/P&G Customer
Team in Northwest Arkansas. He has driven exceptional people and business results in organizations of
25 to 3,500 employees in a broad range of industries -- from consumer packaged goods to telecom to
sports marketing to digital media. Harry is known as an identifier, developer and motivator of exceptional
talent at all levels of the organization.
The Passing Zone on ICE: Innovation, Collaboration, Execution
Jon Wee and Owen Morse, The Passing Zone, are one of the most accomplished comedy duos in the
nation, and they've done it by focusing on three success principles. Those same principles can help any
group achieve fantastic results, and there is no better way to bring them these key ideas than through
The Passing Zone's hilarious, energetic, and inspiring keynote.
Attendees will also have the opportunity to choose from among 32 educational sessions and network with
colleagues from around the country on issues important to the industry – cyber-security, emerging
technology, and CIO track issues.
www.g2iconference.com
About Gateway to Innovation: Gateway to Innovation is the premier, annual collaboration and
networking event for IT Professionals in the St. Louis region. Gateway to Innovation inspires innovation
through premier educational opportunities led by the industry's top leaders, provides an opportunity to
share best practices and fosters collaboration with colleagues who face challenges and opportunities in
our fast-paced industry. Since the first event in 2006, Gateway to Innovation has donated more than
$628,000 in scholarships and grants to St. Louis area technology related non-profit organizations. More
information can be found at www.g2iconference.com or contact Bill Stephenson at 515-332-7940.