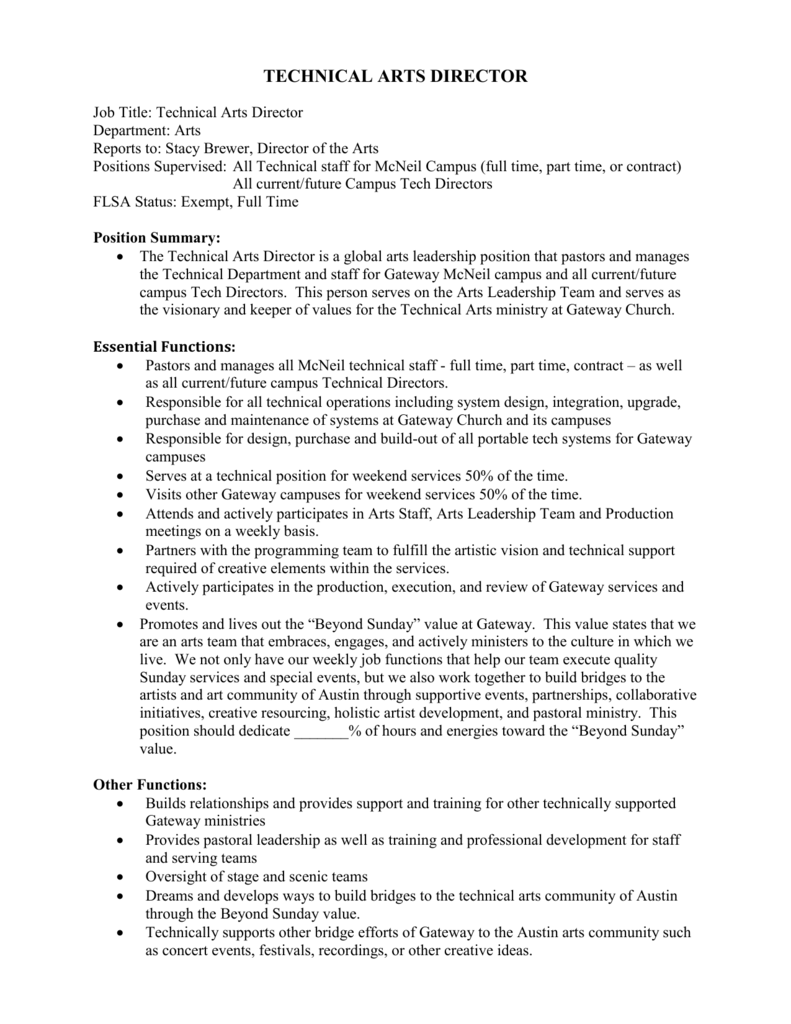 TECHNICAL ARTS DIRECTOR
Job Title: Technical Arts Director
Department: Arts
Reports to: Stacy Brewer, Director of the Arts
Positions Supervised: All Technical staff for McNeil Campus (full time, part time, or contract)
All current/future Campus Tech Directors
FLSA Status: Exempt, Full Time
Position Summary:
 The Technical Arts Director is a global arts leadership position that pastors and manages
the Technical Department and staff for Gateway McNeil campus and all current/future
campus Tech Directors. This person serves on the Arts Leadership Team and serves as
the visionary and keeper of values for the Technical Arts ministry at Gateway Church.
Essential Functions:
 Pastors and manages all McNeil technical staff - full time, part time, contract – as well
as all current/future campus Technical Directors.
 Responsible for all technical operations including system design, integration, upgrade,
purchase and maintenance of systems at Gateway Church and its campuses
 Responsible for design, purchase and build-out of all portable tech systems for Gateway
campuses
 Serves at a technical position for weekend services 50% of the time.
 Visits other Gateway campuses for weekend services 50% of the time.
 Attends and actively participates in Arts Staff, Arts Leadership Team and Production
meetings on a weekly basis.
 Partners with the programming team to fulfill the artistic vision and technical support
required of creative elements within the services.
 Actively participates in the production, execution, and review of Gateway services and
events.
 Promotes and lives out the "Beyond Sunday" value at Gateway. This value states that we
are an arts team that embraces, engages, and actively ministers to the culture in which we
live. We not only have our weekly job functions that help our team execute quality
Sunday services and special events, but we also work together to build bridges to the
artists and art community of Austin through supportive events, partnerships, collaborative
initiatives, creative resourcing, holistic artist development, and pastoral ministry. This
position should dedicate _______% of hours and energies toward the "Beyond Sunday"
value.
Other Functions:
 Builds relationships and provides support and training for other technically supported
Gateway ministries
 Provides pastoral leadership as well as training and professional development for staff
and serving teams
 Oversight of stage and scenic teams
 Dreams and develops ways to build bridges to the technical arts community of Austin
through the Beyond Sunday value.
 Technically supports other bridge efforts of Gateway to the Austin arts community such
as concert events, festivals, recordings, or other creative ideas.

Other duties as assigned by the Arts Director
Qualifications:
Knowledge/Skills
 Must have strong proficiency in at least one area of the Technical Arts. Must have
general working knowledge/competency of all technical systems – audio, video, lighting
Education: College Degree preferred
Experience:
 Minimum 7-10 yrs. experience working in a technically advanced performance venue.
 Minimum 7-10 yrs experience leading and training staff and/or volunteers.
Working Conditions and other information:
 Must be able to lift heavy equipment, climb ladders and work/operate lifts.
1st Year: All full-time exempt employees are required to work their first Christmas services on staff.
Live out Staff Values:
1) Stay connected with God by His spirit throughout the day; engages in regular spiritual
practices to maintain that connection and grow in relationship with God.
2) Focuses on serving both the internal and external Church Body with excellence.
3) Works at a pace that is life giving; prioritizes and organizes tasks and work schedule in order
to achieve a healthy work/life balance.
4) Participating in and doing life with authentic community; has people in their life that
consistently hold them accountable.
5) Demonstrates unwavering ethics, and respect and consideration for individuals.
6) Works to create an environment characterized by trust and openness, quality and
professionalism, honesty and reliability.
7) Shows initiative by looking for ways to do the job better/more efficiently and contributes to
process improvement; demonstrates an openness to change and trying new ideas with
flexibility and a focus on the staff and church body as a whole.
8) As part of their lifestyle, building into the lives of 3-12 people, empowering them to become
future disciples and leaders.