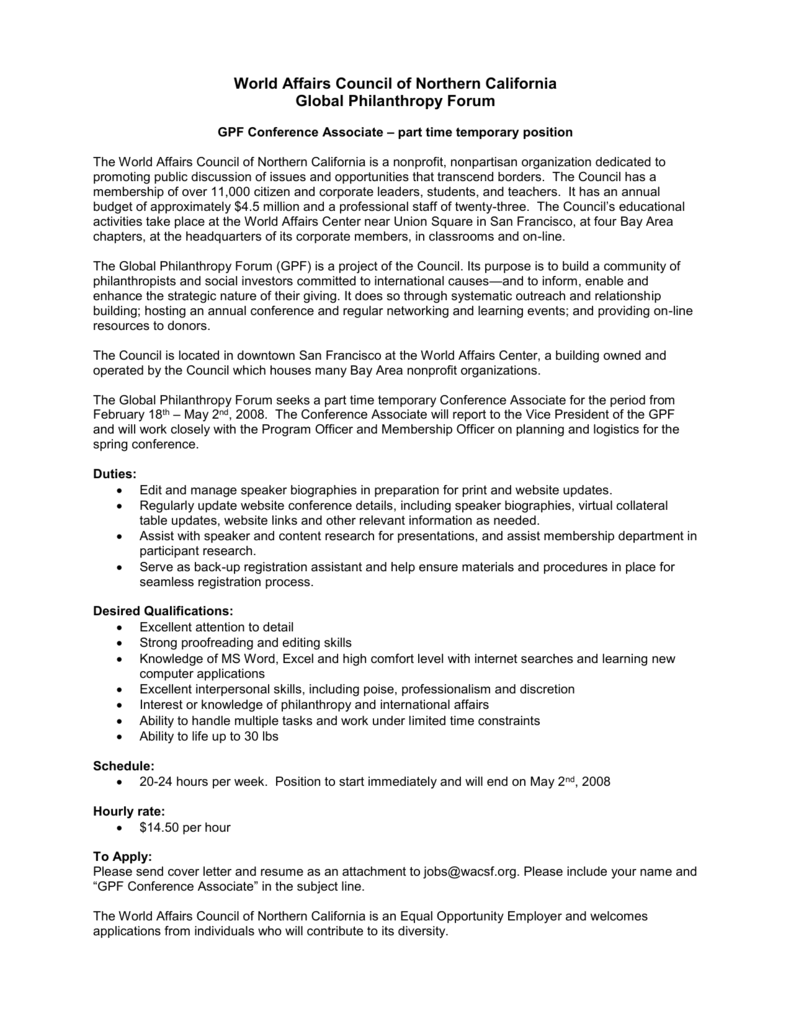 World Affairs Council of Northern California
Global Philanthropy Forum
GPF Conference Associate – part time temporary position
The World Affairs Council of Northern California is a nonprofit, nonpartisan organization dedicated to
promoting public discussion of issues and opportunities that transcend borders. The Council has a
membership of over 11,000 citizen and corporate leaders, students, and teachers. It has an annual
budget of approximately $4.5 million and a professional staff of twenty-three. The Council's educational
activities take place at the World Affairs Center near Union Square in San Francisco, at four Bay Area
chapters, at the headquarters of its corporate members, in classrooms and on-line.
The Global Philanthropy Forum (GPF) is a project of the Council. Its purpose is to build a community of
philanthropists and social investors committed to international causes—and to inform, enable and
enhance the strategic nature of their giving. It does so through systematic outreach and relationship
building; hosting an annual conference and regular networking and learning events; and providing on-line
resources to donors.
The Council is located in downtown San Francisco at the World Affairs Center, a building owned and
operated by the Council which houses many Bay Area nonprofit organizations.
The Global Philanthropy Forum seeks a part time temporary Conference Associate for the period from
February 18th – May 2nd, 2008. The Conference Associate will report to the Vice President of the GPF
and will work closely with the Program Officer and Membership Officer on planning and logistics for the
spring conference.
Duties:
 Edit and manage speaker biographies in preparation for print and website updates.
 Regularly update website conference details, including speaker biographies, virtual collateral
table updates, website links and other relevant information as needed.
 Assist with speaker and content research for presentations, and assist membership department in
participant research.
 Serve as back-up registration assistant and help ensure materials and procedures in place for
seamless registration process.
Desired Qualifications:
 Excellent attention to detail
 Strong proofreading and editing skills
 Knowledge of MS Word, Excel and high comfort level with internet searches and learning new
computer applications
 Excellent interpersonal skills, including poise, professionalism and discretion
 Interest or knowledge of philanthropy and international affairs
 Ability to handle multiple tasks and work under limited time constraints
 Ability to life up to 30 lbs
Schedule:
 20-24 hours per week. Position to start immediately and will end on May 2 nd, 2008
Hourly rate:
 $14.50 per hour
To Apply:
Please send cover letter and resume as an attachment to [email protected] Please include your name and
"GPF Conference Associate" in the subject line.
The World Affairs Council of Northern California is an Equal Opportunity Employer and welcomes
applications from individuals who will contribute to its diversity.