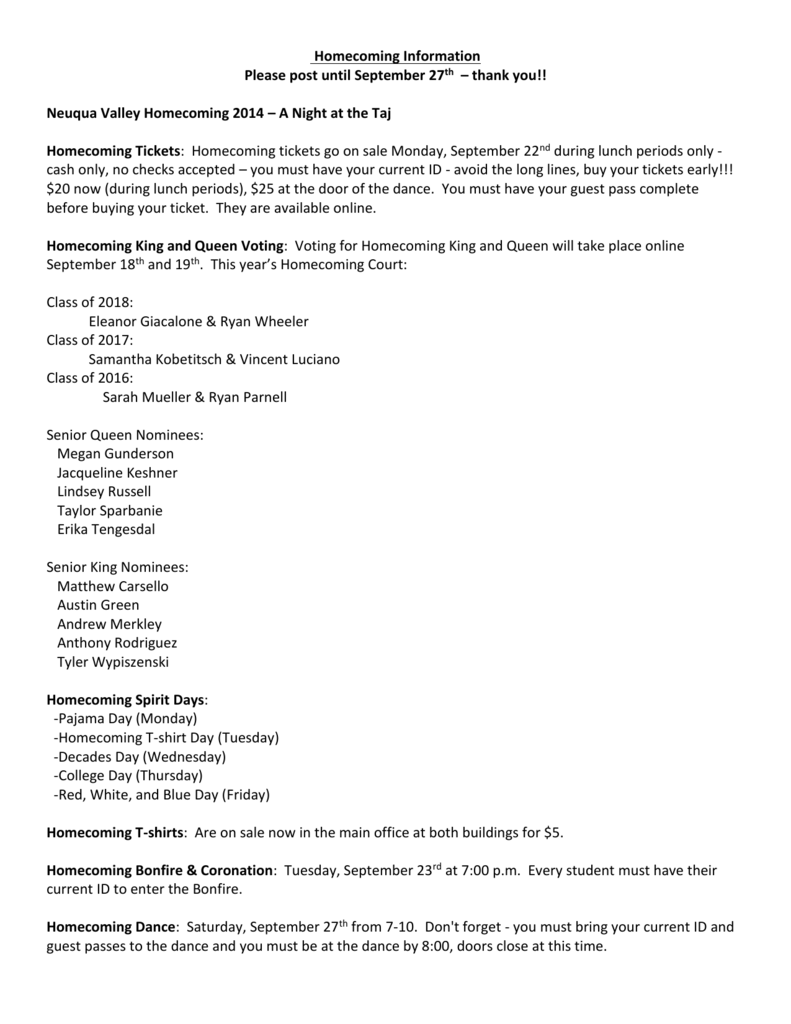 Homecoming Information
Please post until September 27th – thank you!!
Neuqua Valley Homecoming 2014 – A Night at the Taj
Homecoming Tickets: Homecoming tickets go on sale Monday, September 22nd during lunch periods only cash only, no checks accepted – you must have your current ID - avoid the long lines, buy your tickets early!!!
$20 now (during lunch periods), $25 at the door of the dance. You must have your guest pass complete
before buying your ticket. They are available online.
Homecoming King and Queen Voting: Voting for Homecoming King and Queen will take place online
September 18th and 19th. This year's Homecoming Court:
Class of 2018:
Eleanor Giacalone & Ryan Wheeler
Class of 2017:
Samantha Kobetitsch & Vincent Luciano
Class of 2016:
Sarah Mueller & Ryan Parnell
Senior Queen Nominees:
Megan Gunderson
Jacqueline Keshner
Lindsey Russell
Taylor Sparbanie
Erika Tengesdal
Senior King Nominees:
Matthew Carsello
Austin Green
Andrew Merkley
Anthony Rodriguez
Tyler Wypiszenski
Homecoming Spirit Days:
-Pajama Day (Monday)
-Homecoming T-shirt Day (Tuesday)
-Decades Day (Wednesday)
-College Day (Thursday)
-Red, White, and Blue Day (Friday)
Homecoming T-shirts: Are on sale now in the main office at both buildings for $5.
Homecoming Bonfire & Coronation: Tuesday, September 23rd at 7:00 p.m. Every student must have their
current ID to enter the Bonfire.
Homecoming Dance: Saturday, September 27th from 7-10. Don't forget - you must bring your current ID and
guest passes to the dance and you must be at the dance by 8:00, doors close at this time.