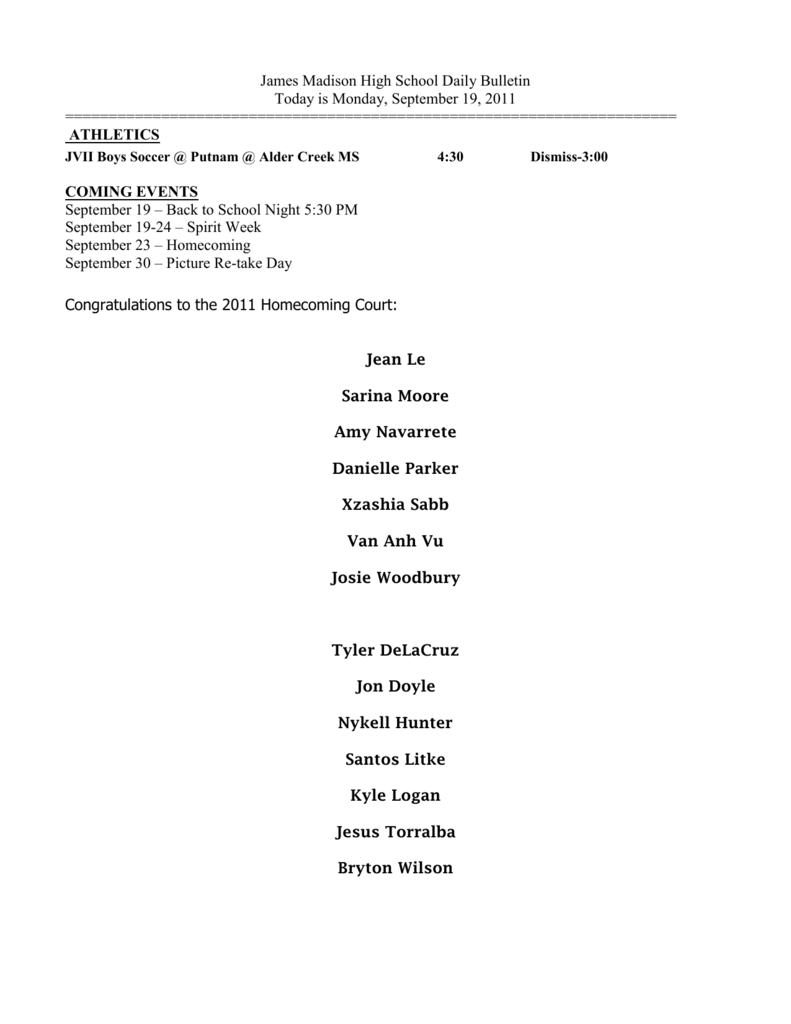 James Madison High School Daily Bulletin
Today is Monday, September 19, 2011
======================================================================
ATHLETICS
JVII Boys Soccer @ Putnam @ Alder Creek MS
4:30
COMING EVENTS
September 19 – Back to School Night 5:30 PM
September 19-24 – Spirit Week
September 23 – Homecoming
September 30 – Picture Re-take Day
Congratulations to the 2011 Homecoming Court:
Jean Le
Sarina Moore
Amy Navarrete
Danielle Parker
Xzashia Sabb
Van Anh Vu
Josie Woodbury
Tyler DeLaCruz
Jon Doyle
Nykell Hunter
Santos Litke
Kyle Logan
Jesus Torralba
Bryton Wilson
Dismiss-3:00
STUDENTS
School photographs are available to pick up in the Main Office during lunch and after school.
First GSA meeting at lunch on Tuesday, Sept 20 in room b-9. See you there!
Ms. Cooper
The Juggling Club is starting up! First meeting is this Tuesday, September 20th, in Mr. Fredgant's room,
C-10, during lunch. If you already juggle and want to improve, or if you don't juggle and want to learn,
this is the club for you. Please come and have fun, Tuesdays and Thursdays. THERE WILL BE
COOKIES.
Monday, Sept 19th: The first Compost Crew meeting will be this Wednesday, Sept. 21st during lunch in
room B19 next to the library. All are welcome to join.
September 19th through 23rd is homecoming spirit week. Monday is pajama day, Tuesday is college
apparel day, Wednesday is formal day, Thursday is 80s/neon day, and Friday is school colors day. Show
your spirit and get into the fun. Prizes for best dressed will be awarded during the homecoming assembly
on Friday.
The homecoming Dance is on Friday night. It is from 8:30 to 11:00 pm in the cafeteria and the cost is $5.
Tickets are purchased at the door. This event is for Madison students only. Come get your groove on and
find out who you voted for homecoming king and queen.
Back to School Week is next week! It is also spirit week so check out the signs in the hallways on how to
show your Senator spirit. Back to School Night is next Monday from 5:30-7:40pm. This is a great
opportunity for your parents to meet your teachers and see your classrooms. Pizza will be provided for the
first 500 people and childcare will be available on campus. Next Wednesday from 8:30-10:30 there will
be an opportunity for parents to take a tour of Madison with Principal Callin and other support staff. And
Next Friday is the Homecoming football game, Madison vs. Franklin here at Madison. Students w/ ASB
cards get in for $2, gates will open at 5:30pm. We will end Spirit Week with the Homecoming dance
being held here in the cafeteria from 8:30-11. Cost for the dance is $5.00 per person. We look forward to
an awesome Back to School week and to seeing you and your families at the events!
SAT FEE WAIVERS are here!
Seniors that are interested in taking the SAT for free may receive up to two fee waivers from your
counselor. Please bring proof that you qualify for Free/Reduced lunches. The next SAT exam is October
9th and registration ends Sept. 21…hurry to get your fee waiver! ~Madison Counselors
Attention All Students: Counselors will not be having office hours for students during SSR this year.
Please remain in class during SSR so you don't miss this important opportunity to read!