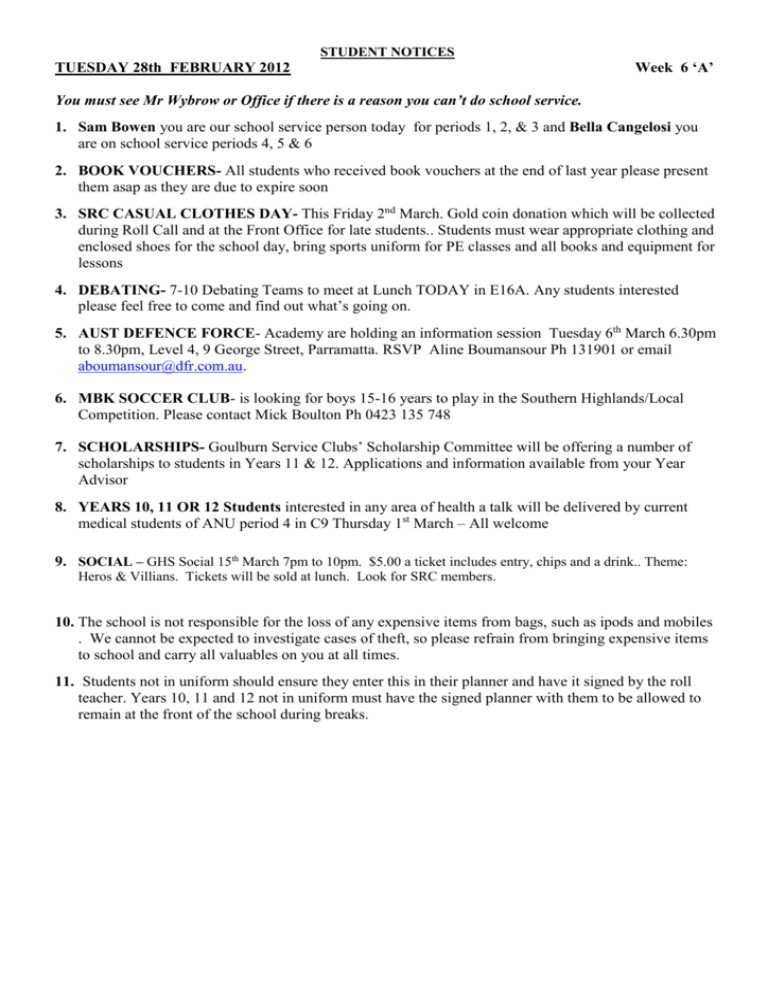 STUDENT NOTICES
TUESDAY 28th FEBRUARY 2012
Week 6 'A'
You must see Mr Wybrow or Office if there is a reason you can't do school service.
1. Sam Bowen you are our school service person today for periods 1, 2, & 3 and Bella Cangelosi you
are on school service periods 4, 5 & 6
2. BOOK VOUCHERS- All students who received book vouchers at the end of last year please present
them asap as they are due to expire soon
3. SRC CASUAL CLOTHES DAY- This Friday 2nd March. Gold coin donation which will be collected
during Roll Call and at the Front Office for late students.. Students must wear appropriate clothing and
enclosed shoes for the school day, bring sports uniform for PE classes and all books and equipment for
lessons
4. DEBATING- 7-10 Debating Teams to meet at Lunch TODAY in E16A. Any students interested
please feel free to come and find out what's going on.
5. AUST DEFENCE FORCE- Academy are holding an information session Tuesday 6th March 6.30pm
to 8.30pm, Level 4, 9 George Street, Parramatta. RSVP Aline Boumansour Ph 131901 or email
aboumansour@dfr.com.au.
6. MBK SOCCER CLUB- is looking for boys 15-16 years to play in the Southern Highlands/Local
Competition. Please contact Mick Boulton Ph 0423 135 748
7. SCHOLARSHIPS- Goulburn Service Clubs' Scholarship Committee will be offering a number of
scholarships to students in Years 11 & 12. Applications and information available from your Year
Advisor
8. YEARS 10, 11 OR 12 Students interested in any area of health a talk will be delivered by current
medical students of ANU period 4 in C9 Thursday 1st March – All welcome
9. SOCIAL – GHS Social 15th March 7pm to 10pm. $5.00 a ticket includes entry, chips and a drink.. Theme:
Heros & Villians. Tickets will be sold at lunch. Look for SRC members.
10. The school is not responsible for the loss of any expensive items from bags, such as ipods and mobiles
. We cannot be expected to investigate cases of theft, so please refrain from bringing expensive items
to school and carry all valuables on you at all times.
11. Students not in uniform should ensure they enter this in their planner and have it signed by the roll
teacher. Years 10, 11 and 12 not in uniform must have the signed planner with them to be allowed to
remain at the front of the school during breaks.